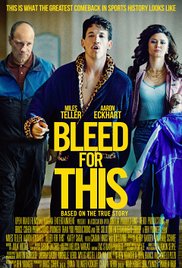 Director: Ben Younger/2016
The story of boxer Vinny "Paz" Pazienza is certainly an inspirational one.  The true story of this boxer was extensively covered in the late 1980's, as Vinny the "Pazmanian Devil", recovered from a horrific car crash where he broke his neck. Doctors weren't really sure if he'd ever walk again, but this is about a comeback that would see Vinny return to the ring in less than a year.
Miles Teller takes on the role of Vinny and does an admirable job diving into the role.  Following the dive of the Divergent series and the failure of the Fantastic 4 reboot to catch on, it is good to see Mr. Teller immerse himself into a story like this.  His work in Whiplash was so strong, for example, that it is these more dramatic roles that he should focus on.
Perhaps the biggest surprise of this film is the physical transformation of Aaron Eckhart, who plays Vinny's coach, Kevin Rooney.  Kevin is a washed out drunk, having previously coached Mike Tyson to greatness.  Vinny approaches Kevin to train after his previous coach announces on HBO that Vinny is past his prime.  This is before the aforementioned car accident.  So Vinny and Kevin both need each other as they work their way back to redemption with Kevin convincing Vinny to move up 2 weight classes to fight champion Gilbert Dele.  Following Vinny's victory, it makes the eminent car crash all the more devastating.
The film is, interestingly enough, produced by Martin Scorsese, who of course directed the classic gritty boxing tale Raging Bull.  And while there is some of that grit present in this film, it is not as strong of a boxing film as Hands of Stone that was released earlier this fall, which focuses on Roberto Duran's story.  Incidentally, it is Duran who is the only boxer willing to fight Paz following his accident and long road to recovery.
Bleed for This truly captures the struggle Vinny Paz had to endure against impossible odds to bring himself back.  While you might find his desire to fight again to be insane, it was the catalyst to help him overcome some truly hopeless odds.
Bleed for This features a strong supporting cast including Katey Sagal and Ciara Hinds as Vinny's parents.  Jordan Gelber and Ted Levine provide the double-punch as Vinny's promoters who are there to make money on the sport, even at the expense of Vinny.  They are the ones to most likely use the cliche, "its not personal…its business".
Ultimately, this is a film that comes down to the performance of Miles Teller and Aaron Eckhart and the direction of Ben Younger. For the most part they succeed.  While it won't have the rousing emotional pull that you might expect from a film like Rocky, there is a certain satisfaction of seeing Vinny Pazienza's story coming full circle, especially when you see some of the actual footage hidden throughout the credits.
While the film tries to maintain a gritty realism, there are some scenes that would have benefited from a little more emotional pull.  Sports movies are notorious for emotional highs and lows, and while that shouldn't necessarily be manipulated here like one might be tempted to do in a film like Cool Runnings, it doesn't have to be suppressed by the story's realistic tone either.
One nice touch that the film provides is using actual footage from the original coverage of this story whenever possible. Pat O'Brien's coverage of Vinny's comeback, audio of Marv Albert calling the fight, as well as actual commercials promoting the fight are utilized throughout the film instead of recreating them with the current actors.  Even the USA network's title card at the start of the broadcast is featured. This helps place this film firmly in the year it takes place in.
Do you remember when these fights weren't all cable or pay-for-view, but were accessible to everybody?  It may be one reason that boxing has faded in popularity in recent years, as well as the emergence of MMA-style fighting.  But no matter whether boxing's golden days are behind us or not, it is always a sport that always has, and continues to, translate well to the silver screen.  This film, ultimately, is no different.
Bleed for This truly captures the struggle Vinny Paz had to endure against impossible odds to bring himself back.  While you might find his desire to fight again to be insane, it was the catalyst to help him overcome some truly hopeless odds.  The toll it takes on his family, his love relationships, and his friendship with his manager are all given the time they deserve in order to fully understand the fullness of his struggle.
As we head into the holidays, many more adult oriented dramas are making their way into the theaters giving a film like Bleed for This some true competition.  Like the real-life Pazmanian Devil, Vinny Pazienza, Bleed for This will have some difficult challenges to face to find box office success, but will ultimately find itself in the ring.  We'll have to watch if it has a knock-out punch or not.