An Immigrant's Tale, Redefining Love and Home
#27: Brick Lane (2007)/English & Bengali
Director: Sarah Gavran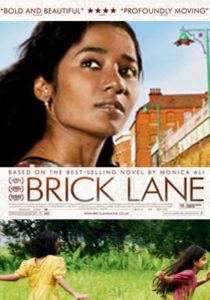 Nazneen (Tanishtha Chatterjee) was just a teenager when she left Bangladesh for an arranged marriage to a much older man. She's spent the nearly 20 years since with her world largely confined an East London apartment, but her heart remains in Bangladesh, and especially with the beloved sister she left behind.
Nazneen's husband Chana (Satish Kaushik) is a dreamer, always looking for the next big opportunity. His financial straits mean that Nazneen has never been able to visit her sister, and so Nazneen takes on a job of her own, doing piece work sewing out of her apartment (a step that wounds Chana's fragile pride). Nazneen's daughters are English born, and the teenager, Shahna (Naeema Begum) is not interested in becoming a quiet, docile wife like her mother.
Nazneen's sewing becomes the doorway through which new possibilities finally come to her – but not financially (Chana manages to spend everything that Nazneen earns, and more). It's the young man who delivers and picks up the clothing who suddenly opens up Nazneen's cramped experiences. Karim (Christopher Simpson) is a handsome young activist who sees Nazneen not as a settled mother but as a beautiful young "girl from the village". They are soon caught up in a passionate affair.
I was wrong in thinking I knew where "Brick Lane" was going, and wrong in thinking that Chana's pie in the sky dreams and petty vanities were the sum total of his character. "Brick Lane" is slow, gentle, lyrical – and morally and emotionally complex.
It was here in Brick Lane that I thought the film was going to be disappointingly predictable. A young woman in a loveless marriage finds "salvation" through adultery. We've all heard that story before, and in Nazneen's case – placed in an arranged marriage while she was still a child – it's easy to sympathize with her. But I was wrong in thinking I knew where Brick Lane was going, and wrong in thinking that Chana's pie in the sky dreams and petty vanities were the sum total of his character. Brick Lane is slow, gentle, lyrical – and morally and emotionally complex. Chatterjee and Kaushik both give extraordinary performances. Chana's character, in particular, is revealed with great patience thoughout the course of the film. And my goodness, Tanishtha Chatterjee has a beautiful and expressive face!
I also have to mention the music in Brick Lane. It was composed by Jocelyn Pook, and it's gorgeous. I was thrilled hear Najma Akhtar, a Muslim Ghazal singer gifted with one of the most beautiful voices on the planet.
Despite the dreariness of the East London setting, in Brick Lane director Sarah Gavran has woven together a film of great beauty, and one that has profound things to say about the many kinds of love people experience over the course of a lifetime.
Bonus Pick: The Wolfpack (2015)
Director: Crystal Moselle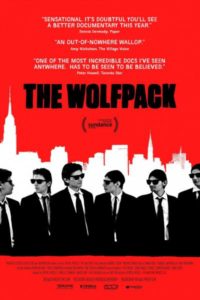 Documentarian Crystal Moselle ran into the Angulo brothers on the street in New York and was captivated by the homeschooled brothers otherworldly appearance. Her hunch that these boys had a worthwhile story paid off in a major way with this movie about children who have been raised in almost complete isolation, in the middle of the largest American city. The Angulo parents shelterered their sons from what they saw as a menacing world outside, but exposed them to thousands of movies (including some very strange viewing choices for children, such as Reservoir Dogs). Watching The Wolfpack raised conflicting feelings for me. The movies and isolation worked like a pressure cooker producing some astonishing creativity in the Angulo boys – but it came at a very high price. My own movie-love and many years of homeschooling made The Wolfpack feel personal to me.