Directed by Paul Feig
Starring Melissa McCarthy, Kristen Wiig, Leslie Jones
Released July 15th, 2016
Rated R
The Ghostbusters franchise has had its share of hits (the original 1984 film, The Real Ghostbusters cartoon) and misses (Extreme Ghostbusters, Ghostbusters 2) and this reboot is definitely in the hit column.
Erin Gilbert (Kristen Wiig) is being considered for tenure at Colombia University when the powers that be discover she co-wrote a paranormal book years ago. Dr. Gilbert tracks down her co-author, Dr. Abby Yates (Melissa McCarthy), in an attempt to convince her to pull the book from Amazon, lest she be denied tenure.
There are so many nods to the 1984 film that it borders on annoying, but in the end it's evident these actors, filmmakers, and producers love this franchise as much as the hardcore fans.
Still a firm believer in ghosts, Dr. Yates is working on all manner of paranormal things with tech genius / crazy person Dr. Jillian Holtzmann (Kate McKinnon). Gilbert tags along with Yates and Holtzmann as they investigate a haunting. They encounter a ghost and the rest is history.
Well, it's history if you've seen the 1984 film this is based on. The women lose their jobs, start their own ghost busting business, hire a secretary (Chris Hemsworth) and get a new, non-scientist recruit in the form of MTA worker / New York City history buff Patty Tolman (Leslie Jones).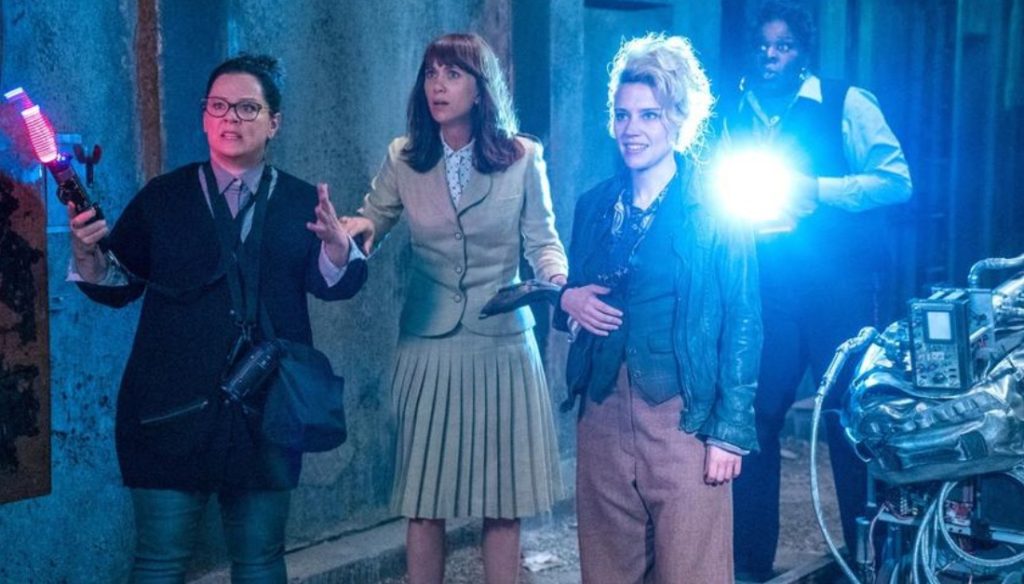 Facing opposition from the mayor (a very funny Andy Garcia), the Ghostbusters have to save NYC from a villain who wants to open a portal and unleash ghosts upon the unsuspecting masses.
Kristen Wiig plays it mostly straight, and it's fun to watch her come back around to believing in ghosts. Director Paul Feig knows how to utilize the talents of Melissa McCarthy and Ghostbusters is no exception. This is among the best big screen work of McCarthy's career.
Chris Hemsworth's career can be summed up by saying he's always played a different version of Thor. In Snow White and the Huntsman he was Drunk Thor; In the Heart of the Sea featured Fisherman Thor; in Winter's War he was Rom-Com Thor; and in Ghostbusters he's Dumb Thor. His receptionist Kevin is amazingly dumb and Hemsworth is having a ball in every scene.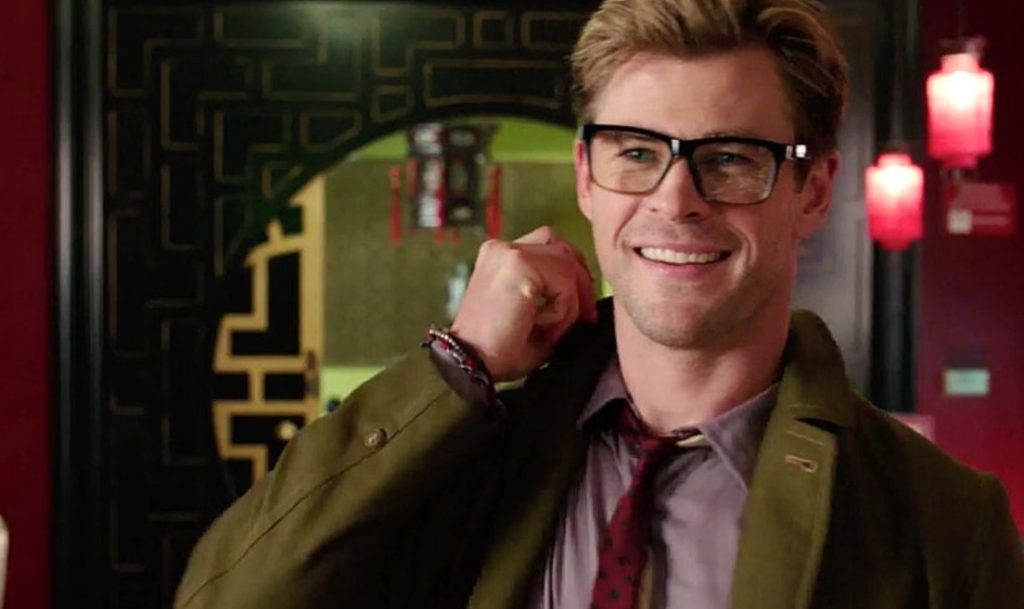 Leslie Jones is so much funnier in the film than the trailers for it would lead you to believe. Her Patty Tolman is grounded, fierce, and hilarious. I dig that she's a history buff and I hope they rely on that heavier in future films. Something else I dig is the villain, Rowan North (Neil Casey). Rowan wants to open a portal to the dead so he can lead them and become the master of the universe. Or something. It doesn't really matter. Rowan exists as a walking metaphor for the comments section on websites, someone who is so disconnected from society yet believes he should be the one to lead it. His transformation at the end of the film rocks.
Let's talk about the end of the film! It features a ghost battle, something we never really got in the 1984 film. Holtzmann has come up with cool new ghost busting tech, and it's a blast to see our heroes bust some ghosts. I love Holtzmann's "Screw U" necklace. OK, I love everything about Dr. Jillian Holtzmann. Kate McKinnon has created a breakout character with this role. She's a magnetic, nutty, steampunk badass. Plus she looks just like cartoon Egon! How could you not appreciate that?
There are cameos galore (even Harold Ramis!), the ghosts are scary, the jokes are funny, the cast totally works. I greatly enjoyed this version of Ghostbusters, even though there's a scene where they play the new theme courtesy Fall Out Boy.
Some dismiss remakes, sequels, and reboots as examples of a lack of creativity on the part of Hollywood. This seems to me to be a fundamental misunderstanding of how storytelling works. An original property is not automatically better or more worthwhile than a sequel, remake, or reboot. It all comes down to the story you're telling and Paul Feig and company are having a blast giving us a new version of 1984's Ghostbusters film.
There are so many nods to the 1984 film that it borders on annoying, but in the end it's evident these actors, filmmakers, and producers love this franchise as much as the hardcore fans. This version of Ghostbusters is freaky, funny, and completely worth your time.