A Space Odyssey That Will Inspire You To Play
Director: Van Neistat/2015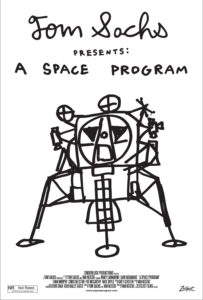 ---
Directed by Van Neistat, A Space Program is the whimsical quasi-documentary of Tom Sachs' conceptual art piece Space Program 2.0: Mars. Held at the Park Avenue Armory, New York in 2012, Space Program was quite the installation to take in. I wish I could have been there! Complete with shuttle launch, discovery of life on the red planet and everything between, Sachs delivered a transport for the audience. A Space Program can be compared to 2015's The Martian if Ridley Scott only used plywood, Tyvek and resin to create his alien landscape. The shuttle, space suits and planetary crust in A Space Program are all handcrafted using "bricolage". (Bricolage- The creation or repair of an object with only available and limited resources.) The scale of A Space Program is awe inspiring and the meticulous details applied by Sachs and his team are magic!
"Watching films like A Space Program reset me. I'm encouraged to observe, to create and to give things a whirl."
The Mars landing is accomplished by an astronaut completing an Atari video game level. Planetary explorations to collect samples involve bottle rockets, circular saws and boom boxes. It's all so creative, playful and joyful that I found myself smiling throughout the entire film. So many artist come to mind as you view A Space Program. Outsider artists like Howard Finster and postman Joseph-Ferdinand Cheval who created the worlds they imagined out of brick and mortar and bicycle wheels. Film maker Georges Méliès and the early days of cinema register as I think of all those sets being handmade. And even Stanley Kubrick's classic 2001: A Space Odyssey must have left an impression on Sachs. His love of space, NASA, film and "do-it-yourself" are evident in A Space Program.
There's this longing you have as a child to wonder, to imagine, to explore. As we age we usually lose this. We're confronted with the reality of daily life and the wishful thoughts of space travel and adventure become selfish, extra, non-necessity. As an adult is it okay to daydream, to play, to spend time on something that won't add to your 401K? I believe the answer is YES!!!! Watching films like A Space Program reset me. I'm encouraged to observe, to create and to give things a whirl. Sachs was motivated by passion. He toiled away making a legit NASA logo on the side of a Winnebago because he loved what he was doing. And at the end of A Space Program you witness the culmination of all that toil, that fun laughter-filled toil!
Honestly, A Space Program is difficult to review, what is it? Is it a documentary? Is it a tongue in cheek critique of NASA? Am I reviewing Sachs' actual art or Neistat's presentation? Again the answer is YES, and I love it all! If you are in the St. Louis area A Space Program screens this Friday through Sunday, July 1st – 3rd 8:00pm at Webster University's Moore Auditorium. (470 E. Lockwood, Webster Groves, MO. 63119) Go and laugh and smile, be inspired, look at the stars anew and then go home and get creative!