What does it take to create something beautiful?
Directed By Andrey Paounov / 2018 / Kino Lorber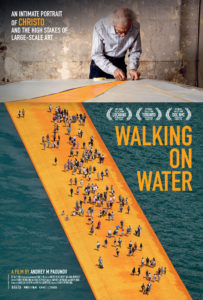 In the summer of 2016, environmental artist Christo installed a series of "Floating Piers" on Lake Iseo, Italy. Wide, golden footpaths allowed visitors to walk from the village of Sulzano to the islands of Monte Isola & San Paolo. Along the way they could sunbathe, picknick and cartwheel in a spot normally used for fishing and boating! In the art documentary Walking On Water, Bulgarian director Andrey Paounov shows the maddening process to create this massive installation and everything it takes for a tourist to indulge in a selfie in the middle of an Italian lake.
First of all, let's talk about the force of nature that is Christo! This 83 year old, badger of a man loves real things. "Real wind! Real water! Real wetness! Real touch! Real sound! Real fear and real joy!" He doesn't concern himself with technology and the virtual world of the internet. In fact the first eight minutes of Walking On Water is a hilarious look at Christo and his assistant trying to FaceTime. He yells at the computer, has a melt down when he can't properly describe a change to the size of his book and drives his team crazy. Paounov reveals to us the full scale of Christo's madness and passion, his wonder and disgust. Christo and his wife Jeanne-Claude created installations for years all over the world, their most recognizable being "The Gates" in New York's Central Park in 2005. "The purpose of their art, they contend, is simply to create works of joy and beauty and to create a new way of seeing familiar landscapes." But after Jeanne-Claude's sudden death in 2009, Christo went back to projects the couple had dreamed of doing together. And that's when the "Floating Piers" became a priority.
"Those who experienced The Floating Piers felt like they were walking on the back of a whale"

Christo
Throughout Walking On Water, Paounov gives the audience a "front-row seat" to the process and ramifications of creating an art installation of this gargantuan size. There's a faithful assistant, Vladimir Yavachev, who yells his way through yellow tape and meetings. You witness the colossal team effort it takes to anchor the piers, connect each of the 220,000 flotation cubes to each other and figure out how to secure 750,000 square feet of yellow canvas to those cubes. On opening day there's a child that is lost and masses that security can't control. This is not just Christo, this is a team, a group effort, a community that believes in what they are creating! And then there's the cost to create this work of art, 17 million dollars for 16 days worth of an exhibit. Christo pays for the cost himself with the sale of artwork, he does it all for beauty's sake and to give people an experience that will never happen again. What a gift to give to the world, and what a memory he created for himself and so many.
As an artist there is so much that I appreciate about Walking On Water. Paounov decided to have no narration, it's not needed. The camera's "all seeing eye" is present watching an aging Christo deal with technology that doesn't work and Italian bureaucrats that care more about money made than people's safety. The documentary moves along a sequential timeline, from concept and permits to the weeks of the installation and the trials of creating artwork involving nature. Walking On Water gives you the entire process, failures and victories, menial tasks and selling out to the wealthy. All with gorgeous cinematography in one of the most beautiful countries in the world.
Walking On Water is a total delight and is now available on DVD from Kino Lorber. And if you are an art lover, Italy enthusiast, picnicker, love time outside or on a lake, an engineer or you too hate technology, then this movie is for you. Basically this is a movie for everyone, because Christo's art is for everyone.