David Niven and June Allyson serve up a Suitable Remake
DIRECTED BY HENRY KOSTER/1957
BLU-RAY STREET DATE: MAY 23, 2023/KL STUDIO CLASSICS
David Niven takes up the tray of noontime breakfasts and the like for a family of rich eccentric layabouts as Godfrey G. Godfrey (the G stands for "Godfrey") in Universal International's unduly ill-fated remake of My Man Godfrey. Though Gregory La Cava's 1936 original, starring Carole Lombard and William Powell, is rightly considered a gold-standard comedy classic, any inclination that it ought not be trifled with turns out to be a tad overblown.
While one would be hard-pressed to find anyone who'd proclaim that this 1957 revisitation of the short novel 1101 Park Avenue by Eric S. Hatch bests La Cava's Depression era classic, it is absolutely worth bringing home.  The new decade affords the film a nice, wide, and perpetually colorful CinemaScope frame, always filled expertly by director Henry Koster (Flower Drum Song).  Koster proves to be the ideal man at the helm, as he is drawn to themes of family differences and immigrants in the U.S.- both active aspects of this consistently funny update of My Man Godfrey.  The film also trades Lombard for June Allyson in the role of Irene, an assignment best wished upon no performer.  That said, Allyson's Irene Bullock is a flighty little fireball in her own distinct right, a headstrong but petite princess with a "stray cat complex."
Irene's complex kicks in early in both films when she, in the midst of a madcap scavenger hunt for rich people, meets the unhoused and unkempt Godfrey living down by the river. She brings him in as one of her findings, and next thing anyone knows, he's accepted the job as the Bullock's newest butler. (None of the others last very long with this high-maintenance high society clan, portrayed by Robert Keith, Jessie Royce Landis, and Martha Hyer). As Godfrey ingratiates himself to the family and their man-hungry maid (Jeff Donnell), it becomes apparent that this impossibly suave drifter has an altogether different past. Once ultimately revealed, his slightly tweaked motivations and machinations make as much sense supplanted into the very different 1950s as they did in the 1930s.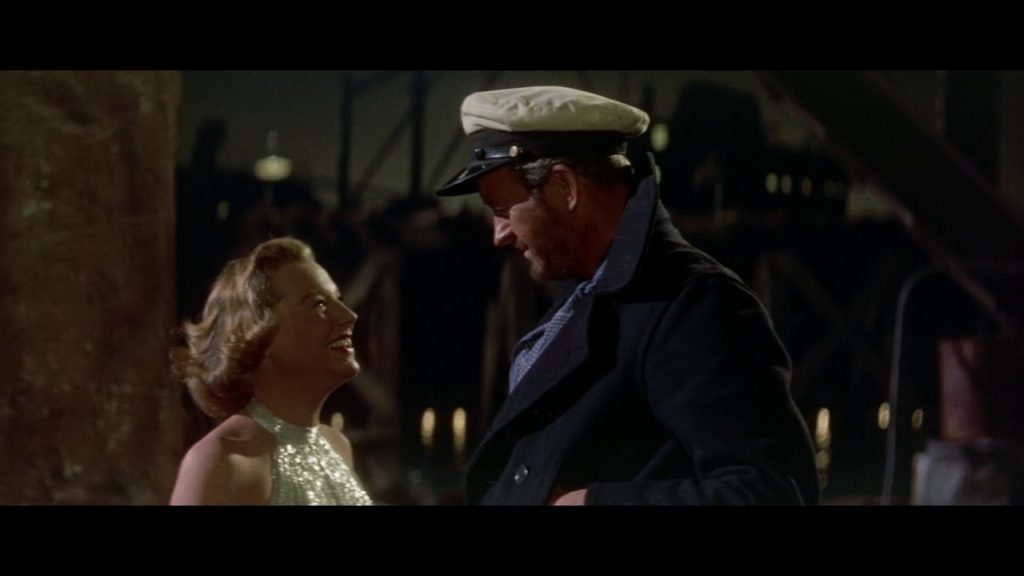 When it comes to the three classic eras of film comedy (slapstick, screwball, and, for lack of a better term, satirical), this version of My Man Godfrey checks in near the very end of the whole lot.  Comedy's "satirical" era takes some lumps for basically being a louder and noisier assembly of the parts it stripped from its revered predecessors, but it did land us plenty of laughs in its own right.  (Martin & Lewis… Martin, Lewis… Bob Hope, Red Skelton, Lucile Ball… Wilder & Diamond, Preston Sturges, and the finest era of Looney Tunes, to name a few).  Koster's Godfrey commits the crime of refusing to slot in comfortably alongside its hammy comedic marquee mates, maintaining a Tashin-esque candy colored exterior (which looks absolutely swell via the KL Studio Classics' Blu-Ray's new 2K transfer), but clinging a little too tightly to the refined screwball spirit of La Cava.  
This version, however, lands its satirical-era sensibility as it trades the scalpel-sharp brilliance of the 1936 original for a somewhat surprisingly blunt randiness. Think of it as an overt version of the Lubitsch libido wrought in the time between The Girl Can't Help It and Pillow Talk. An example:
Cordelia Bullock: "This morning I noticed my green dress still hanging in the closet. Why didn't you get it off to the cleaners?"
Francesca (Eva Gabor), Godfrey's glamorous past acquaintance: "Why, Godfrey! You never had any trouble getting my dresses off… to the cleaners!"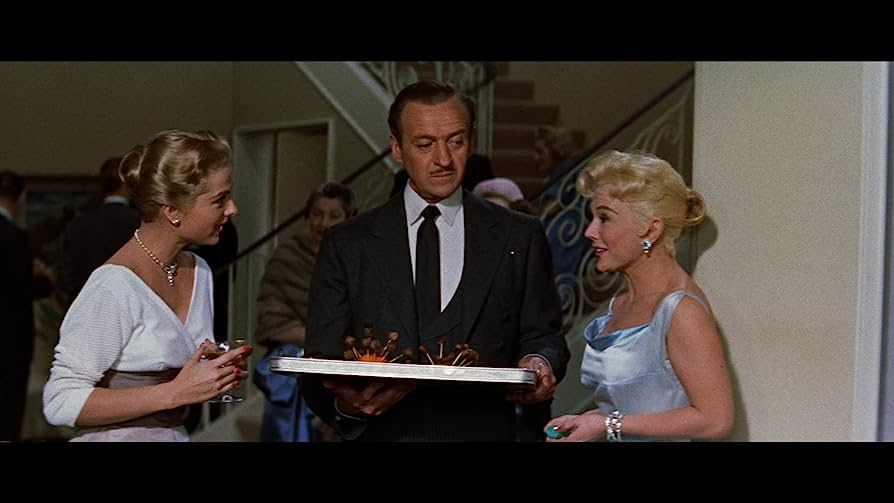 Film critic and author Simon Abrams astutely says that this film is "like a really good cover version", satisfyingly recognizable while effectively doing its own thing. Abrams has plenty of bits of research at the ready and peppered throughout the track, which fills the ninety-two-minute run time amicably. Such as: Godfrey in this film was initially played by German actor O.W. Fischer, who lasted sixteen shooting days before pissing off absolutely everyone. It's difficult to imagine that the handsome and pleasantly commanding David Niven, already an established talent in cinema, would be anything but the obvious first choice for the title role, but he was not.
Thankfully, Niven was ready and available to apply his skills of easy but precise diction and enunciating to this project. He carries My Man Godfrey with all the ease that Godfrey carries a meal tray. This recasting being the central drama behind the scenes of the production, Abrams brings the goods. Even so, however, there's an unwarranted self-consciousness perceptible in Abrams' obviously unedited delivery, rife with stammers, ums and uhs. Abrams, having done the work and landed the gig, has no reason not to project a greater authority. Here's hoping for tighter and more confident sounding commentaries from him in the future.
As so much of today's culture has its knives out to "eat the rich", it's likely that the nutty, self-absorbed Bullock family would fail to appeal today. The 1950s may in fact be the last movie decade when such characters, as imperfect as they ever have been, were broadly acceptable without blatant qualifiers of any kind. The appeal of the Godfrey character lies not only in his sly infiltration, but his selflessness in the face of those who actively relegate him to a subservient level, or worse. But, to know Godfrey is to love Godfrey; there's just no resisting. That's what makes him a man for all seasons… of film comedy.