Harrelson, Eisenberg, Breslin, and Stone Return to Their Hilarious Zombie Wasteland
DIRECTOR: RUBEN FLEISCHER/2019
Is Zombieland: Double Tap the cleverest funny movie I've seen this year? Short answer: No. While we haven't seen any 2019 comedy break out above typical movie chatter (yet), we've seen a few excel in niche areas. Ready or Not found more comedy in its horror, Yesterday mastered dramatic irony, Isn't It Romantic spoofed a genre while still paying tribute, and Late Night used the art form to skewer cultural norms. But the more important question: Is Zombieland: Double Tap just flat-out the funniest movie I've seen this year? Heck yes, yeehaw, it is.
For those of you who haven't made an excursion to Zombieland in some time, quick refresher: Columbus (Jesse Eisenberg), Tallahassee (Woody Harrelson), Wichita (Emma Stone), and Little Rock (Abigail Breslin) made their debut in the 2009 zom-com, teaming up to survive an undead Apocalypse with the help of detailed rules, innovative weaponry, and—much to their surprise—each other. In the last 10 years, the cast has become a roster of Oscar-nominated superstars, but Columbus, Tallahassee, Wichita, and Little Rock have stayed pretty much the same. Sure, they've shacked up in the White House, sleeping in the Lincoln Bedroom and making plans in the Oval Office, but they've fallen into the rut of routine. When Wichita and Little Rock can't take the isolation and bickering any longer, they head out on their own, but when Little Rock goes missing, Wichita and the guys must team up again to rescue her.
I laughed 99 minutes straight, and I'd do it again in an undead heartbeat.
Fans of the original movie have nothing to fear—Double Tap brings back the snarky, idiosyncratic characters we came to love just as we remember them, plus plenty of Easter eggs from the first film. Those will feel like inside jokes to returning audience members, but even new Zombieland tourists will find plenty to laugh about. For one, Harrelson confirms he's a national treasure all over again (just in case you had any doubt). Part Woody from Cheers, part Haymitch, and part something a flavor all his own, Tallahassee is an irreverent, narcissistic delight, both as funny as we believe ourselves to be and as exasperating as we actually are.
Adventure sequels love to throw new faces in to freshen up the journey, and in this case, I'm not just referring to the craftier breed of zombie our heroes are killing. Zoey Deutch, Rosario Dawson, Luke Wilson, Thomas Middleditch, and Avan Jogia join the ranks of zombie hunters this time, and none of them are weak links. Wilson and Middleditch's exaggerated doppelgängers are a smidge indulgent, but Deutch's dumb blonde steals almost every scene she's in.
The only disappointment? Stone and Breslin were absent from enough scenes I wondered if they battled scheduling conflicts. If that's not the case, I'm not sure why this movie couldn't find more for them. Yes, the plot necessitates Wichita and Little Rock's absences for a time, but it also dampers their opportunities for jokes and character development. In fact, all of the ladies, including Deutch's ditzy Madison and Dawson's Elvis-loving Nevada, serve the arcs of our leading men before their own. We see their choices through the eyes of our narrator Columbus and de facto father figure Tallahassee more often than theirs, which is an underuse of a talented group of ladies.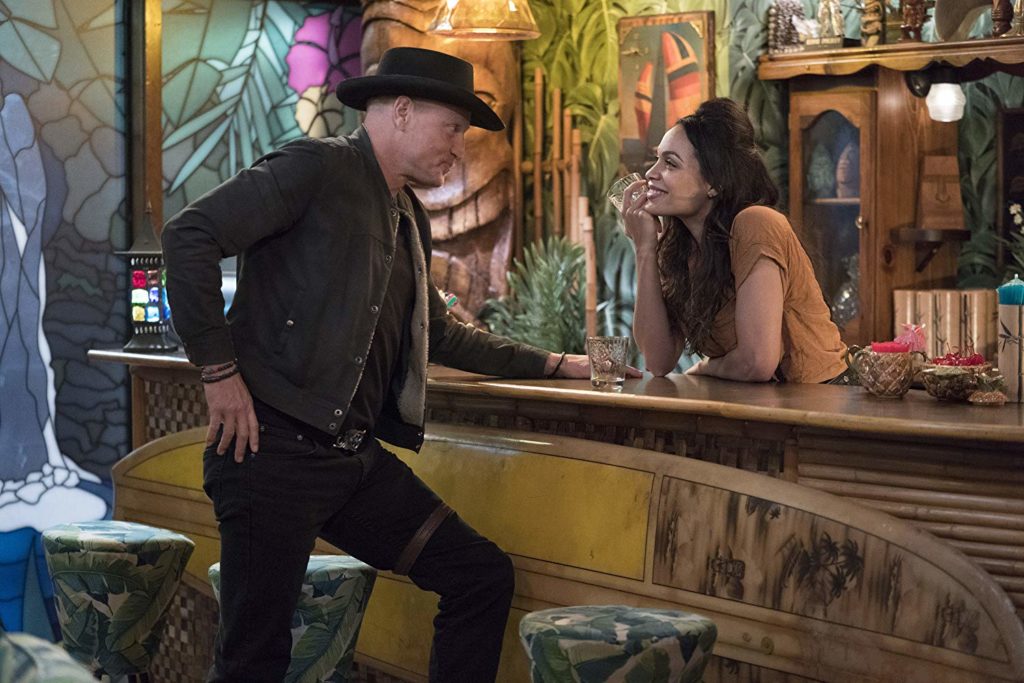 While that's a wasted opportunity, I can't say I left feeling like my time in this zombie wasteland was, well, a waste. I laughed 99 minutes straight (including through the credits), and I'd do it again in an undead heartbeat. It's kind of about family and sort of about masculinity, and you could try to pull some meaning out of its setting in a divided America as goofballs take residence in the White House. But if you start treating movies like this as political allegories, you may as well consider Daffy Duck cartoons from the '40s to be World War II documentaries. Zombieland: Double Tap is just too silly to be a clever statement on anything but zombies, but when it makes you laugh this much, that's not anything to be mad about.