The Pleasures And Pitfalls Of Friendship
Movie #3:  Walking and Talking (1996)
Director:  Nicole Holofcener
Nicole Holofcener wrote and directed one of my favorite movies of 2013 (more on that another day), but not until watching Walking and Talking had I seen any of her other films. I don't know how I've missed them, when they are exactly the sort of movies I'm drawn to – personal stories, female-centric, sharp, funny, insightful. Also, Holofcener often works with Catherine Keener who improves every movie she's in just by showing up.
Walking and Talking was Holocener's first feature film, the story of a lifelong female friendship under the strain of change. Laura (Anne Heche) is a therapist in training, newly engaged to her boyfriend, Frank (Todd Field), and suddenly annoyed by all the things about him that she used to find charming. Amelia is unlucky in love and struggling to be happy about Laura's impending wedding. Amelia's ex-boyfriend and now buddy, Andrew (Liev Schreiber) gets in over his head in a phone sex relationship. There are romantic entanglements, misunderstandings, borrowed clothes and borrowed money, the death of a pet…it sounds (and is) mostly lightweight, young adult stuff. But there's real wit in the script, the cast is likeable, and the friendships between Laura, Amelia and Andrew feel like the friendships I had as a young single. There's also a priceless subplot about smart, pretty Amelia "slumming"with a scruffy video store clerk (Bill Corrigan) – Laura and Amelia actually refer to him as "the Ugly Guy" – only to find that she hasn't given him nearly enough credit.
It's not easy to preserve friendships across the decades, but Nicole Holofcener clearly knows how valuable those friendships can be with all of their frictions and in-jokes, jealousy and tenderness.
It's a tribute to Walking and Talking that watching it stirred so many memories and so much longing for friendships long gone. "Make new friends and keep the old", we used to sing in Girl Scouts. It's only the old ones who offer the kind of easy familiarity and affection that Laura and Amelia share.
Bonus Pick: Valley Girl (1983)
Director: Martha Coolidge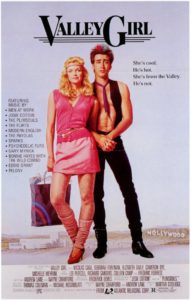 A sweet little time capsule about a romance between a Valley girl, Julie (Deborah Foreman) and a punk, Randy (Nicolas Cage). It's not so much that opposites attract as that these two find kindred spirits in each other despite their outward differences. Coolidge treats both her leads with respect, but it was especially refreshing at the time to see a thoughtful, self-assured girl at the center of a teenage comedy.  Valley Girl also has a totally awesome 80's soundtrack.