Our Contributors Unwrap Christmas Classics Seen For The First Time
Some questions: What is a Christmas movie? Does it need to take place during Christmas? Does it need to capture something of the joy of the season or of the spirit of giving? Finally, what actually constitutes a "Christmas Classic"?
In recent years, films as varied as Die Hard (1988), Batman Returns (1992), and Gremlins (1984) have topped viewer polls alongside other more established "Christmas Classics" such as Miracle on 34th Street (1947), The Bishop's Wife (1947), and It's a Wonderful Life (1946). Indeed, the older of these titles have been replaced on these same lists by more (relatively) recent fare like National Lampoon's Christmas Vacation (1989), Home Alone (1990), and – the grandaddy of 'em all, the big one, the queen mother of all the more current Christmas faves – the seasonally omnipresent A Christmas Story (1983).
We could go on (Jingle All the Way [1999], The Polar Express [2004], Elf [2003]..), but suffice it to say that a
"Christmas Classic" is whatever an individual viewer or family of viewers decides one to be. So if your house celebrates the season with the merrily Orwellian sci-fi fantasy Brazil (1985) or the grim holiday film noir The Reckless Moment (1949) or the seasonally gripping thriller Three Days of the Condor (1973)… well, what Grinch or Scrooge is to gainsay? If enough agree, then community is built, relationships fostered, and passion shared around a mutual celebration of "togetherness"… which, one could argue, is what Christmas today is really all about, Charlie Brown.
Pull up a cozy chair by the seasonal hearth, fellow film fans, as our contributors, braving the hurly-burly of the season, record their first-time reactions to cherished Christmas Classics!
Christmas in Connecticut
(1945, Warner Brothers, dir. Peter Godfrey)
by Jim Tudor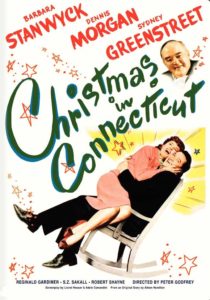 Despite being a film critic with a big family who actively celebrates Christmas each year, Christmas movies have been a nagging blind spot for quite some time.  Each year, without fail, someone asks me to recommend Christmas films for their family. Inevitably, these are people who typically don't ask for movie advice, so the fact that I come up short for them, of all people, is particularly embarrassing and frustrating. Looking at 1945's Christmas in Connecticut, made in what would be the final phases of World War II, I was perhaps reminded of why I haven't gone out of my way to take in more Christmas movies. Connecticut is perfectly average, but boasting nothing other than its holiday hook to keep it on our collective radar.  With a decent cast led by Barbara Stanwyck, Christmas in Connecticut has every reason to be a crowdpleaser. And sure, it is. I don't know that I'd go as far as to call it a "timeless crowdpleaser", but for those looking for a nostalgic spark this Yuletide season, you certainly could do far, far worse.
It tells the story of a professional career woman who must fake her way through a domestic advice column that she pens for a popular magazine. Comedy arrives as it is revealed just how clueless Stanwyck truly is about such "womanly matters" – her character's very bread and butter, and source of her celebrity. Shot with a straightforward visual approach, it's actually pretty dull to look at.  It can be postulated that Christmas in Connecticut was resting on its laurels a bit, knowing that it's wartime, and therefore thedegree of warmth and approachability generated is quite sufficient. It was likely never intended to be a "timeless classic", and that's fine.
My primary takeaway from this film is its strange, overwhelming obsession with food. For the first 15 minutes of the film, in which two wounded World War II soldiers recover in the hospital, every conversation is about food. The minutia of what they'd like to eat, the torture of what they can't eat. Later as Stanwyck's boss, played affably by the great and greatly Sydney Greenstreet, crashes the family Christmas celebration, he is insistent to watch her flip a flapjack. Insistent! Will this brazen career woman whom her boss actually believes to be a matronly housewife ever flip this flapjack to this expected satisfaction??? Connecticut is all very cute, but at the end, it melts away like so much glistening snow in the driveway. It's hard to believe that only one year prior, Barbara Stanwyck was coldly murdering her husband in the film Double Indemnity. Here, she's properly expected to not only have a husband, but happily cook for one. Her general resistance to that is something of a different age, comedy fodder with a glint of feminism to come. AChristmas of a different time. Shrug.
Scrooge
(1970, Cinema Center Films/UK, dir. Ronald Neame)
by Justin Mory
This musical version of Charles Dickens' immortal classic A Christmas Carol somehow passes me by every holiday season, so I decided to grab this opportunity – along with just about every other filmed version of A Christmas Carol I could find, but that's another story (see "A Surplus Population of Scrooges"!) – to hunker down and finally watch it.
I think what most intrigued me, initially, was the prospect of witnessing Sir Alec Guinness as a singing Ghost of Jacob Marley – and his all-to-brief, creepily hoarse-throat rendering of "See the Phantoms" certainly doesn't disappoint – but what kept me interested through its 113-minute running time of boisterous musical numbers and (welcome) comic relief was both its faithfulness to its source material AND expansion of Dickens' well-worn tale. At a then-34-years-of-age, Albert Finney in old age make-up, which also allowed the actor to play a young Scrooge in flashbacks while out of it, gives a great, glowering interpretation of the title role and this version, with no less than 11 production numbers, takes the character to places he had never been in previous versions.
So not only is Scrooge shown the spirits of the damned just outside his bedroom window, but Marley's Ghost grabs him by the scruff of the neck and actually flies the benighted soul among them; not only is Scrooge shown a world in which he no longer exists, in Christmas Yet To Come, but actually witnesses dancing in the street by his debtors at his passing; and not only does Scrooge see the "terrible writing" on his own tombstone, but he is actually dragged down to Hell to directly experience the nature of his punishment in the hereafter. (I also quite enjoyed the parlor game called "the minister's cat" – substituting for "blind man's buff" in the original – played at Nephew Fred's Christmas party.) Leslie Bricusse's witty songs and script, along with director Ronald Neame's vivid Victorian atmosphere, lends itself to a bracing tone mixing fun and hilarity in equal measure to the darkness and dreariness, which ultimately seems a fine evocation of Dickens' equal parts comic and tragic world. The movie musical died a slow death in the early 70s – shifting tastes and smaller budgets no longer made their production feasible – but if Scrooge marked one of its final few, then this musical A Christmas Carol should be all the more seasonally valued for it.
Miracle on 34th Street
(1947, Twentieth Century Fox, dir. George Seaton)
by Robert Hornak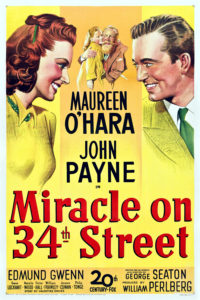 What I enjoyed: the opening shot tracking behind a sidewalk-strolling Kris Kringle that promises nothing less than an Italian Neorealist Christmas; Susan the sweetly cynical tot, whose story threatens to become A Portrait of the Atheist as a Young Girl; Alfred the earnest janitor and his monologue about seasonal guilt complexes that all but crucifies Albert Schweitzer; Kringle's march into eyebrow-tugging Sawyer's office, his righteous anger flipping over the tables of the psychologist's "malicious contemptible fraud"; and the fact that Judge Harper's a dead ringer for Lindsey Graham.
I lead with all that because I know going negative on this sacred text is like putting Santa on trial. As I write this, I keep looking out at my own William Frawley for any hint that I might not get thrown out on my jingle bells for even hinting that something so innocently harmless could be worth criticizing. I promise I'll go light and only parse out three lumps of coal in this Christmas stocking. Apart from the fact I kept wondering what Frank Capra would do with the direction and Preston Sturges with the dialogue:
First. I have to ask because the entire plot depends on his visit, but does Kris Kringle go walking down NYC streets every year, critiquing department store front window displays and dressing down random faux Santas at parades like some jolly General Patton, or is this his first off-season downtown vacay? If this is his first, will being ensnared by a corrupt judicial system, so easily manipulated by jaded lawyers and department store psychologists, finally convince him of the ultimate futility of his joy-spreading agenda?
Second. I'm intrigued by the sight of Santa gleefully accepting what amounts to a bribe check from Mr. Macy, then also quickly agreeing to the counter offer of Mr. Gimbel. Though he pivots the money into a much-needed x-ray machine for the hospital, the underlying ethos of materialized Christmas as a time for milking all you can get, even if you're Santa, is upheld. To my eyes, the scene is a tinsel away from a satire of institutionalized greed. Reminded me of Jerry Lewis glad-handing a million dollar MDA check from Anheuser-Busch.
Third. I can almost believe there's a real Santa Claus who flies around the world and delivers gifts to every child on the planet in a single night – but I'll NEVER believe in a Santa who can make a billion toys and close escrow on a new house between Thanksgiving and Christmas. I can live with myths, but I can't abide impossibilities.
3 Godfathers
(1948, Argosy Pictures, dir. John Ford)
by Sharon Autenrieth
3 Godfathers is a most subtly Christmas themed movie, and even putting it in the "Christmas movie" category is a stretch. But this John Ford western is set at Christmas time, and those three godfathers are explicitly compared to the three magi who brought gifts to the Christ child.
John Wayne is Bob Hightower, the leader of a trio of criminals who have just held up a bank in Arizona. Bob, Pete (Pedro Armendáriz), and the Abilene Kid (Harry Carey, Jr.) are on the run across the desert, without water, and smartly pursued by a sheriff, Buck Sweet (Ward Bond). This is one of John Wayne's most vulnerable roles, and not simply because he spends the third act caring for a baby. Bob seems like a resourceful enough figure, but he's outwitted by Buck Sweet more than once, and the heist which he planned ultimately takes a terrible toll on his band.
Bob, Pete, and the kid may be criminals, but they're true characters are revealed when they come across a dying woman in the throes of childbirth. Not only does Pete help her to bring her son into the world, but all three men find themselves appointed by the mother to be godfathers for the newborn. The rest of the movie follows the godfathers as they try to get little Robert Pedro William (named after all three of them) to safety in New Jerusalem.
3 Godfathers is replete with spiritual imagery and references. In particular, when the men are uncertain what to do next, they consult the Bible that belonged the baby's mother. Each time they open it to a random spot, it provides just the guidance they need (a strategy for using the Bible which I do not endorse, by the way).
What really stands out in this movie are the Death Valley vistas, and in particular a ferocious sandstorm during which the hapless bandits lose their horses. No one did Western landscapes like John Ford, and this is a visually stunning film.
But is a Christmas movie? Only in the most marginal way. 3 Godfathers is a fine movie, but not the place to find your holiday spirit.