A Mind-Bending Look at Mental Breakdown
Director: ALEX ROSS PERRY/2015
In Queen of Earth, Elizabeth Moss (Mad Men) and Katherine Waterson (Inherent Vice, Robot & Frank) star as Catherine and Virginia, two long-time friends who decide to share Virginia's family's lake house to get away from it all.  Their friendship is put to the test as they discover how far apart they have drifted away from one another across the years.
Written and directed by Alex Ross Perry (Listen Up Phillip, The Color Wheel), Queen of Earth fades in and out of two different time periods at the lake house, one year apart.  Depending on the year being conveyed, either Catherine or Virginia are on the verge of a mental breakdown.  The film does not have any lines of demarcation, nor does it try to delineate between the two time frames other than to allow you to notice who is missing in the scene and the conversations they reference.
Virginia (Waterston) is clearly from a privileged background and seems to manufacture some of her emotional crises by pushing people away for the smallest of reasons.  Referring to them as "enemies" after they cross her fluid lines of friendship, she then sees such former-friends as hanger-ons who are causing her to stunt her own personal development.  Her solution is simply to cast them aside.  The true test will be how she handles Catherine's (Moss) personal crises.  Will she see her as an enemy now that she is no longer useful to Virginia's own desires for her life?
Catherine is an aspiring artist who has spent her time working for her more successful artistic father.  A glorified personal assistant, she has yet to find a way to express her own creativity and has recently suffered two personal losses of varying degrees.  Hers is more of a break from reality as she deals with these losses, and the way the camera slides effortlessly between these two visits to the lake across a one year time period causes the kind of break in reality for the audience as the one Catherine is experiencing herself.
Adding to the confusion, the film only breaks up the narrative with a title card depicting the day of the week.  So if it says "Monday" on screen, you'll see a series of events that may or may not be current.  They may be from Monday of last year's trip to the lake house, rather than this year's trip.  It has a very unsettling effect and is exactly the type of narrative manipulation that Alex Ross Perry employs to varying degrees of success. It also ties into the larger theme of mental breakdown.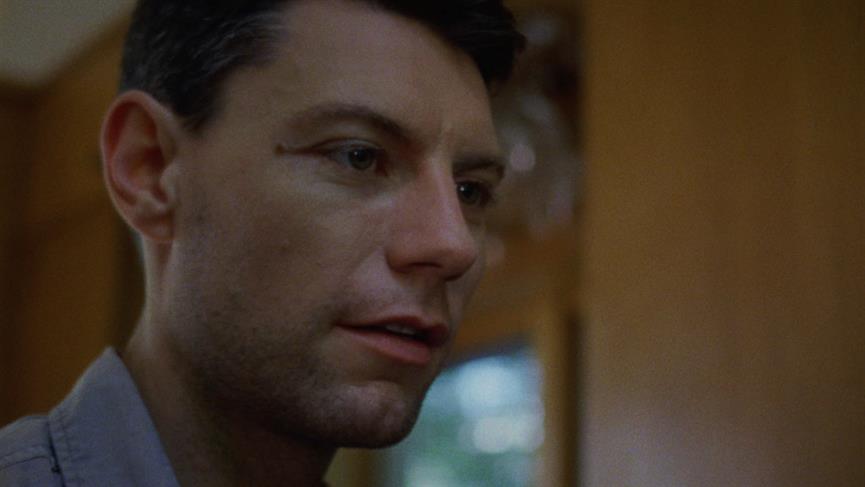 Patrick Fugit (Gone Girl, Almost Famous) plays Virginia's neighbor, Rich, who keeps coming over to have a fling with Virginia and to grate on the nerves of Catherine. His presence helps with the disjointedness of the time line and creates an almost sinister vibe to several of the scenes, including one canoe ride on the lake.
Queen of Earth will have a very narrow appeal but for those who are fans of Alex Ross Perry's work, or the technique he employs, there is much to like.  Both Elizabeth Moss and Katherine Waterson put in very strong performances, as does Patrick Fugit. It will have a very limited release, but if you are a fan of this type of art house film, it will be playing at Sundance Cinemas, and others.