Is the Second Stay As Good As the First?
Director: JOHN MADDEN/2015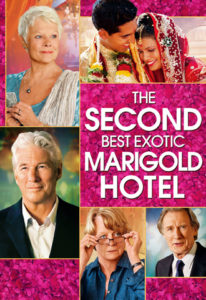 The Best Exotic Marigold Hotel (2011) was a heartwarming tale, based on the book by Deborah Moggach, of several elderly British persons who make their way to India to live their golden years in the seemingly luxurious Best Exotic Marigold Hotel.  When they arrive, however, it seems that the luxury that was advertised was more the hopeful dream of a young and driven entrepreneur named Sonny (Dev Patel-Slumdog Millionaire, Chappie) who is seeking his fortune and trying to change his disapproving mother's mind about the girl he longs to marry.
Each of the British residents find their way to India looking for different things.  Evelyn (Judi Dench) has recently been widowed and longs for a new adventure in life. Graham (Tom Wilkerson-Batman Begins, The Exorcism of Emily Rose) is looking up a long-lost love. Douglass (Bill Nighy-About Time, Love Actually, Harry Potter series) and Jean (Penelope Wilton) have lost their money in an investment.  Madge (Celia Imrie) is gold-digging for a husband while Norman (Ronald Pickup) is there to chase women before meeting Carol (Diana Hardcastle). Muriel (Maggie Smith-Harry Potter series) is there for hip surgery on the cheap. Each of these residents are much like the hotel they now reside in….not much to look at from the outside, but full of heart and unlimited potential.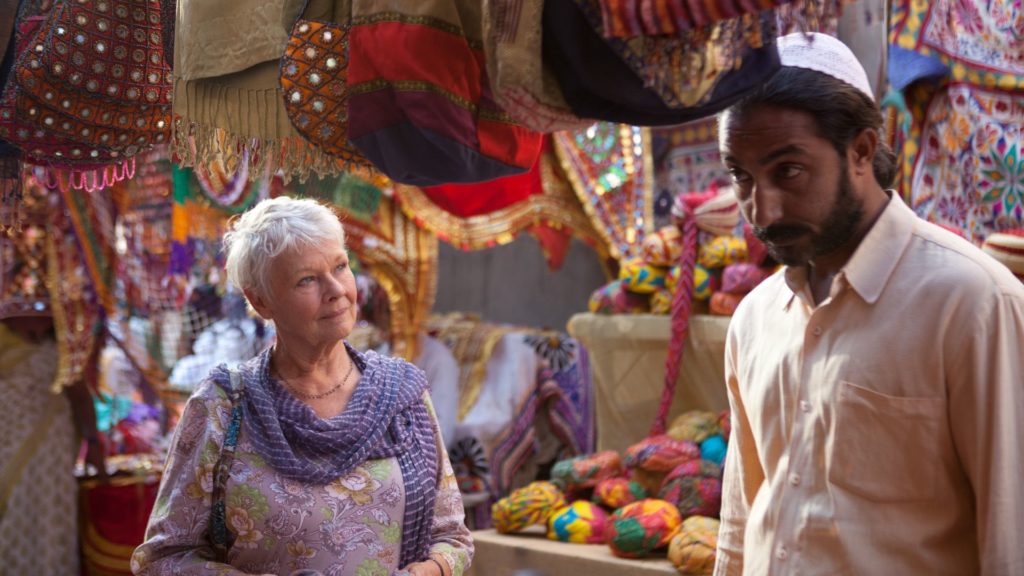 The original film was a hit and a charming tale that bridged the cultural divide, as well as various generational divisions.  Following Dev Patel's turn in Slumdog Millionaire, it served as a further exploration of all things India as Hollywood began to partner more and more with Bollywood.  Since the first Marigold Hotel, more and more films featuring India have emerged.  Last year's examples included The Hundred Foot Journey, and Million Dollar Arm.
Director John Madden returns to India in this follow-up that picks up 8 months after the events of the first film. Sonny is planning his wedding to Sunaina (Tena Desae) and seeking funds in America from an investment firm who might partner with him to open a second hotel that caters specifically to the elderly.  We are also slowly re-introduced to the residents of the Marigold Hotel.
To add to the stress of Sonny's upcoming nuptials and business dealings, he is told by the investment company, headed by David Strathairn, to expect an inspector to visit him and look over the potential site of the second hotel.  The only catch is that Sonny won't know who this person is, as they will be undercover.  Joining the cast for this second installment are Richard Gere and Tamsin Greig (Shaun of the Dead).
On the whole, this will be another satisfying visit to the Marigold Hotel for those who saw the original film.  The personal journey of each of the residents continues and is played with meticulous care by each of the actors.  The main draw is, of course, the always dependable Judi Dench who has shined in such recent offerings as Philomena and Skyfall.  Bill Nighy is his usual layered self, simultaneously playing things loose and shallow (as a tour guide who knows nothing about the places he's lecturing on), as well as hesitant and vulnerable in his pursuit of Evelyn (Dench) following the breakdown of his marriage to Jean in the first film.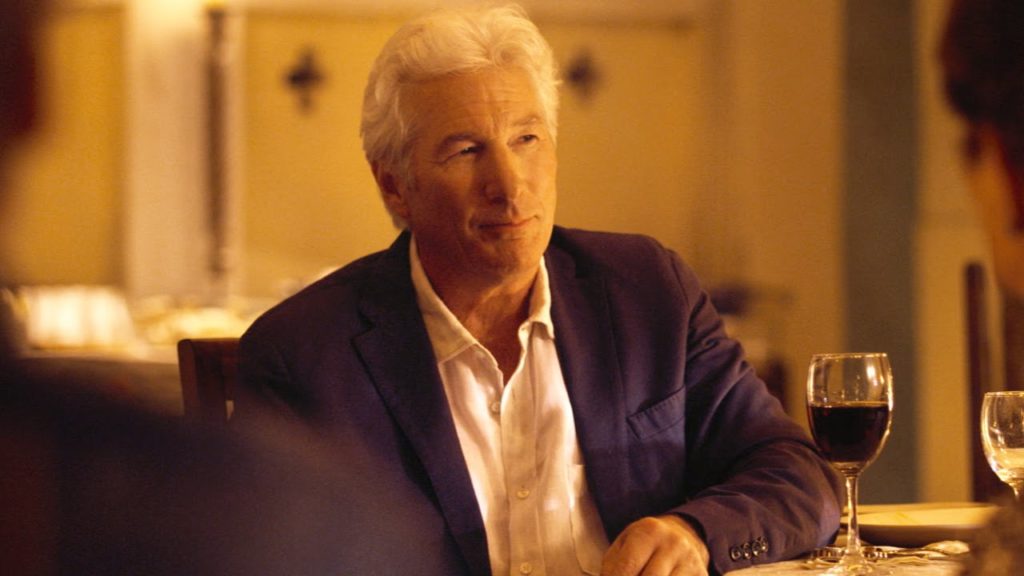 For Richard Gere, this film is a smart career move.  It allows him to move comfortably into a role where there is a built-in audience and demographic that will still allow him to play the "sexy" lead of past Julia Roberts films, but not have to carry a film, which he has not been able to do for some time.  With the pressure off, he is able to loosen up a bit and gives one of his more comfortable performances in a while.
There are some cracks in this hotel's edifice, however.  While I recommend this film and believe it will be one of the better choices you will have at the theater this weekend, it is not without its shortcomings.  The most obvious is that it is unable to to surpass the original's charm and story, though it makes a valiant attempt.  I think this stems from a few problems in the script.  First off, The Second Best Exotic Marigold Hotel shifts more of the narrative focus off of the elderly residents and more onto the shoulder's of the hotel's driven, but good-natured proprietor Sonny.
Dev Patel is once again a welcomed addition, but he is forced to over-play the eccentric Indian accent stereotype who longs to bring his Eastern-mindset family into the Western world.  It plays well in short doses, but being the main thrust of the film's storyline, along with his strenuous engagement with Sunaina after having spent the first film establishing a relationship built on trust, love, and respect seems disjointed.  Their disfunction is played up for laughs, and situational comedy of misreading the situation, but it is a distraction none the less.
The other thing that lessens this sequel is that the extremely strong cast is mainly left to exist in their own individual story lines without as much interaction between the principles.  And if you haven't seen the first film, this sequel does little to help you learn the individual backstories that led each to this place.
We also could have used more of Bill Nighy's clever quips aimed at his fellow residents, and especially towards Richard Gere, who would have had a just as charming retort.  Instead Richard Gere is given his own storyline, romancing Sonny's mother, and the rest of the cast is left to fend for themselves without the strengths of the larger ensemble to play against.
Despite these disappointments, the film still largely succeeds based on its not straying too far from the heart of the original, and Maggie Smith's touching performance. Here, we see more of how her dark, pessimistic exterior is slowly giving way to her learning how to accept the things she hates in order to love others, despite her strong opinions to the contrary.
On the whole, the second stay at the Best Exotic Marigold Hotel is still a charming one that will leave you wanting to come back and visit again real soon.  It just won't be as memorable as the first visit.