DIRECTED BY: SIMON CURTIS/2022
The Crawleys Head to a Villa in France, While the Rest of Downton Abbey Heads to the Movies
When Downton Abbey, the 2019 film, concluded, the Crawleys had successfully hosted the King and Queen of England at their estate, and the Downton staff had pulled a major coup against the royal staff, allowing Downton staff to be the ones to serve royalty. We also saw how Robert Crawley's (Hugh Bonneville) estranged cousin, Maud Bagshaw (Imelda Staunton), actually had an heir who will inherit Downton. It was a daughter who has posed as her maid, named Lucy (Tuppence Middleton), who has also fallen in love with Tom Brason (Allen Leech), the widower of the Crawley's youngest daughter Sybil. That film took place in 1927, where Lady Edith's (Laura Carmichael) husband Bertie Hexham (Harry Dadden-Paton) had declared that they are "modern folk" now.
With the latest installment, Downton Abbey: A New Era, we find ourselves checking in on the Crawley's in 1928. It seems that the Dowager Countess of Grantham, Victoria Crawley (Maggie Smith), the fiery grand-matriarch of the family has revealed that she was given a villa in the south of France years ago by a man who had once fallen in love with her. Unable to travel, she sends her son Robert, and his wife Cora (Elizabeth McGovern), along with Tom, Lucy, and Tom's daughter Sybie (Fifi Hart), who will inherit the estate from her great-grandmother as long as the will goes through the French courts successfully. It seems the man who willed it to the Dowager Countess, has a widow who is contesting this.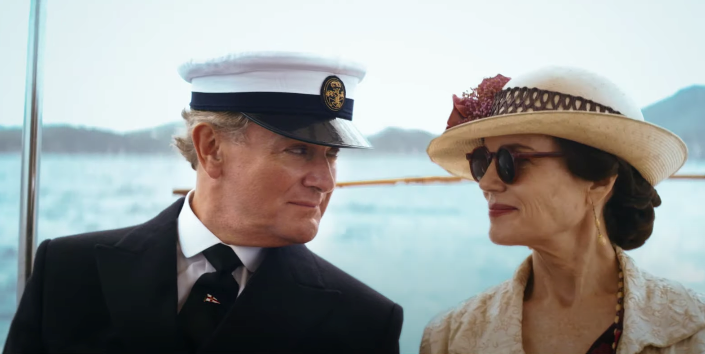 While Robert isn't keen to travel, it seems that the trip comes at a perfect time. Downton is facing the need of many repairs to its roof and basic infrastructure as Lady Mary Talbot (Michelle Dockery) continues to manage the estate, struggling to make the estate profitable in a time where many of the large houses and estates of England are dying away. Enter a new opportunity: A film director wants to shoot a silent film there staring fictional movie stars Myrna Dalgleish (Laura Haddock) and Guy Dexter (Dominic West). The studio will pay the estate handsomely, which will solve the infrastructure needs plaguing the estate, and it will motivate Robert to get out of there so he isn't bothered by such an annoyance as "kin-e-ma" (he mispronounces cinema due to his disdain for it as art).
As the film unfolds, we are treated to a story arc that like the last film, plays out like about 2 1/2 episodes of a Downton season. This allows series creator, and the film's producer and screenplay writer, Julian Fellowes, to dip back into this world without committing to a full season of episodes. Fans will like to re-enter the world they grew so fond of, along with the characters who inhabit it, and so these two films seem to have satisfied both sides to keep exploring the lives of the Crawleys and their friends and staff, without as much commitment as it took to develop six seasons worth of story.
As even the fandom has started turning on the Crawleys for their obscene amount of wealth, the true strength of Downton Abbey is its willingness to acknowledge this disparity and other modern issues it grapples with by looking at it all through this backward lens to the early 20th century. The Crawleys wealth and privilege isn't the root of the problem as much as the symptom. This was a system in place long before Robert and his family took it over. It is here where Jullian Fellowes has always tended to use the stories of the staff in contrast with the stories involving the Crawleys to elevate various issues of injustice, disparity, and class struggle (especially the wealth gap of our western society).
In Downton Abbey: A New Era, former chauffer turned son of the estate, Tom Branson, still grapples with ensuring that his children, who are born to privilege are never found to be the "idle rich", simply enjoying their wealth without working hard to earn their place honestly. He has lived on both sides of this divide and still finds himself torn, though now he has a new wife who understands that precarious position as well. Tom has always been the bridge between the Crawley's wealth and the servant staff's reality.
Mr. Molesley (Kevin Doyle) continues to reach upwards beyond his caste in life to truly be worthy of Miss Baxter's (Raquel Cassidy) affections. His speaking out of turn to the queen and subsequent bow in the previous film was both touching and totally within character of this man whom we have watched get the short end of life's stick throughout this series. His interaction and foray into film as the wonder of movie making arrives at the estate, though, is next-level Mosely. You can't help but root for this guy.
For Thomas Barrow (Robert James-Collier), the head Butler, he finds himself at a crossroads of either accepting the loneliness that Mr. Carson (Jim Carter) and Mrs. Hughes (Phyllis Logan) stated would follow him throughout his life (earlier in the series they lamented this fact due to his being a closeted homosexual man in the early 1900's), and the possibilities that are presented to him in this "new era" of Downton Abbey. Daisey (Sophie McShera) and Andy Parker (Michael Fox) continue to seek to better their station in life, while Anna (Joanne Froggatt) and Mr. Bates (Brendan Coyle) finally get to simply enjoy their lives after overcoming so much adversity in the six season series. For Mrs. Patmore (Lesley Nicol), she finds herself ready for a paramour, and a situation that may just benefit herself in this department, as well as help out Daisy and Andy in the process.
Finally, this leads us to Mr. Carson and the Crawley's struggles. Mr. Carson is given the best fish-out-of-water story as he accompanies the Crawleys (along with Mr. Bates) to the south of France. A staunch patriot and British royalist, you know that nothing will get under his skin quiet like the French. Just the scene where he needs better clothes and a hat are justification for the entire film. For Lord and Lady Crawley and Crawley children, their struggles are more subtle. Should Lady Edith go back to work at the magazine or simply stay home to run her husband's estate? Should Mary accept the advances of another man while she finds herself more isolated and lonely with her husband Henry often away for long stretches of time spent on his passion of cars? What should Lord Grantham, Robert, think about this unknown relationship his mother had with a French man and the disturbing evidence he learns about the grandson of this French man along the way? What is Cora's secret and how will it affect the family?
Should Downton Abbey: A New Era end up being the last entry in the Crawley's story, Fellowes interjects two touching story lines into the proceedings involving both Elizabeth McGovern and Maggie Smith's characters, which I will not spoil, but in which both women are given the opportunity to shine. Maggie Smith continues to be a global treasure and once again is given all of the best quips of Downton Abbey, as she should.
A more satisfying film than its predecessor, Downton Abbey: A New Era is a fun and tender installment of this beloved franchise. The moniker "A New Era" maybe generous for a film that at this point is winding down after six seasons and a first film. It maybe simply offering comfort food to those who already indulge at its buffet, but the meal is still delightful. It is also, chronologically speaking, the "end of an era" as we all know what awaits the world in 1929 and the subsequent decade and a half to follow. Will the Crawleys be able to continue their extravagance into the Great Depression and World War II? They did survive World War I and the Spanish Flu, so anything is possible. For now, let us simply hang out with Crawleys, both at their home and the south of France, enjoying one another's company. Let us party like its 1928! There may, or not, be another installment in the Crawley's future, so put on the tea and let the latest conversation of Downton Abbey begin. The future of Downton Abbey and another sequel will take care of its self.