A Look at the Coen Brother's Latest Masterpiece
Director: JOEL COEN, ETHAN COEN/2013
"Someone wants to see you".  With these ominous words ringing in his ears, Llewyn Davis steps out into a back ally to meet the stranger whose actions give us a glimpse of the road Llewyn's life is on.
Inside Llewyn Davis begins its journey in the winter of 1961 at the famous Gaslight Cafe on MacDougal Street.  Using the life of Dave Van Ronk, as told in his book "The Mayor of MacDougal Street", as the launching point, the Coen Brothers dive right into the newly emerging folk scene of Greenwich Village. The film opens with a 3 minute song called "I've been all around this world" which sets the tone of the life of Llewyn Davis and his uneasiness to balance his disdain for people and the world system around him with the authenticity he experiences and expresses in his music.
And while this opening number sets the tone musically for the story that is to follow, it is Bob Dylan's album cover for his second album, The Free-Wheelin' Bob Dylan, that sets the visual tone of this story. David Aimes used the same album cover as the iconography of his lucid dream in Vanilla Sky, but for Llewyn Davis, the faded colors of the artwork for this album are the melancholy of his existence and ultimately the prophetic announcement of his eventual demise.
Life has not been well for Llewyn Davis.  He finds himself estranged from his Father, and his sister, having also lost his Mother.  Coupled with the fact that he has failed in his love life, and generally has a disdain for others and you begin to get a sense of the melancholy that fuels his artistic endeavors.
Much of what you see throughout this film is the journey of a man whose life seems to be simply going in circles.  The rhythm of his life consists of one failure and heartbreak after another.  Even trying to return his friend's escaped cat back home safely is an exercise in the futility of his existence.
Surrounding him are friends of varying talents whose luck seems to be taking them places, while Llewyn stays stuck in a much lower gear.  Justin Timberlake has some great moments as a rival folk-singer who happens to duet with his wife, and one of Llewyn's former lovers (Carey Mulligan). Even his manager/agent (Jerry Grayson) is seemingly against him.
Determined to take a risk, Llewyn finds himself on a journey to Chicago to talk to a well known producer (played by the always welcomed F. Murray Abraham) who might give him the break he needs. On the journey we get the pleasure of an appearance by Coen Brother's staple, John Goodman, playing a washed up jazz musician who has no love for the up-and-coming folk scene.
Oscar Isaac does a remarkable job bringing Llewyn Davis to life.  Oscar was gracious to speak to Rob Gabe of Zekefilm in an interview following a screening of Inside Llewyn Davis, about the journey of this character.  You can read that interview here. Performing all of his own guitar and vocal parts for the film, Oscar Isaac proves himself to not only being a quality musician in his own right, but he also embodies the authenticity of the folk movement of that time. T-Bone Burnett produces another stellar soundtrack for the Coen Brothers that should receive Oscar consideration.
And as we journey through the film, seeing Llewyn snatch defeat from the jaws of victory, we realize that much of his failure is self-inflicted.  As a musician, he has a fierce integrity to what he does, but he is also so consumed with himself that very few people long to affirm him or help him climb to the next level in his life.
We further learn of a tragic backstory that has occurred in the recent past that almost serves as the bars of the cage he has fashioned for himself.  In one sense, it is a protection and comfort to him that he justifies with bravado and idealism, and on the other hand it is the chains of purgatory he drags around, much in the same way as Jacob Marley does in A Christmas Carol.
But in the midst of these tragic occurrences, distant relationships, failed professional opportunities and lack of love, on stage we see a different Llewyn emerge.  Every time he has a guitar in his hand and a stage in which to play, Llewyn Davis connects with every person who hears him sing.  Calling his audience back to a simpler time with more romantic notions of what the world is supposed to be he plays his version of folk, claiming, "If it was never new, and it never gets old, then it's a folk song."  He sings songs from the dust-bowl era, the folk songs of the previous generation, reminiscent of the styling of Pete Seeger, and Woody Guthrie, as well as spirituals, and even the blues.  Younger listeners in the theater might even hear in these old songs, the more modern stylings of Grammy-winner Marcus Mumford of Mumford & Sons, who assisted with the production of the film's music.
If the cover art to The Free-Wheelin' Bob Dylan sets the tone visually, then the opening track of that same album proves to be the prophetic message of doom for Llewyn Davis and all of the folk singers of that time who had so much to say but who never received the notoriety and fame of what came later. That song was "Blowin' in the Wind" and it took Bob Dylan from places like the Gaslight Cafe into the mainstream of American pop culture, becoming a voice for a generation.  Unfortunately, it also left a lot of people behind….blowin' in the wind (sorry, had to do it).  They, like Llewyn Davis, are stuck in the never-ending cycle of a life that is just going round and around in circles.  And like jazz, it is never resolving (thanks Donald Miller for that analogy in Blue Like Jazz).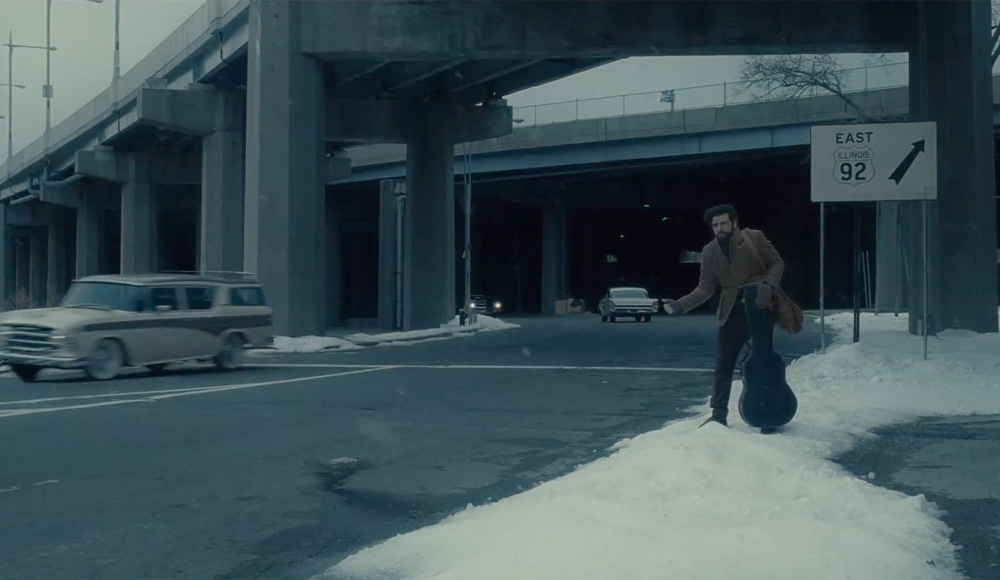 The Coen Brothers latest film is more like the unresolving jazz than the folk scene it so wonderfully portrays, and they do a wonderful job of just letting Llewyn's story be told without a hint of where it is all going, but with enough hints of where it is not.  You will revel in the melancholy and faded colors of each scene and will be uplifted and given hope through the music which seems able to wash away the troubles of life, even if just for a moment.
As Llewyn Davis plays his final song and clears the stage to make room for the next act (a great crowd-pleasing moment in the film to be sure), he is told, "someone wants to see you". With these ominous words ringing in his ears, Llewyn Davis steps out into a back ally to meet the stranger whose actions give us a glimpse of the road Llewyn's life is on.