Dennis Quaid and Ellen Barkin can't heat up this Crime Gumbo
DIRECTED BY JIM MCBRIDE/1987 (U.S. Theatrical Release)
BLU-RAY STREET DATE: APRIL 4, 2023/KL STUDIO CLASSICS
From the title onward, director Jim McBride's lust-imbued crime story The Big Easy assumes an expert ownership of its namesake setting. As if a Hollywood film crew throwing down stakes to tell a tale in the fabled town weren't enough, the production design lays it on as thick as possible. And if for some reason that doesn't do it, every ten minutes someone announces, "This is the Big Easy!"
For viewers who can't get enough New Orleans this n' that, every shot is has its visual lagniappes. Signage, stickers, logos, t-shirts…. But really, that's merely a whole lotta set dressing grafted onto what's already there in the service of a story originally written for Chicago. In other words, The Big Easy's plot does not require The Big Easy. But get a load of all the N'awlinsploitation…! Tabasco and gators and the French Quarter and voodoo and Mardi Gras floats and buoyant second line krewes and creole culture and zydeco and Cajun maximalism, everywhere always. All that's missing is some Credence Clearwater Revival.
The movie's blah police department corruption plot eats up most of movie, though McBride nor the screenplay care too much about that rigamarole. Really, this is a movie about how hot Quaid and Barkin's characters are for one another. Quaid is Detective Lieutenant Remy McSwain, a hotshot cool dude stuff-struttin' police detective determined to take us all to hair gel hell. Movies in the late '80s were lousy with these kinds of overconfident walking libidos in loose-fitting menswear, and Quaid here is no exception. What used to be charming to so many is now commonly acknowledged as insufferable. The difference here is we also have Quaid's grating New Orleans accent to contend with. To get through the movie, you're just gonna have'ta roll with it.
Ellen Barkin is Anne Osborne, the Assistant District Attorney sent in to sniff out what's gone rotten in the city's police force. She's all business, wearing her long hair up and sporting professional white blouses. Murder scenes prove not to be her forte, as evidenced by her squeamishness. Nor do action scenes- the only one of which she finds herself a part of also finds her run up a tree. The tension comes later as Anne and Remy land on different sides of her case. But is he really a bad guy? Or is he just loosey-goosey and a little rule-bendy by nature, making him an ideal patsy? Hmmm.
Things with Remy and Anne get hot before they get heavy. It's earlier than not in the movie when they go out for a little "pinching the tail and sucking the head". And that's just dinner! Then they go back to his place for the sex scene that the scorching poster art promises. Those looking for The Big Easy to become The Big Sleazy, however, will likely pull away unsatisfied- not unlike Anne and Remy once his bad-timing pager beckons him away to a crime scene. Sigh, grumble. Another bloody mess of brains and police tape. From here, the murky drama builds. For what it's worth.
The new slipcovered Blu-ray from KL Studio Classics sports a 2021 HD master undertaken by Lionsgate, and it looks pretty doggone good. The hot-sellin' soundtrack music sounds even better. All the better to bask in the N'awlins of it all… The disc also has the film's theatrical trailer, some other trailers, and optional English subtitles for any hard of hearing folks or Gen Zer's who decide to spin a disc. Laissez les bon temps rouler!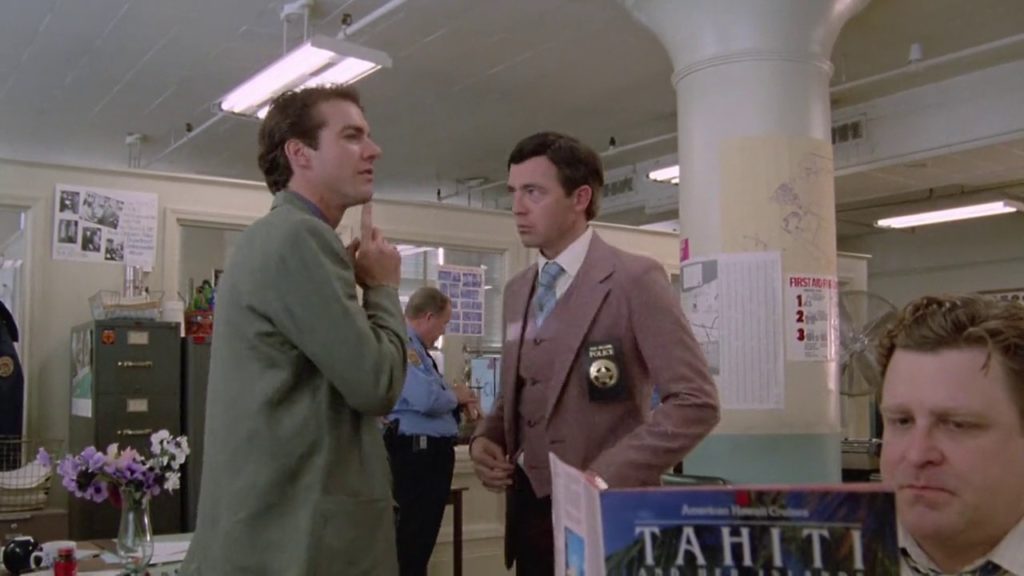 Director Jim McBride (who made that much sexier Breathless remake starring Richard Gere; he'd re-team with Quaid for Great Balls of Fire) is on hand for a newly recorded commentary track moderated by filmmaker Douglas Hosdale. While one doesn't get the impression that McBride is in any way uncomfortable or holding back (which is so often the case with director commentaries), he mostly watches his way through the film, answering Hosdale's increasingly strained questions. McBride doesn't ramble, nor does he tend to go down other rabbit holes, but Hosdale nonetheless seems to exhaust any and all queries he's brought to the table, and then some. By the time he asks McBride if he had any favorite places to eat while he was in New Orleans, the track has run its course. Anyway, pleasant company regardless.
The costar list is rather enticing: Ned Beatty, John Goodman, Grace Zabriskie, Lisa Jane Persky, and musician Solomon Burke. So maybe you've got half a mind to pass a good time with The Big Easy? Nah. You'd be better off simply giving it a pass.