It's Bog-Minding
Directed by Leah Warshawski and Todd Soliday
Starring Sonia Warshawski, Regina Warshawski, Caroline Kennedy
Released November, 2016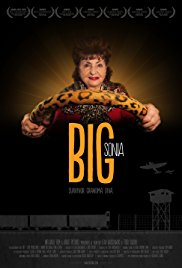 Since its debut in late 2016, Leah Warshawski and Todd Soliday's documentary Big Sonia has traveled from film festival to film festival nationwide, garnering eighteen awards at the time of this writing, and is a lock for many more as new audiences embrace the story of Sonia Warshawski.
At 91, Sonia is one of the last living survivors of the holocaust. Most all of Sonia's family was murdered by Nazis upon their invasion of Poland in 1939. Her sister managed to escape and now lives in Israel. Along with her mother, Sonia was imprisoned from the time she was thirteen at Auschwitz-Birkenau until British forces liberated her six years later from Bergen-Belson. As Sonia says about this time in her life, "If there is hell, I was in that hell."
Like many who lived through such atrocities, Sonia married a fellow survivor. Her husband John was a gregarious man who had a talent for tailoring and the couple opened up their own tailor shop, appropriately named John's Tailor Shop. Sonia took over the shop upon John's passing and for the past 30 years has enjoyed a dedicated clientele who maintain they wouldn't know what to do if her shop closed.
Animated sequences by Dawn Norton and a beautiful song called "Oh" by Vaudeville Etiquette help bring Sonia's story to life, and what a story is is.
The retail industry being what it is these days, John's Tailor Shop is one of the last open stores in Kansas City's all-but-abandoned Metcalf Mall and soon Sonia receives a lease cancellation letter in the mail. While Sonia tries to figure out the best course of action to keep her shop open, she spends her free time speaking to schools about her history in Nazi death camps, giving intense and inspiring speeches to children who hang on her every word.
Sonia says she felt the need to share her experiences with young people after hearing that white supremacists were still out in force denying the holocaust ever happened. I can't imagine living through something so horrendous and then being confronted with those that claim it was all made up. It is truly despicable and I commend Sonia for speaking out in protest.
In some of the film's most affecting scenes, Sonia is seen speaking to incarcerated men who are visibly shaken by her story. One of the inmates says something along the lines of "…she got her number tattooed on her, look, this number is on my shirt" sharing how her story inspired in him the feeling that he could make a better life for himself.
Clearly a labor of love by the Warshawski family (credited for locations and craft services in the credits), Big Sonia was directed by Leah Warshawski (Sonia's granddaughter!) and her husband Todd Soliday, who expertly craft an intimate look at how the holocaust affects generations and serves as a great reminder on why we should all take the time to talk to our grandparents about their lives.
Animated sequences by Dawn Norton and a beautiful song called "Oh" by Vaudeville Etiquette (that plays during the film and over the closing credits) help bring Sonia's story to life, and what a story is is. I cried multiple times watching this film and just when I thought I was done, I started crying again. Big Sonia is an engrossing documentary featuring a strong, funny, outspoken woman who reminds us that no matter what we've been through, we are strong enough to overcome our past.