Gag me with a Spoon!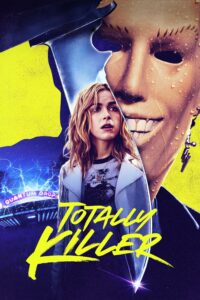 Directed by Nahnatchka Khan
Starring Kiernan Shipka, Olivia Holt, Julie Bowen
Released October 6th, 2023
Rated PG-13
The Sweet Sixteen killer sports a pretty cool mask, a pretty sharp knife, and has returned after thirty-five years to the same small town to commit a string of murders once again. It's up to Jamie (Kiernan Shipka) to travel back in time to 1987 to put a stop to the murders before they begin. How does she find a time machine? How does it work? The filmmakers want you to stop asking questions and start laughing. The trouble is the movie isn't that funny.
Jamie tells everyone in 1987 that she's an exchange student from Canada and that she knows the murders will happen because she's psychic. Some of the more humorous moments involve Jamie's surprise at how direct and un-politically correct everyone is in the Reagan Era, and the general lack of security around the local high school. The 1980s fashion, music, hairstyles, and slang are mostly on point, and I appreciated the references to the obscure video game versions of Thundercats and Death Wish 3. The neatest element is that after a while in the past, we the audience get to see the future that Jamie has changed. We see that the murders are accepted as having taken place in a different order because of Jamie's actions in the past. More of this would have been killer.
Implementing high school horror film tropes as a set up for laughs, Totally Killer is a blood-soaked comedy along the lines of 1981's Student Bodies. Like that film, there is a lot of sexual humor, though unlike that film, most of the jokes don't land. Being a time travel movie, it also recalls Blumhouse's Happy Death Day films. In those films, Jessica Rothe displayed playful sarcasm as she re-lived the same murderous day. In contrast, Kiernan Shipka comes across as angry and awkward, choosing to portray Jamie as frustrated and serious, choices similar to those that reportedly led to Eric Stoltz being replaced during filming of Back to the Future in favor of the gee-whiz humility of Michael J. Fox.
In contrast, Olivia Holt and Julie Bowen offer two engaging versions of Jamie's mother Pam (from the past and present, respectively), and Randall Park, playing a local sheriff, is as wry as always. What makes this adventure less fun than it could have been is the lack of appealing characters. None of the characters from the present or past are well written, and Kiernan Shipka is simply not very likable as the lead. It doesn't help that the humor is sophomoric, or that the plot offers little that is new, fun, or interesting. Consider this Totally Filler.