Keanu Reeves and Alex Winter Plug Back in for a Most Satisfying Reunion.
DIRECTED BY DEAN PARISOT/2020
When we last saw Bill S. Preston, Esquire and Ted "Theodore" Logan, they were jamming on stage to a packed crowd, shredding along with a rousing version of "God Gave Rock n' Roll to You". The world unified for that moment, and a flurry of headlines and magazine covers assured us that this was a most bodacious happy ending.
But, as it turns out, that wasn't The Song. You know, the all-magical single song that this most unlikely of two-piece bands, Wyld Stallyns, was foretold by George Carlin's 27th-century dude Rufus would one day somehow bring the world together for a new age of peace and awesomeness? Well, go figure, all these years later, it still hasn't materialized.
It wasn't for lack of trying; Bill (Alex Winter) and Ted (Keanu Reeves, oddly sporting an Alan Rickman-as-Snape kinda look) gave it their rockin' best shot for a good long while, experiencing a righteous bit of fame and popularity. But that was a long time ago. Nowadays, Bill and Ted persevere as a kind of unintentional VH1 Behind the Music faux-upbeat episode tag: "But don't count Wyld Stallyns out! They're currently set to play a San Dimas Elks Lodge, and are set to rock the house at a wedding reception of a close acquaintance!" Most non-triumphant, dude.
After many, many years of hopeful chatter and speculation, this long-awaited third Bill & Ted's film has finally materialized. Reuniting most everyone of note from the previous installments, Bill & Ted's Excellent Adventure (1989) and Bill & Ted's Bogus Journey (1991), Bill & Ted Face the Music is both a kind of greatest hits reunion but also very true to the unique spirit and spark of the first two. Not only do stars Winter and Reeves fully retain their beloved naive-rocker chemistry, so too do Excellent and Bogus screenwriters Chris Matheson and Ed Solomon. Like Keanu Reeves, Matheson and Solomon have since gone on to grander successes, though none as nostalgically embraced as their Bill & Ted work. It's nice to see that the reunion aspect of this revival extends behind the camera, as well.
Director Dean Parisot (of Galaxy Quest fame) imbues this endeavor with what can be described as an intentionally limited production value; meaning, in terms of the quality of the visual effects and the scope of it all, it's relatively in keeping with the scale of the very low-budgeted first film. The CGI Circuits of Time and whatnot appear almost as dated in their rendering as those of Excellent Adventure do today. One would assume that Face the Music could've finagled whatever sized budget it wished. Instead, though, it smartly opts to retain the familiar aesthetic. The rumored budget for Face the Music is $25 million- chump change for a highly anticipated return of pop culture icons. Fact of the matter is that the modesty of Face the Music makes the considerably larger-scaled Bogus Journey seem all the more bogus in its execution.
In a newly recorded bonus interview found on the 2016 Shout Factory Blu-ray set of the first two films, Winter and Reeves discuss their thoughts and hopes for a third film. They were adamant that it would need to feel as different from the first two as the second film felt from the first while still being true to the characters. At a glance, however, Face the Music does appear to be more of a throwback than anything wildly new. Once again, there's a lot of time travel shenanigans, dealings with Death (William Sadler, very much back in his scene-stealing groove), and historical figures played by actors bearing little resemblance to the real thing. But, from an actor's point of view, one can see why the new aspects of Bill & Ted Face the Music would appeal to the leads.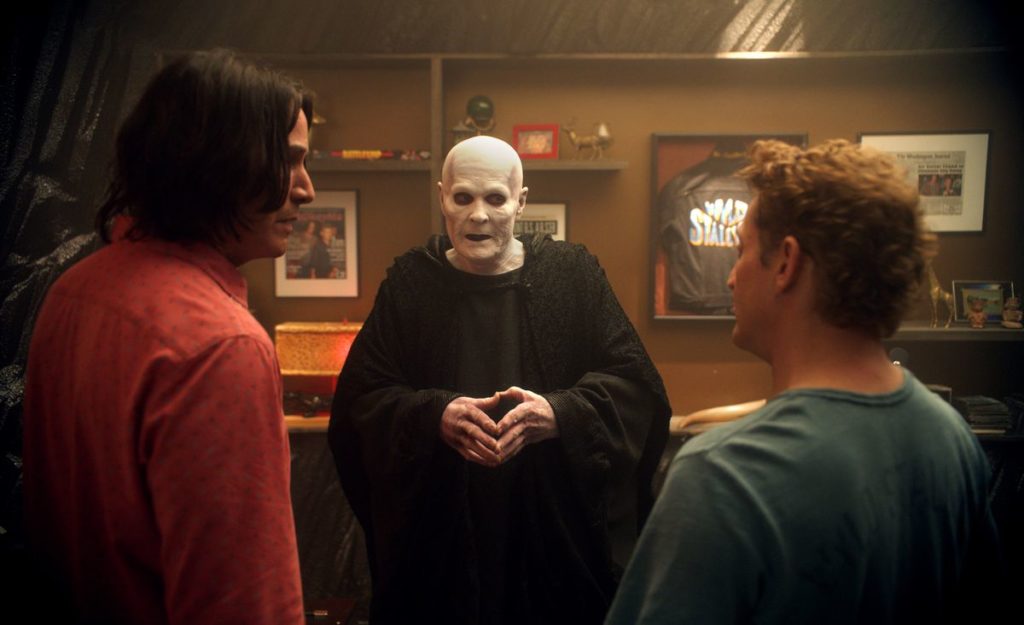 It is essentially a midlife-crisis movie, which opens the door creatively to all manner of regret-ridden and failure-themed scenarios. Having been unable to come up with The Song after so much time has gone by, we find Bill and Ted riddled with doubt and considering the unthinkable: hanging up their guitars. How will these loveable dimwits get it back together, unify the world, and save the universe from the unraveling of time??? (That part's new).
Twenty-nine years having passed of course ensures that there's plenty new at the table. Bill and Ted's daughters, only glimpsed as babies at the end of the previous film, are now older than the guys when we first met them. That said, they're completely chips off their old blocks. Thea and Billie (as played by Samara Weaving and Brigette Lundy-Paine) display the same bright-side-looking commitments to their friendship and doing the right thing as their dads, which spins them off on an adventure of their own. Weaving and Lundy-Paine sell the whole "Bill & Ted Generation Two" notion well enough, though they don't quite manage to grab up any baton that might be getting passed. In any case, it's nice to see Matheson and Solomon acknowledge that the next generation matters, and that the future can indeed be female.
Of the three Bill & Ted films, this, perhaps unsurprisingly, is the one with the most to say. But don't worry, it's not a drag. In fact, by careful lo-fi design, it's the opposite. Bill & Ted Face the Music (has there ever been a more perfect movie title?) is a film that delivers exactly on what it promises, not much more but truly no less. It's no masterpiece, but it sits well within its series, and in its own way, it shreds! (Don't miss the post-credits scene, one of the movie's funnier moments). (Also, Anthony Carrigan plays a hilarious new character, a killer robot that is one for the ages).
In a world wrought with strife and failure, this is the perfect way for everyone to finally unify and face the music. Far from bogus but also in no way awards-racking cinematic excellence, the film nevertheless soars. Pure hearted through and through, it's supremely satisfying to have Bill and Ted back and at long last- and striking just the right chords for this moment in time.