A small but profound film that sees Bill Nighy give the most perfect and natural performance of his career that rightly deserves his recent Oscar nomination.
DIRECTED BY: OLIVER HERMANUS/2022
As this film, Living, opens in theaters in late January of 2023, Oscar nominations have been announced and it is no surprise that Bill Nighy is nominated for his role in this wonderful film with a character simply called, Williams. Also receiving an Oscar nomination for writing in the category of Adapted Screenplay is Kazuo Ishiguro, adapting Akira Kurosawa's original screenplay for the film Ikiru (1952). While it is a trod subject of an individual who gets a life-changing medical diagnosis and begins to live their life differently as a result, Bill Nighy delivers the most subtle of transformations and one of his best performances to date.
Williams is a government civil servant who rides the same train into London each day, promptly acknowledging his subordinates who are already in their same train car when he boards. Never sitting with them, mind you, he simply acknowledges them. Once they take their places in their tiny office, they are expected to follow the regulations and policy for their department to the letter. Young Margaret Harris (Aimee Lou Wood) breaks in the newest addition to their team, Peter Wakling (Alex Sharp) by teaching him how to pace his workload as evidenced by maintaining the tallest stack of cases to work on. The higher the stack, the more busy they will look and the less work will be assigned to them you see.
This is, after all, a government office and we are given a fantastically humorous look at the English bureaucracy, as young Peter is made to take a group of women to other agencies in the building to address their desire for a park. They may have found the correct office, but for days have been sent to other government offices, each one denying that they are starting point for their request. Ultimately, we see Williams calming take their case file from Peter, after they have spent the good part of the day being passed around the building only to end up in the office they started the day in, agreeing to "hold on to this" for them until it can be worked out. Willliams never gets excited, nor does he change expression. He is a rock. Despite this, it is clearly obvious that Williams agreeing to hold on to this file is meant to imply that it will never actually get resolved. Another win for bureaucracy in 1950's London, but for Williams, just another day at the office.
All of this is a set up to give us a glimpse of the unchanging daily slog that is Williams' life. The idea that he would take time off work by leaving an hour early to go to an unnamed appointment, is nearly scandalous for this small office of rigid government workers. It is this appointment where Williams is confronted with a life-changing diagnosis and must decide if he will keep living his life the way that has been for decades, or if he will do anything different? When a chance encounter with young Ms. Harris, who has taken a new job, occurs, Williams finds himself breaking out of the stiff routine he has cultivated over the years.
Like Daniel Day Lewis in Phantom Thread, Nighy's performance in Living seems almost effortless. Williams is simply an extension of Nighy himself, and not just a character to be played like Billy Mack in Love Actually, or Davy Jones in the Pirates of the Caribbean series, as good as Nighy is in those roles. The entire film is a quiet affair that slowly breaks the daily routine of this man's life over the course of its run time, but in a way that is infinitely a joyous journey to behold. It doesn't matter that Williams is having to internally wrestle with a grim diagnosis, Living is able to hold that tension and still make a film that projects an optimism towards living our lives in the face of such realities that is desperately needed today.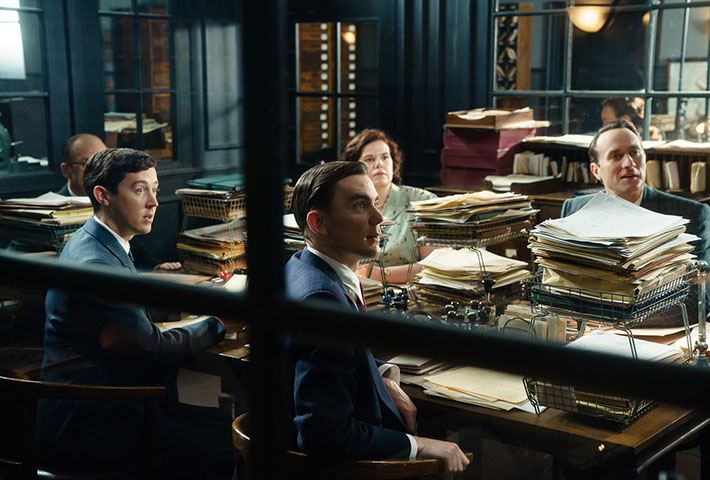 Sony Pictures Classics has a wonderful film to share with the world, and hopefully, due to the two Oscar nominations Living has received, it will find a sizeable audience who will seek it out. Those that do will be rewarded with a story that will have a profound impact, albeit through the most subtle narrative and performances one has seen. It somehow sneaks up on you, wins your heart, and through Nighy's performance in particular, it never lets go. How one goes about one's life is measured not just in the grand gestures and large successes, but in the quality of the day to day decisions we all make. Living helps focus our gaze to those seemingly inconsequential moments we experience of any day, and demonstrates how truly monumental they can be.