The 2021 Oscars will get Animated Shortly…
Once again, ShortsTV is bringing this year's batch of Oscar nominated Live Action, Documentary, and Animated Short Films to a global audience.  In the United States, starting April 2, check your local theater listings to see if and when the Showcases will be playing.  The program will also be available on VOD via iTunes, Amazon, Verizon, Google Play beginning April 20.    Here's our rundown of the Documentary selections.
Contributing reviewers are Anna Drehmer and Paul Hibbard. Get an edge in your Oscar pool, and more importantly, be informed about some solid, if short, cinema that is being celebrated:
If Anything Happens I Love You
Will McCormack & Michael Govi, USA, 13 min.
If Anything Happens I Love You explores the inner world of two parents coping with the loss of their daughter who was killed in a school shooting. It uses the characters' shadows to convey their underlying emotions, and its simple, sketchbook-style animation and watercolors evoke childhood artwork. The score feels overproduced, and it doesn't break any new ground narratively or cinematically, but it's a thoughtful, solid effort that explores love and memories as the way through grief. The film has received a strong response online since its Netflix release, especially hitting a chord with young viewers. The reality of mass shootings is upsettingly part of our daily lives now – theirs particularly – and this short has tapped into a collective desire to talk about loss. The film's strengths are its accessibility and its gentle honesty that the pain is long term, and our best chance at moving through it is connection rather than facing it alone. With Laura Dern as executive producer, it's had the most exposure of all this year's shorts and will hopefully continue to be a helpful resource for audiences.
– Anna Drehmer
Opera
Erick Oh, USA, 9 min.
Opera is my personal pick for this category. With exceptional detail, filmmaker Erick Oh has created a cosmic machine populated by hundreds of humanoid figures performing a continuous loop of rituals. Over the course of 8 minutes, the camera slowly moves from the pageantry at the top of the structure down to its labor-fueled base and back up again to a reverberating score. The color and lighting help distinguish dozens of different compartments in which the impersonal characters repeat acts of worship, violence, and servitude, and it would take repeated viewings to fully observe all of the small, carefully crafted scenes. This is an independently produced, four-year labor of love by Oh, who was inspired by the imagery of fresco murals and originally conceptualized it as an art installation. Matter-of-fact in its observations, Opera is a fantastic combination of simplicity and complexity and timely in its themes of hierarchical power structures and the repetition of history.
– Anna Drehmer
Burrow
Madeline Sharafian, USA, 6 min.
Madeline Sharafian's Burrow is lighthearted and wonderfully hand-drawn (and a bit terrifying for claustrophobic viewers). Its underground critters recall some of Disney's early work in The Wind in the Willows or Winnie the Pooh and the Honey Tree, paired with the busy imagery of a Richard Scarry book. Our bunny protagonist arrives with simple plans for her new dwelling and becomes intimidated by her neighbors' design skills. This sends her on a skittish journey that illustrates how judgmental comparisons lead to shame and get in the way of appreciation and working together. The animation glows, and the concerto music (credited to "Wolfie A. Mozart" don't do this to me Pixar) matches the film's energy and levity. Pixar productions can easily overindulge in the sentimental, but this one manages the trick of being genuinely sweet rather than cloying. Burrow celebrates creativity, and it imagines the kind of collaborations that are possible when we dare to be accepting and supportive rather than runaway bunnies.
– Anna Drehmer
Genius Loci
Adrien Mérigeau, France, 16 min.
This movie feels like a trip. Beautiful animation that drifts and reforms from character to character. The fluidity of the animation feels out this world, and creates a feeling of connection to beauty that may help the viewer get past a plot that is harder to follow. Just go for the ride and take awe in the animation.
– Paul Hibbard
Yes-People
Gísli Darri Halldórsson, Iceland, 9 min.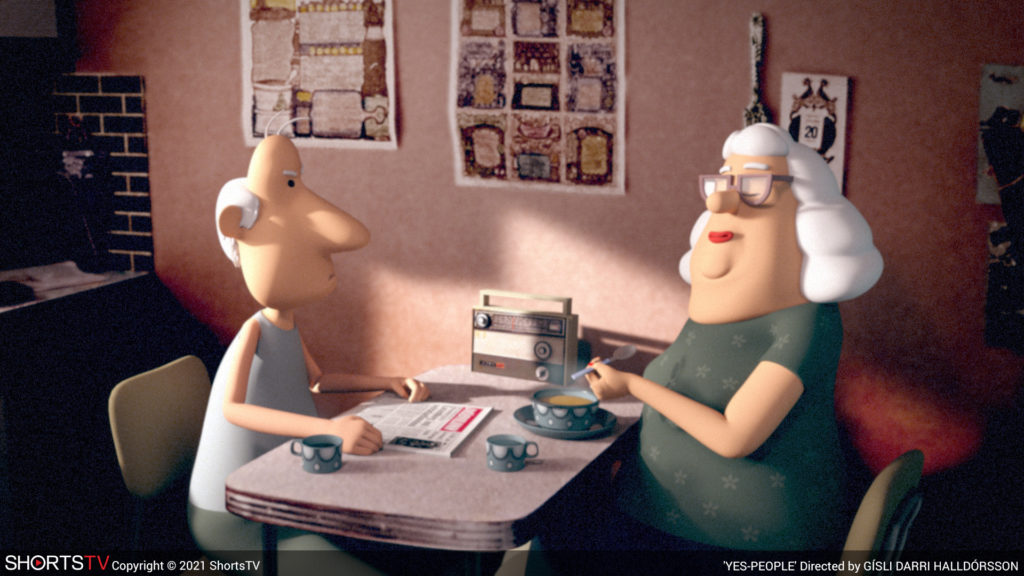 Six people living in an apartment complex. I have absolutely no idea why this was nominated. Boring computer animation with simple, pointless character dynamics that you'd see on a sitcom. Not really saying anything and barely justifying it's existence.
– Paul Hibbard