Steven Soderbergh's Neo-Noir is Better Than The Director Thinks.
DIRECTED BY STEVEN SODERBERGH / 1995
BLU-RAY STREET DATE 2/16/21 / KINO-LORBER STUDIO CLASSICS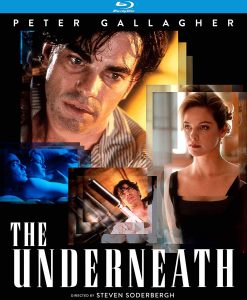 When a director has as wide and varied a body of work as does Steven Soderbergh, it's no surprise that not every film in the oeuvre will be successful. Even Hitchcock has The Trouble With Harry and Spielberg has Hook. But few directors are as willing to be as openly candid as Soderbergh was about a movie he describes as "totally sleepy" and "dead on arrival:" 1995's The Underneath. 
Watching the movie before learning of Soderbergh's appraisal of it, I think that he's being harsh. The place he was at mentally as he was making it – he was unhappy with the trajectory of his career and his personal life was in trouble as his marriage was falling apart – makes it understandable he might not be happy with the final film, but the movie's a perfectly fine example of a neo-noir thriller. Anchored by good performances from leads Peter Gallagher, Alison Elliot, and William Fichtner — alongside a supporting cast that includes Elisabeth Shue, Joe Don Baker, and Paul Dooley — The Underneath spins a compelling web of crime, danger, and double-crosses.
The Underneath is Soderbergh's third feature that he wrote (under the pseudonym 'Sam Lowry') and directed, following his breakout sex, lies, and videotape and King of the Hill. It's a remake of the 1949 film-noir Criss Cross that starred Burt Lancaster and Yvonne DeCarlo (which was itself based on a pulp novel of the same name by Don Tracy). Soderbergh moves the action of the original from Los Angeles to Austin and updates it to the modern day, but he quotes Robert Siodmak's film liberally throughout his version. Criss Cross's screenwriter, Dan Fuchs, even gets a screenplay credit on The Underneath.
Soderbergh even borrows the first film's flashback structure. He pushes it further here, jumping back and forth between at least three different time periods, though not quite to the extent as he would later do in a film like The Limey.
Gallagher stars as Michael Chambers, a man who was forced to flee from his wife, Rachel (Elliot) and his hometown years ago thanks to a massive gambling debt. He returns for his mother's wedding, after earning enough money to make everything square only to find that his ex has moved on and is now seeing local gangster Tommy Dundee (Fichtner). Michael wishes to pick up with Rachel where he left off, much to the displeasure of his cop brother, David (Adam Trese). Dundee is also unhappy at the prospect, and when he catches Michael and Rachel in a compromising situation, Michael talks his way out of certain death by proposing a heist. Michael, with the help of his step-father, has gotten a job as an armored car driver and he knows a way Dundee can make off with millions of dollars, using Michael's help as an inside man.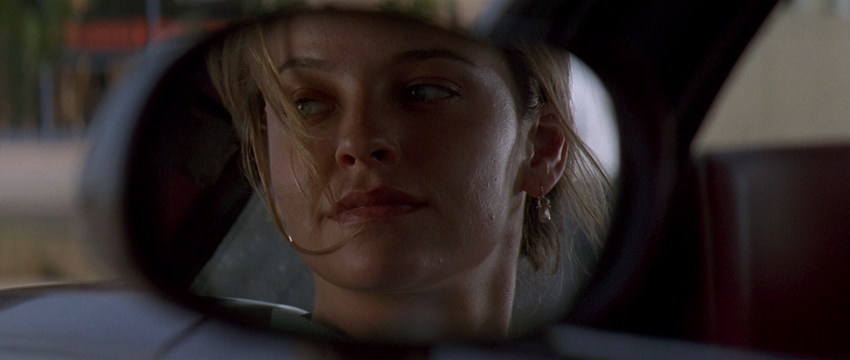 Of course, everybody involved in the operation has their own motives and goals, and there will no doubt be a lot of twists and double crosses before the end of the movie. Is Michael getting played for a fool? He's branded a 'sucker' from early on (literally — he gets his hand stamped with the word at a nightclub his first night back in town).
Most of the early part of the film deals with flashbacks of Michael's gambling addiction, and the strain it puts on his marriage with Rachel, and the present-day story of him trying to reconnect with his family upon his return. If not for the flash-forwards showing the events on the afternoon of the armored car job (which comes complete with time stamps), you'd be forgiven for assuming The Underneath was more of a character study than a crime movie. While some contemporary critics, such as Roger Ebert, didn't feel that the two halves fit together very well, Michael's desperate gamble to deflect Dundee's suspicions don't feel out of place coming from a man who has a taste for high stakes wagering.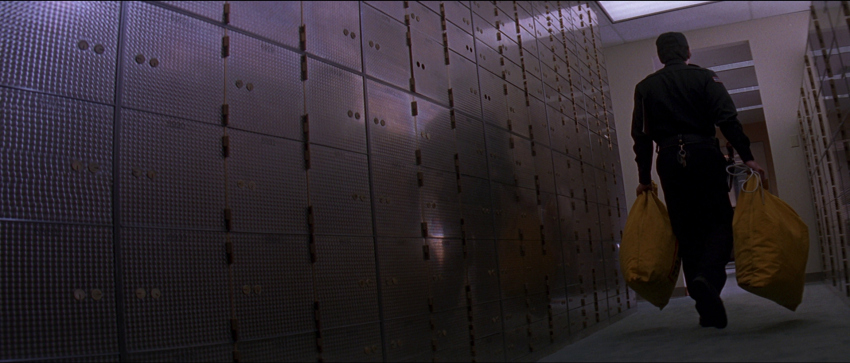 Soderbergh's work veers wildly between crowd-pleasing big budget entertainment and smaller, more experimental 'indy' fare. The Underneath has a foot firmly in both camps. It's noir thriller elements are set alongside its more introspective character beats. It has a structure that, in many ways, is as big a gamble as anything Michael attempts to pull off. While the film didn't pay off at the box office, it's still a fascinating watch filled with great performances.
Fun Fact: Kino Lorber's upcoming Blu-Ray release of The Underneath is not the first time that film has been available on Blu-Ray in North America. It was previously released as a special feature on Crtiterion's edition of Soderbergh's King of the Hill, which is where you can also watch the video interview of the director discussing his antipathy for The Underneath.
Kino's disc comes with an audio commentary by Film Critic and Historian Peter Tonguette. Tonguette discusses Soderbergh's relationship with The Underneath and offers a critical re-evaluation of the movie, as well as providing insights and historical context for the film. There is also a trailer for the movie, alongside a small collection of trailers for related titles.