Operatic Arthouse Action Never Looked so Good.
DIRECTED BY JEAN-JACQUES BEINEIX/FRENCH/1981
BLU-RAY STREET DATE: AUGUST 11, 2020/KL STUDIO CLASSICS
Arriving at a moment when stark social realism had worn out its welcome in French cinema, filmmaker Jean-Jacques Beineix's feature debut Diva hit its mark in the cinematic spotlight. A global success, first in the U.S. and then, eventually in its native country, the film brazenly elevated graphic elements such as color, framing, textures, and the layering of physical space over more traditional expectations such as characterization and plot. In such, 1981's Diva was unlike most anything that was popular at the cinema at the time. It signaled a very early salvo in the glorified style-over-substance movement that came to be called "cinéma du look". (A movement that umbrellas the filmic outputs of artists such as Luc Besson and Leos Carax).
An effectively artsy crime thriller, Diva wields its plot like an interior designer wields color swatches: both intensely but loosely. It's both a lot to track but also not at all the point of the film. Throughout the whole of Diva, Beineix is on the cutting edge of the aesthetic-driven music video revolution of its moment and prefiguring the post-Batman (Tim Burton, 1989) wave of "graphic novel cinema" by nearly a decade. (Though the film is based upon the crime novel- not a comic book- by Daniel Odier, aka Delacorta). For some, that will sound like the faintest of praise. But Diva is no Flashdance. Though music-driven in an altogether different way, Beineix's film is highly content in its lack of classification, its sidestepping of its own macguffin-fueled plot, its full-on embrace of the strikingly visual.
So, with that in mind, take this obligatory summary with a grain of salt… Diva is a Parisian tale of two tapes. The main character, Jules (Frédéric Andréi), is a meager postman with a motor scooter just looking to continuously enjoy the opera music he loves so much while zipping around the streets of Paris. So he does a bad thing, and creates a bootleg recording of a live performance by opera diva Cynthia Hawkins (played by real-life soprano Wilhelmenia Wiggins Fernandez). This is the first of the two tapes in question. What makes the deed particularly bad is that Hawkins blatantly refuses to be recorded, insisting instead upon the sanctity of the live concert experience. But when greedy record industry types learn of the existence of Jules's high-quality recording, they use it as leverage to try to get Hawkins to hang up her values, and finally release a proper album. (Lest the bootleg recording steal its potential thunder). All the while, Jules cultivates a tender relationship with Hawkins; her never the wiser that it is he (if only for his love of art) who triggered the entire issue.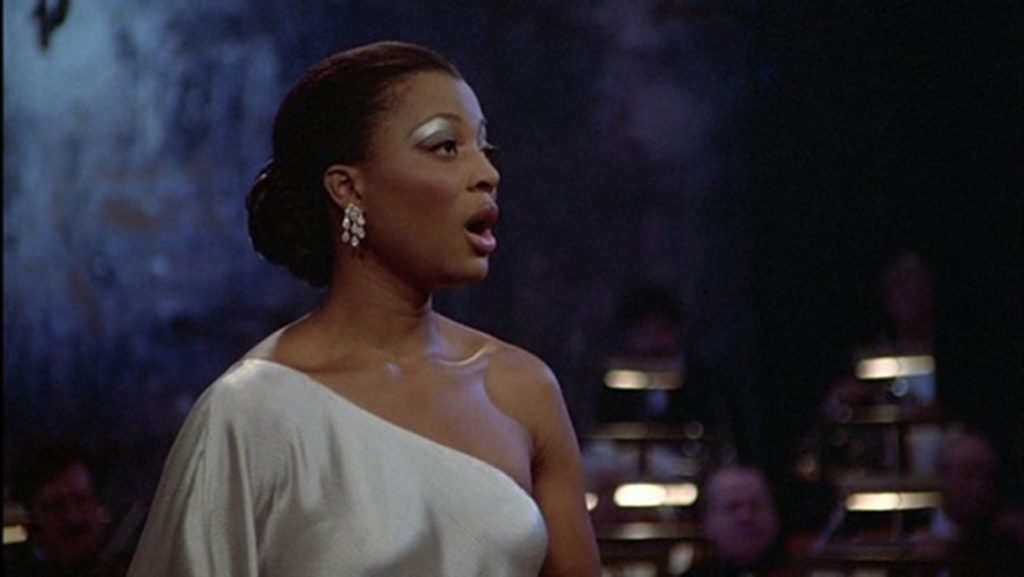 The second tape is "the crime crap". Early on, while Jules is doing deliveries, a desperate prostitute wearing only a sky-blue raincoat over a black slip, scrambles to escape certain death. Before her fate catches up with her (in the form of the ubiquitous and scary assassins known as "West Indian" and "The Priest", played by Gérard Darmon and Dominique Pinon, in his first film role), she manages to slip a cassette tape into one of Jules's saddlebags. On it is an all-important recorded confession implicating a crime lord. So that's why icepick-wielding killers are now after Jules. But, in the spirit of a movie that utterly shirks its supposed genre, he doesn't even discover it until the seventy-three-minute mark of this two-hour movie. In the meantime, he holes up in a hip loft with an impossibly intuitive artist and his compelling teenage muse (Richard Bohringer and Thuy An Luu). More-so than most of the film, their world is illuminated by blue light, the kind that would later eat so much of 1980s pop culture.
When Jules is not meandering about, he's evading his three different groups of pursuers (record industry heavies, the crime lord's heavies, and the cops). At the film's apex, Diva gets an unexpected shot of adrenaline as Beineix serves up a ferocious chase scene as Jules takes his motorbike into the underground network of the bustling Paris Métro system to escape. Roger Ebert marveled at the visceral accomplishment of the chase, comparing it favorably to The French Connection and Bullitt. He's not incorrect, although the film has the exact wrong title to ever truly attract the typical macho action crowd. (Regarding its time, anyhow). Diva, though, is the unmitigated blend of art (navel-gazingly profound as it lands) and insistent action. It's insistence on one of those aspects may alienate the devotees of the other half. But as Beineix might say, let them be alienated.
*****
Kino Lorber Studio Classics' impressive new release of Diva arrives eight months following Criterion's Blu-ray of Beineix's best-known film, Betty Blue (37° 2 le matin). For those of us who's entry point was in fact the three-hour indulgence Betty Blue, Diva proves to be something of an eye-opener. Going by the Blu-ray release dates alone, Kino's beautiful Diva disc serves as something of a contextualization that, despite its own many bonus features, Blue remains in need of. It helps that while not sexless per-se, Diva doesn't hinge on the sexual nearly to the degree that the problematic Betty Blue does. For those who need a further primer in the career of Jean-Jacques Beineix and the emergence and reception of cinéma du look, Kino's disc lands at a very ideal time. With Blue's uncomfortably misfiring melodrama to one side, Diva is wildly and more clearly free to veer this way and that; to reject certain tenets of established filmic formalism and to experiment with others.
In that case, there's a certain kind of back-in-time explainer at hand, a quality that extends beyond the expected transportive qualities of watching an aged film. (At the time of this review, Diva is thirty-nine years-old). Diva goes beyond that, wallowing in a past that no longer exists but also a future that would rise up like a tidal wave. Notions such as this are explored in the Blu-ray's many, many bonus interviews, most stemming from a Lion's Gate 2008 release. That 2008 release went all-out, sitting down with a formidable list of cast and crew members. Here is the list:
-Introduction by Professor Phil Powrie (Author of JEAN-JACQUES BEINEIX) and Eric Grinda (6:20)
-Interview with Composer Vladimir Cosma (10:47)
-Interview with Casting Director Dominique Besnehard (7:20)
-Interview with Star Frédéric Andréi (5:46)
-Interview with Actors Anny Romand and Dominique Pinon (12:02)
-Interview with Actor Richard Bohringer (6:53)
-HOLDING GROUND with Director Jean-Jacques Beineix (11:00)
-IN THE CAFÉ with Director Jean-Jacques Beineix (8:30)
-Interview with Cinematographer Philippe Rousselot (6:04)
-Interview with Set Designer Hilton McConnico (6:50)
Whew.
In his interviews, Beineix says that Diva is all about the collision and contrast of art and business/technology. This is an astute exclamation, as Diva is set (as he continues to explain) in what turned out to be "the pre-advertising age". In other words, that moment in time when analog technology was maxing out and Madison Avenue had not yet permeated every aspect of global life. Beineix also ascribes a lot more to himself, perhaps more than the movie actually serves up short of taking a crowbar to it. But we'll let the director's exhausting pile-up of retroactive self-genius sit for now. Beineix pulls what could be called a "reverse Kubrick" as he relentlessly over-explains his own sometimes misunderstood work to the point of demystifying it before our eyes. But nevertheless, it's probably better to have the filmmaker's external perspective than not. These interviews now exist as part of the external story of this film's legacy. Though the patience of some may be tested by them.
Along those lines, there is a forty-one-minute scene specific audio commentary by Beineix, another apparent holdover from a previous DVD release. (Note the standard-definition transfer for these scenes, as they are separate files on the disc itself. KL did not bother to lay in the proper scenes using their new high-definition transfer). The only truly new bonus feature on this special edition Blu-ray is a commentary track by film critic, author, and self-professed "armchair opera fan", Simon Abrams. Kino got the exact right guy for this track, as Abrams finds himself in the groove in his breathless analysis of the many facets of Diva.
*****
Coinciding with Diva's graphic pop-art dynamism is the unrelenting dilapidation of its world. The Paris of this film is either neglected, under renovation, or simply forgotten. Years before "unfinished chic" would be a visual punchline in films such as Oliver Stone's Wall Street, Beineix had the artistic foresight to render even his most high-culture locations as crumbled and paint-patched. (Even the opera hall has a gruesome grey abandoned work-in-progress vibe). Prefiguring so many other action movie finales, Diva's final act crescendos not in a gleaming colorful environment but a dingy and hyper-tactile factory warehouse. There is nothing in this place but industrial danger. And even as art struggles to win out over both crass business and criminal greed, we are sentenced to an immersion in stylish grime.
In retrospect, Beineix wasn't merely visually pontificating in the moment; he was projecting a grim vision of what's next in the increasingly shrill opera of art and business.