Juliette Binoche and Denis Lavant Find Filth and Euphoria in Paris
DIRECTED BY LEOS CARAX/FRENCH/1991
STREET DATE: MARCH 14, 2017/KINO LORBER
Erected on a deceptively firm foundation of directorial hutzpah, French filmmaker Leos Carax's 1991 The Lovers on the Bridge is a career defining tour de force. With its whirlwind panoply of confident collisions both thematic and technical, the movie plays like the world's most confident "film grammar" grab bag of tricks, ticks, and slight of hand.
It's unflinching look at amour in the City of Love hyper-focuses on Alex and Michèle, a pair of homeless outcasts whom find themselves cohabiting on Paris' oldest bridge, the Pont-Neuf, while it's closed to traffic for much needed repair. It's a fitting place for them, since they too are transient and broken, both physically and mentally.
Fantastically fine-tuned and unique performances root this unrestrained tale of the unlikely and mysterious bond between a wandering artist and a drug-addled fire-eater. Juliette Binoche is Michèle, utterly heartbreaking in one of her greatest roles. Carax veteran Denis Lavant is Alex, a role he's played at least some variation on with the auteur's previous films, Boy Meets Girl (1984) and Mauvais Sang (1986), that latter of which also starred Binoche.
Carax knows just how to utilize Lavant's uncontainable physicality, running both the actor and the character through the perilous ringer. Among other things, Alex spits fire, runs up walls, jumps from moving vehicles, and spends a good portion of the film limping in a plaster cast. The Carax/Lavant combo is enough to put the similar Sam Raimi/Bruce Campbell pairing to minor shame. There seems to be no bodily abuse or physical challenge that Carax won't throw upon Lavant in this period, challenges the performer is all to enthusiastic about taking on. Lavant would return to Carax to with the director's most recent work, the more narratively experimental and intriguingly confounding Holy Motors (2012). (If one is a Carax newbie, Bridge is by far the recommended starting place, as Motors actually harkens back to it.)
In the early moments of The Lovers on the Bridge, Michèle finds him collapsed in the street, and assumes he's dead. For good measure, a car runs over his foot. Her left eye is bandaged, her state of mind apparently scrambled. She's an artist, carrying her battered portfolio everywhere and looking to draw him. Both are grimy, stained and unwell.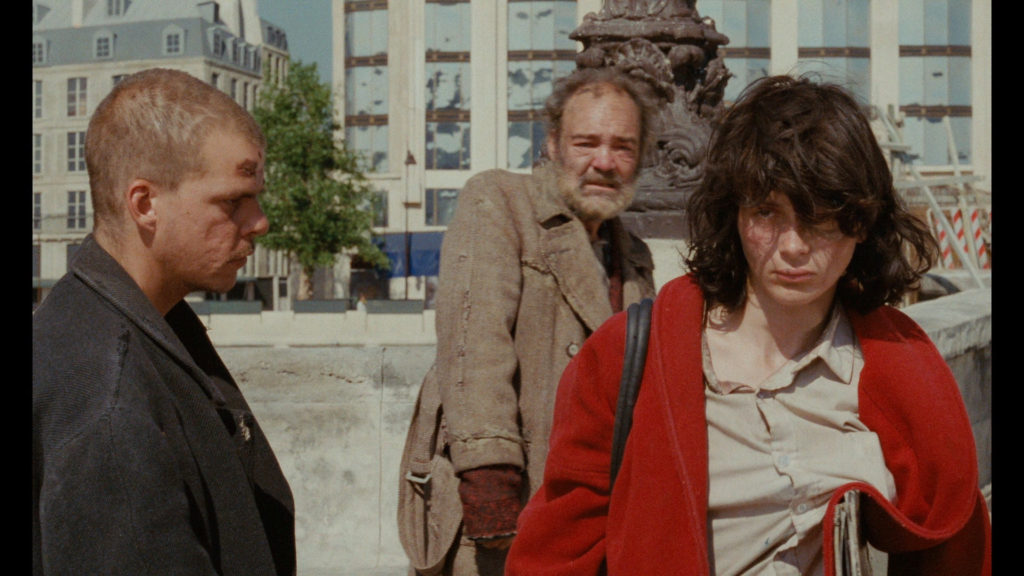 He temporarily winds up in a medical care facility, a real-life location teaming with spindly non-actors under ugly fluorescent lighting. His absence frees up his spot on the bridge, where she is discovered sleeping upon his return. Covered in dirt and trash, this isn't exactly your standard movie meet-cute. Although they project the impression that each of their backstories could fuel at least two more movies, we never learn where these people came from. Alex and Michèle, like so many homeless, can only be in the moment.
They fall in love. Codependency, jealousy, secrets and obsession are large parts of their relationship, attributes which writer/director views as natural elements for such a union, and therefore presents them without judgment. The Lovers on the Bridge is nothing if not metaphoric, utilizing and twisting Paris' romantic reputation in favor of a raw and tactile view of love. Our difficult protagonists may be bruised and smell like urine, but their need for each other is meaningful and true. Alex and Michèle never seem to say all that much, but somehow, there's really little need. The bridge is where they are, with each other. But where will it lead?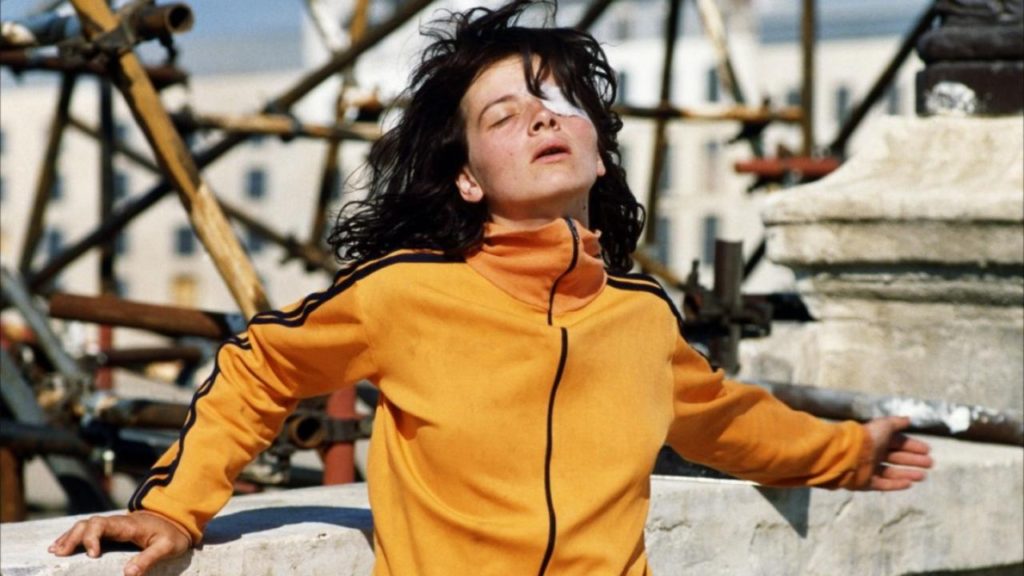 As a love letter to Paris, The Lovers on the Bridge fits into a tantalizing chronology of the city as depicted throughout cinema history. In its unadorned artifice (the bridge itself is an elaborate set, a sprawling recreation that was a major factor in the film's cost overruns) Carax's film of contrasts and dichotomies is a bold next step.
Even as, to this day, the movies continue the longstanding tradition of imagining Paris as THE ideal romantic locale (La La Land), certain storytellers, particularly some noteworthy French New Wave directors, have seen fit to dig deeper and even deconstruct this notion. With 1960's Breathless, Jean-Luc Godard gave us a pair of mismatched lovers caught up in a relationship that couldn't possibly be healthy, yet remains compelling. It was the beginning of a filmography rife with ignoble guys frustrated by idealized beauties.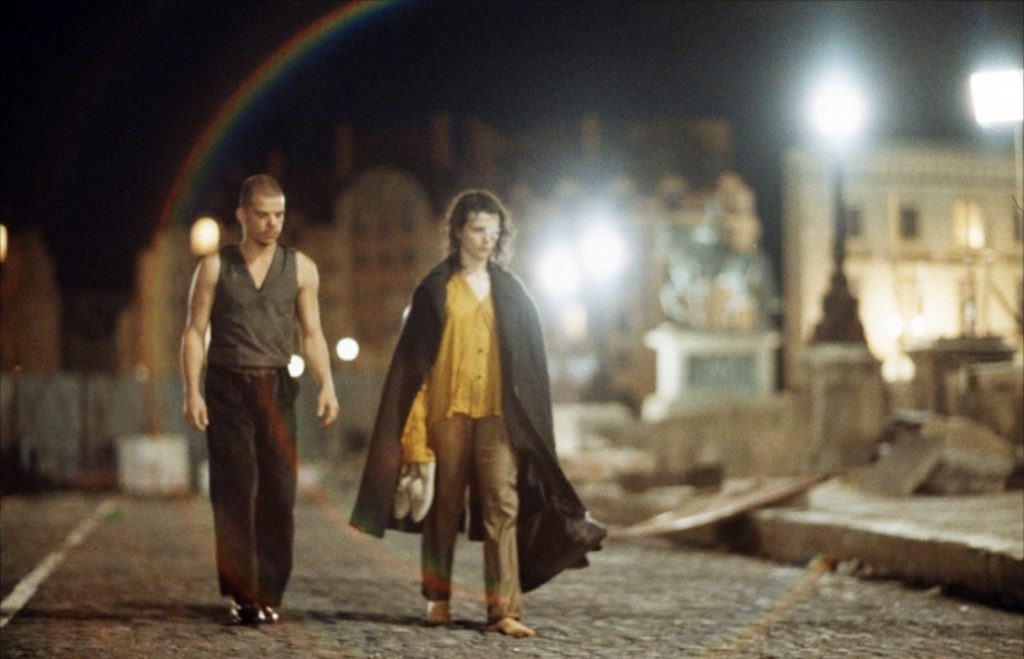 Carax challenges such constructs with a construct all his own, one that tips it's ragged hat to film's history in a fresh and daring way. The Lovers on the Bridge is the kind of film that drives critics to rhapsodic fixation, yours truly being no exception. Further proving this point are the Blu-Ray's humble but substantive bonus features, which include a glossy little booklet with an appreciation by that enthusiast of the sublime, Ignatiy Vishnevetsky. There's also a nine minute video essay by Cristina Alvarez Lopez and Adrian Martin; so taken with the film as a whole that they didn't even feel the need to include its most famous scene, Alex and Michele dancing across the bridge amid a centennial fireworks display.
The Lovers on the Bridge is a must for both cinephiles and Francophiles. Satisfyingly whole yet unlike other movies, it is Carax's pinnacle film to date. As an intimately epic Criterion-worthy bit of cinema, it's Kino Lorber Blu-Ray release only slightly disappoints for its lack of extras. Seeing how the label includes film historian commentary tracks on even the most disposable of pop culture curios (Joan Collins' 1979 hedonistic disco vehicle The Bitch, streeting this same date, comes to mind), and considering Lovers' tumultuous production and subsequent immediate reception, its a little baffling that no one is on hand to contextualize it beyond the nice little morsels we're given. But it's no matter – the film looks and sounds fantastic. In French with English subtitles, Lovers on the Bridge itself is presented extremely well; alluring and vibrant in its repulsive tactility and dysfunction.
One would never know that The Lovers on the Bridge wrestled in production for three years, ballooning in scope and vision resulting in absurd cost overruns. Carax's career took a hit, and the film didn't reach U.S. screens until 1999. Today, however, we are able to appreciate this artful masterwork as it was meant to be experienced: in the moment.