Calcutta (1946) / An Act of Murder (1948) / Six Bridges to Cross (1955)
BLU-RAY STREET DATE: JULY 14, 2020/KL STUDIO CLASSICS
Continuing to mine the deep end of the Universal International back-catalog, Kino Lorber now brings film buffs its third set of three "Film Noir" titles in so many months. (Volume I dropped several years prior). This assortment, like the previous two forays into "The Dark Side of Cinema", may not always live up to its "Noir" branding (at least, not in the way that many have come to recognize it), but the selections included are, at the very least, interesting looks at the state of suspense thrillers and crime dramas that occupied cinema marquees in the late 1940s and 1950s.
Volume IV is no different, as it serves up a cantankerous Alan Ladd vehicle in Casablanca-clothing (Calcutta, a Paramount acquisition by Universal), a very probing moral drama (An Act of Murder, starring an excellent Fredric March), and the cop-and-robber do-si-do Six Bridges to Cross, starring a fresh-faced Tony Curtis and featuring a title song by Sammy Davis Jr. None of these qualify as unearthed cinematic gems, but none are outright stinkers, either. Just how exactly does each film fare on Blu-ray? Read on for individual looks at each of the three titles…
Calcutta
DIRECTED BY JOHN FARROW/1946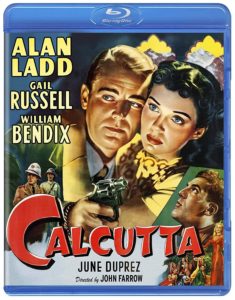 Oh, Calcutta.  If only you were as nakedly interesting as your description implies…  Right down to the title, this exotic noir stands bare as another in a string of Casablanca imitators of the 1940s.  That's not necessarily a bad thing in and of itself, but director John Farrow's (A Bill of Divorcement) pedestrian touch with this production does it no favors.  Thankfully, cinematographer Russell Metty (Touch of Evil; The War Lord) is on hand to deliver a dark and engaging ambiance. 
Alan Ladd, for all the movie star cred he carried back in the day, fails to muster much in the way of charisma as our leading man.  Ladd's sterile, nearly wooden nature seems like it would be just the thing for some films noir.  Yet, this one finds viewers wanting in terms of a main character worth sticking with.  While Ladd in Calcutta doesn't go so far as to call the actor's popularity and allure into question (can his steely expressionlessness be denied?), it is simply not a performance that resonates.  He's empty, brash and charmless in Bogart's white tuxedo jacket.  Between this and his stiffness a decade later in Boy on a Dolphin, one can deduce that maybe there's a reason why Ladd's star hasn't continued to resonate the way that his contemporaries Humphrey Bogart, Spencer Tracy, Cary Grant, John Wayne, or even the similarly demeanored Gary Cooper have.
Ladd plays Neale Gordon, an airman in the remote and dangerous route between Calcutta in East India and Chungking, China. The flight crews are hardened risk-takers, running tons of supplies courtesy of the U.S. in the post-World War II international scene. There's a very Only Angels Have Wings vibe to this aspect, though that swiftly gives way to a whodunnit and Gordon's self-appointed trust-no-one detective procedural. That's after his close buddy and fellow pilot turns up dead.
Among the film's few keeper sequences is an attempt on Gordon's life in an otherwise empty and dark airplane hangar.  The supporting cast, including William Bendix and Gail Russell (as the world's most milquetoast femme fatale), do what they can but don't go so far as to break a sweat.  Calcutta was moderately well-received as a noir mystery, as evidenced by the research film critic Nick Pinkerton shares in his surprisingly rote audio commentary track.  It is interesting to see Pinkerton doing commentary on what is a fairly run-of-the-mill studio catalog title, as he typically contributes to more noteworthy titles (silent Hitchcock titles, Bob Le Flambeur, The Milky Way).  Considering his observations on Michael Cimino's Thunderbolt and Lightfoot, it's interesting that he skates right around Calcutta's very latent repressed homosexual subtexts that exist from beginning to end.
Like the audiences of its day, it's easy enough to give Calcutta a pass. But is anyone crazy about it? As Alan Ladd says in one of the film's few memorable lines, "not that much".
An Act of Murder
DIRECTED BY MICHAEL GORDON/1948
From the always reliable director Michael Gordon (Woman in Hiding) comes a very compelling moral social drama sporting quite the Noir-ish title.  1948's An Act of Murder is based on a novel by Ernst Lothar called The Mills of God, centering on the plight of seasoned judge Calvin Cooke (Fredric March), who is faced with the pending death of his beloved wife of twenty years.  Her well-intentioned doctor informs him that she has a fatal brain affliction that is inoperable.  Then, in a swerve that most anyone today would find infuriating, the doctor also strongly insists that she not be told of her condition.  Welcome to The Farewell, American style.
But, before the ruse gets very far, her condition painfully ramps up, causing Cooke to consider… other options for her. The result is a fairly taut ninety-one minutes, carried along by Gordon's steady direction and excellent performances by the cast (which also includes Florence Eldridge as Mrs. Cooke, Geraldine Brooks as their law student daughter, and Edmund O'Brien as her progressively-minded lawyer boyfriend).  This is a film that is all about asking the question of the ethics of "mercy killing", and the weight such a decision imposes upon someone.
Kino Lorber Studio Classics' new Blu-ray edition of An Act of Murder, with its crisp black and white photography, is a handsome presentation up to a point. In the final thirty minutes or so, there is unfortunately pronounced, sustained print damage in the form of multiple vertical scratches on the right side of the picture. It's not horrible enough to distract from the effective courtroom climax of the film, but it is definitely noticeable.
Film historian Samm Deighan is on hand with a great audio commentary, one that further solidifies her standing as one the absolute best "audio commentary jockeys" currently on this treadmill. She comes in with a plan and opinions, but also patience and an understanding that many listeners aren't going to be on her level. Here, she makes quality time to cover the nature of "Film Noir" circa 1948 (a niche that An Act of Murder doesn't fit well within, but that's okay), how the House Un-American Activities Committee's actions impacted members of the cast and crew including Michael Gordon, general background for all involved, and her own favorable thoughts on the film.
While not a classic by any stretch, An Act of Murder is a class act.
Six Bridges to Cross
DIRECTED BY JOSEPH PEVNEY/1955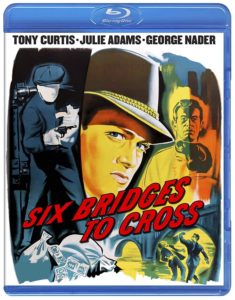 Kino Lorber's July 2020 Blu-ray release of director Joseph Pevney's (Female on the Beach) Six Bridges to Cross arrives at a particularly delicate time as far as its subject matter is concerned.  In the film, a white (Irish) cop, Edward Gallagher (George Nader) shoots a 14-year old ethnic kid who's also a non-citizen of the United States.  As a result, the kid, Jerry Florea (played by Sal Mineo as a youth and Tony Curtis when he's grown), will never be able to have children.  Considering how in recent years the infuriating instances of Caucasian police officers shooting people of color with little to no justification, this key incident in Six Bridges can't help but be cringe-inducing.    
More cringe-inducing, then, is the way that the film proceeds to excuses Gallagher's "shoot first, ask questions later" action with a shrug.  What it also does, though, is allow Gallagher to carry guilt over what happened.  Florea and his buddies were only stealing fruit, but in the dark, they were mistaken for dangerous grown men.  The cop and the crook form an uneasy friendship as the years begin to plow by.  From here, the movie becomes an Angels with Dirty Faces vicious cycle of Florea's inability to stay out of trouble disappointing Gallagher, who then talks tough about taking Florea down for good, even though he knows that he's not an altogether bad guy.
Six Bridges to Cross is based on the published story "They Stole $25,000,000- And Got Away with It", by Joseph F. Dinneen, which itself is based on an actual major crime that occurred in Boston, 1950 known as "The Great Brinks Robbery". The movie itself feels about as personal as that, as well. Despite the inherent magnetism and spark that Curtis typically brings (this early leading part is no exception), the whole of Six Bridges maintains, above all, a clinched jaw and a stern adoration for the badge- even when it means that cops have to play dirty. It makes for not just a movie built on antiquated notions (that's inevitable in the passage of time for most films), but a rather dully repetitive one.
Of the three titles in the Film Noir: The Dark Side of Cinema IV set, this one has the distinction of having the most bonus features. Which is only by its virtue of having not only a film historian audio commentary track (Samm Deighan again), but also an archival TV promo for the film with Tony Curtis from 1955. It's one of those pre-scripted fill-in-the-blank pieces that Old Hollywood studios generated in the early days of television to offer local entertainment journalists a chance to "interview" big movie stars. An interesting time capsule finding, to be sure.
As for the commentary, it's very good and up to Deighan's established high standards, though she does reuse part of her section on the perceived nature of Film Noir that she already voiced on her track for An Act of Murder. It's a good passage that bears restatement, but for those plowing through all three discs of this set and all of their extras, this momentary retread will stand out. She does a very good job of conforming it to this mid-1950s movie as opposed to Murder's 1948 release timeframe. Another solid listen on the whole.
*****
With no fifth set announced for August or the immediate future, one is left to wonder if this is the last we'll see of "The Dark Side of Cinema" for a while. As it stands, it's certainly been an impressively aggressive run, if not always entirely dark.
Volume IV is, in this critic's estimation, an assortment more wanting than not.  An Act of Murder prevails as the best of the three, with Calcutta and Six Bridges to Cross landing somewhere between "passing" and "tolerable".  From a historical standpoint, however, they remain far from disposable.  In comparison to the film assortments in the other recent Dark Side of Cinema sets, this one's right in the middle; more satisfying than Volume II but not as much as Volume III.  None are total knockouts, particularly in terms of providing must-have Noir titles.  But for fans of Tony Curtis (there are still some out there, yes?), Alan Ladd (are there any fans out there anymore?), and Fredric March (if there are no more active fans, there should be), volume IV will fill in some likely glaring gaps.
Kino Lorber has once again done what they can to provide collectors with an attractive box set of vintage Hollywood titles from the Film Noir era. They should make a point of taking this perhaps final filmic journey… to the Dark Side of Cinema.