Jason Robards Shines in Film Adaptation of Popular Comedic Stage Play.
DIRECTED BY FRED COE/1965
BLU-RAY STREET DATE: MAY 5, 2020/KL STUDIO CLASSICS
A Thousand Clowns is one of a dozen or so plays that was assigned to us in high school Acting class. If I personally did not perform ten or so pages from the Herb Gardner comedy in my multiple semesters of taking said class (I don't remember at this point), I absolutely sat through numerous attempts by fellow classmates. Nobody really wanted to be handed the A Thousand Clowns pages per se, though they weren't necessarily unfunny to us at that age. It's just, there were Neil Simon pages in the mix. It must be said, though, the aspiring comedy performers would just be glad that they didn't get The Miracle Worker.
What we failed to understand was the Jason Robards factor. Robards, in reprising his lead part for the 1965 movie adaptation from the highly successful 1962 Broadway production, is pure gold. He completely, thoroughly owns this role as much as any actor has ever completely, thoroughly owned any role. He plays the sharp-as-a-tack life dropout Murray Burns, drifting through his days in New York City with his young nephew, Nick (Barry Gordon), who is described at one point as a "middle-aged kid". Nick knows a thing or two about a thing or two and has a very literal way of processing life, to boot. But even an apparent maturity beyond his years is not enough to keep the child welfare workers away from their door.
The child welfare workers, played by William Daniels and Barbara Harris, are a stern couple of pencil-pushers, at least at first.  Daniels' character, Albert, is a particularly mechanical stiff who turns out to be poignantly self-aware.  Harris, as Sandra, goes a very different direction, as she finds herself in love with Murray.  Thankfully, it's wonderfully reciprocal, meaning that not only do they get to share a bicycle-built-for-two montage, but she's there to shepherd him through the custody process.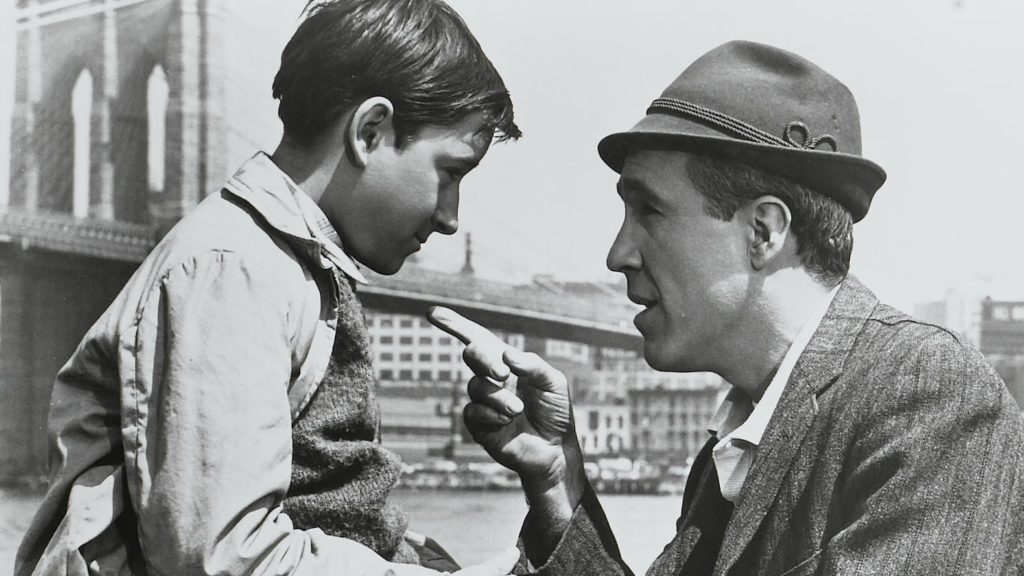 Sure, Murray and Nick have been reduced to sharing a dingy one-room apartment filled with arbitrary accumulated dust-covered junk.  And sure, they've taken to wandering the streets of the Big Apple like a pair of bohemian nomads.  And yeah, Murray is indoctrinating Nick into thinking that going to work for a living is soul-sucking grind that only suckers would follow through on.  
Murray: "Nick, in a moment you are going to see a horrible thing."
Nick: "What's that?"
Murray: "People going to work."
In order to keep Nick, Murray knows deep down that he must swallow his pride and get a job. Will he be able to do that? It's not for lack of offers- Murray, it turns out, is turning down high-paying television writing positions. Because those television shows suck.
Cue the marching band music. No, seriously- cue the marching band music! This movie, apparently in step with the play it's based upon, utilizes nothing but marching band standards throughout; kind of a makeshift cacophony straddling an invisible line between Greatest Show on Earth and headache. This being the mid-1960's, the music cold-cuts in and out throughout the entire film.
A few other notes about the mid-1960's milieu of A Thousand Clowns:
It is shot in black and white, as this was a time when American movies could viably be shot in either black and white, or color. Black and white is a terrific choice for this story of a man who must cut corners due to his very particular worldview.
The film runs longer than two hours, rather exhaustive for a comedy by most respects. This, however, was a time when Hollywood momentarily had forgotten how to make short movies. Hence, even on the shambolic side of NYC, things decompress freely. (This after cuts were made to many of the speeches, rants, diatribes and rambles that makes up the play. I just knew that there was more to some of these lines than I was hearing… It's been a long time since high school Acting class).
In his fifteen-minute on-camera interview, Barry Gordon (who's gone on to a great career in cartoon voiceovers, including that of Donatello on the original Teenage Mutant Ninja Turtles) declares A Thousand Clowns the first counterculture movie. Uh, okay… It's because Robards' character is essentially a kind of proto-hippie, sans drugs and rock n' roll. It's a valid notion, except that comedic outsiders such as Murray date back further than Chaplin.
That said, this is not a conventional film by any stretch. It's got an era-specific herky-jerky freedom that butts heads with its inherent stage-bound nature. Being based upon a popular play (as many films at that time were), A Thousand Clowns never truly transcends its enclosure, though director Fred Coe (said to have replaced Michael Gordon) takes things to the streets as he is able.
None of this should come as a surprise, as all the hip American filmmakers were bobbling in the wake of the French New Wave. Yet, many were still operating with one foot planted in studio system mentalities. A Thousand Clowns is a more successful melding of these sensibilities. Call it "Nouvelle York Vague".
The play A Thousand Clowns is said to have run 428 performances, generating a 1963 Tony Award nomination for Best Play. Cast members Jason Robards, Gene Saks, William Daniels and Barry Gordon all recreated their stage roles for the movie. The movie then went on to secure Oscar noms for Herb Gardner in adapting his play for the screen, as well as Best Picture and, well, Best Music. The film's only winner was Martin Balsam for his supporting turn as Murray's rooted-in-reality brother. Barbara Harris (Altman's Nashville) takes up the crucial part of Sandra from Sandy Dennis, imbuing it with a certain undeniable cute-as-a-button MacClaine quality. When she surprises Murray with a complete apartment makeover of floral arrangements and draperies, he can only pause and mutter, "I've been invaded by The Ladies Home Journal". (2020 translation: "I've been invaded by Pinterest").
Kino Lorber Studio Classics has put out a very nice-looking Blu-ray edition of Coe's film, nailing its visual greyscale. The extras aren't much, with only Barry Gordon's aforementioned new video interview offering any reflection on the production itself (as well as his own career as a busy child actor). Besides that, there's the film's trailer, and one other trailer. That's it; take it or leave it. Comedy fans, particularly fans of these actors, are very encouraged to take it.
Though many of the rambling scenes (even in their shortened form) do go on tooooo longggg, A Thousand Clowns still lands as a terrific thing- albeit a terrific thing of its time.  The cast is spot-on, navigating the transition to the stage with the greatest of ease.  But it's Robards' Murray, though, who is a big top unto himself, a ringmaster of his own world.  His dry wit and warm sarcasm have aged extremely well, making this a film well worth the price of admission.  And it turns out this little clown car act is a lot funnier than I recall.
The images and promotional material used in the review are present only as a reference to the film and are not meant to reflect the actual image quality or content of the Blu-ray.