Too Much Party, Not Enough Life in Life of the Party.
DIRECTED BY BEN FALCONE / 2018
Life of the Party is the latest collaboration between Melissa McCarthy and her husband, writer/director Ben Falcone. The two worked together previously on Tammy and The Boss. I admit to not having seen those other two films, but by all accounts they weren't well received. Will the third time be the charm?
Well, the movie isn't terrible. I even laughed out loud at a couple of moments. The problem is the movie lacks any kind of emotional spine and a story with any real conflict, and that keeps it from being more than just a collection of 'old person hangs with the kids' gags.
McCarthy plays Deanna, a middle-aged woman whose husband (Matt Walsh, Veep) suddenly demands a divorce. This throws Deanna's world into a tailspin, and she soon finds herself with nothing but regrets at the life she gave up when she left school and married Dan.
The movie isn't terrible. I even laughed out loud at a couple of moments.
So Deanna makes the decision to return to school and finish her degree. I'll note that she seems to come to this big decision off-screen. One moment she's setting her ex-husband's recliner on fire, and the next she's breaking the news to her daughter Maddie (Molly Gordon, Love the Coopers) that they're gonna be college buddies.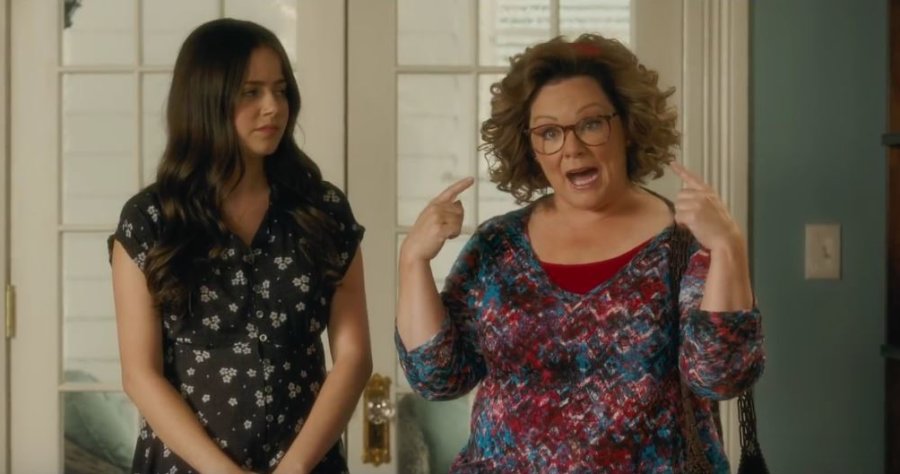 Maddie's initial reaction is… not positive. She loves her mother, of course, but like all young people doesn't want to spend any more time with them than is absolutely necessary. Maddie's feelings are further intensified when her group of friends wholeheartedly embrace Deanna making Deanna's intrusion on Maddie's independent existence even greater.
So we have what seems to be the central conflict of the movie, right? Daughter loves her mother, but craves independence from her. Mother, wrapped up in what she's going through, doesn't stop to consider how her decisions are affecting her daughter. Except that Life of the Party just isn't interested in establishing any sort of ongoing conflict. At all.
Life of the Party just isn't interested in establishing any sort of ongoing conflict.
Maddie is weirded out when Deanna charges back into the center of her life, but by the next scene, she's giving her mother a makeover and their doing tequila shots together at a frat party. Deanna's roommate (and why is a middle-aged woman, who lives less than a half-hour away from campus staying in the dorms?) is a sunlight-fearing goth who is the polar opposite of Deanna in almost every way, but the two get along just fine. Deanna encounters some mean girls who think its cool to be openly insulting to someone's mom, but they don't really turn out to be much of an obstacle.
The biggest challenge Deanna has to face is an in-class oral presentation, the thought of which makes her sweat profusely. It's a funny scene that builds up the discomfort levels well, and McCarthy is great at selling the physical humor. But it seems weird that such a presentation is such an issue for her not only given her outgoing and extroverted personality, but also because the movie sets her up to be uber-competent in everything she sets out to do.  Deanna attends an 80's-themed party at one part, and wows the crowd with her breakdancing skills (it's funny, cause she's old and she's breakdancing!). She hooks up with Jack, a campus hunk (Luke Benward, We Were Soldiers) and it turns out to be the best sex he's ever had. She gets top marks in all of her classwork, and has on-point, life-changing advice for all the girls in her sorority house. Again, the movie shies away from presenting any real problem that Deanna has to really work at to overcome.
But McCarthy is charming and funny enough to sell anything. As I said at the outset, there were several points I did laugh out loud, and a lot of that has to do with McCarthy's performance (I don't know why, but when she rejects Jack's romantic notion of backpacking across Europe because she needs luggage with wheels- I laughed at that). Life of the Party has some funny moments, some cute moments, some moments we've seen too many times before (uh-oh, those were pot brownies!), but it doesn't have enough of a story to make it really memorable. Good stories require conflict and rising stakes, and Life of the Party doesn't want to bother with any of that downer stuff.