Reese Witherspoon Charms in Her Return to Romantic Comedies
DIRECTOR: HALLIE MEYERS-SHYER/2017
Alice Kinney is starting over.
After separating from her husband of 15 years in New York, Alice (Reese Witherspoon) has moved back into her childhood home in Los Angeles. She's trying to settle her two grade school daughters (Lola Flanery, Eden Grace Redfield) into a new school and to start a business as an interior decorator. Although her mom (Candice Bergen) helps with the girls, she's feeling overwhelmed by all of the change and her new status as a single parent.
Teddy, Harry, and George (Nat Wolff, Pico Alexander, Jon Rudnitsky) are barely making the rent as they try to pitch their feature film to Hollywood execs. The day they're kicked out of their motel, they stop by the restaurant where Alice is celebrating her 40th birthday with two of her girlfriends. The night turns into drinks and dancing with the six of them, and somehow by 7 a.m. the next morning, the three filmmakers are now living in Alice's guest house until they can get back on their feet. Let the comedy and romantic entanglements ensue.
This movie is made of pure charm, people, and that's nothing to snub in a romantic comedy.
Home Again lives up to the tagline gracing its poster: "Starting over is not for beginners." At first, both seem straightforward. But upon second thought—what? Instead of sense, the tagline seems to be have written with a thesaurus and the story with pure charm. Thematic opportunities are missed, a number of threads are left untied, and based on their minimal flaws (which are often informed, not shown), these characters may cease to exist as soon as the film finishes.
But—does any of that matter? Not really, no. This movie is made of pure charm, people, and that's nothing to snub in a romantic comedy. Writer/director Hallie Meyers-Shyer seems more than content to follow in the footsteps of her mother, veteran romantic comedy writer/director Nancy Meyers. (Meyers also produced this film.) With a gorgeous California home, two cute children, and meet-cutes galore, Home Again could be a quasi-sequel to The Holiday. I've lost count of how many times I've watched that 2006 flick, and something tells me I could very well do the same for this one.
Reese Witherspoon is at peak personality and brings all the pathos needed to make Alice human, but she doesn't dominate over the other actors. Our three young bucks still have plenty of room to perform their tricky balance of silly, protective, and surprisingly hardworking characters. Alexander has already perfected his smolder. Rudnitsky has more range to work with here than a whole season of Saturday Night Live gave him. And in my very professional opinion, Nat Wolff is proving with this, Paper Towns, and his scene-steal in The Intern that he's one of the brightest young stars to watch in Hollywood. In my personal, very unprofessional opinion, I think I'm developing a little crush on him.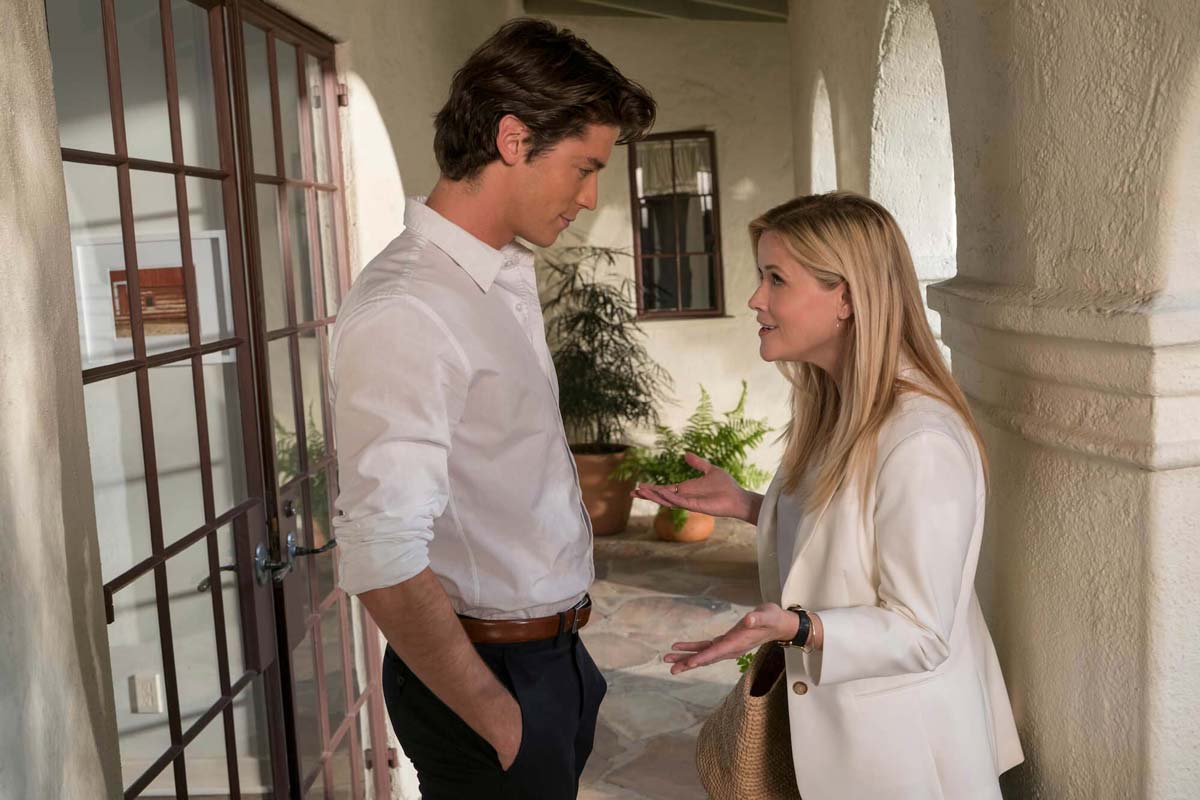 Between the sitcom-worthy situations, a dash of '70s-inspired panache, and storylines that simultaneously spoof and idolize Hollywood, Home Again brought all the laughs and good feels I was hoping for at the movies this weekend. Like I said: Pure charm, people.