Cult Epics Blu-ray of this Unconventional Battle of the Sexes is a Great Tribute to its late Filmmaker, Just Jaeckin
DIRECTED BY JUST JAECKIN/FRENCH/1978
BLU-RAY STREET DATE: OCTOBER 25, 2022/CULT EPICS
Despite every attempt to pigeonhole the recently departed filmmaker and artist Just Jaeckin into a particular kind of high-class erotic niche, key portions of his post-Emmanuelle filmography demonstrates a valiant resistance. 1977's Madame Claude proved to be more of a headline ripper than a bodice ripper. It's immediate follow-up, 1978's The Last Romantic Lover (Le dernier amant romantique), is yet even further afield. Not that Lover is altogether lacking in libido; after all, Jaeckin's reputation precedes even himself. But the light and singular The Last Romantic Lover dares to challenge filmgoer expectations and entertain different gazes than before.
The film opens literally far afield of posh metropolitan penthouses and silk-stretched laps of luxury. A financially strapped circus is in town. Or at least, out in the overcast muddy roads outside of town. Still, this cadre of nomadic eccentrics is nearby enough to be privy to the news of the day. The ringmaster, Max (Fernando Rey), in need of funds, decides that his handsome but withdrawn son- the lion tamer- can go off and earn his keep.
The young man unenthusiastically enters a brazen new male beauty pageant initiated by outspoken feminist magazine publisher Elisabeth, played by Madame Claude star Dayle Haddon. (It is her who comes from the libidinous Emmanuelle-esque lap of luxury). If he wins- mastering the talent portion, skimpy swimwear competition, the gentlemanly "dinner date", and a bizarre interlude wherein all the guys are covered in glitter and bathed in neon while flexing on a large Lazy Susan, he will be crowned "The Last Romantic Lover". The prize money should be enough to get the circus back on its feet.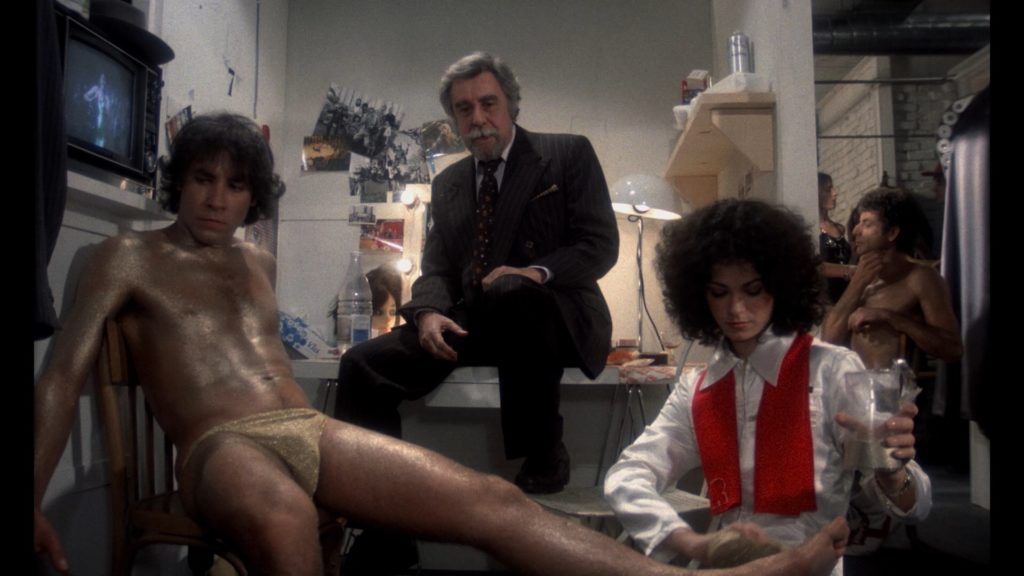 One can be forgiven for not immediately recognizing The Last Romantic Lover as a romantic comedy, as it takes its old sweet time revealing itself as such. If the first third feels curiously scattershot (intercutting between the plight of the circus folk and establishing Elisabeth's cosmopolitan lifestyle and her high stakes controversial "women's lib"-fueled male beauty contest. Contestants are vetted and re-vetted; inevitably, Pierre somehow makes the cut.
The film's second third is the contest, portrayed as a studio-bound galivanting spectacle of interminable oddity colliding with all the familiar Miss Universe tropes, and then some. Jaeckin spares nothing in this late 1970s parade of garish display of objectified men trying to grab Elisabeth's contrived big brass ring. It's here where Jaeckin, in depicting a ham-fisted turning of tables in terms of gender objectification, is most obviously trading on his other career as a glamour photographer. Body-painted beefcakes in glitter speedos are displayed in sublime style; it's at once hilarious, impressive, and masterful. Jaeckin is clear having a blast.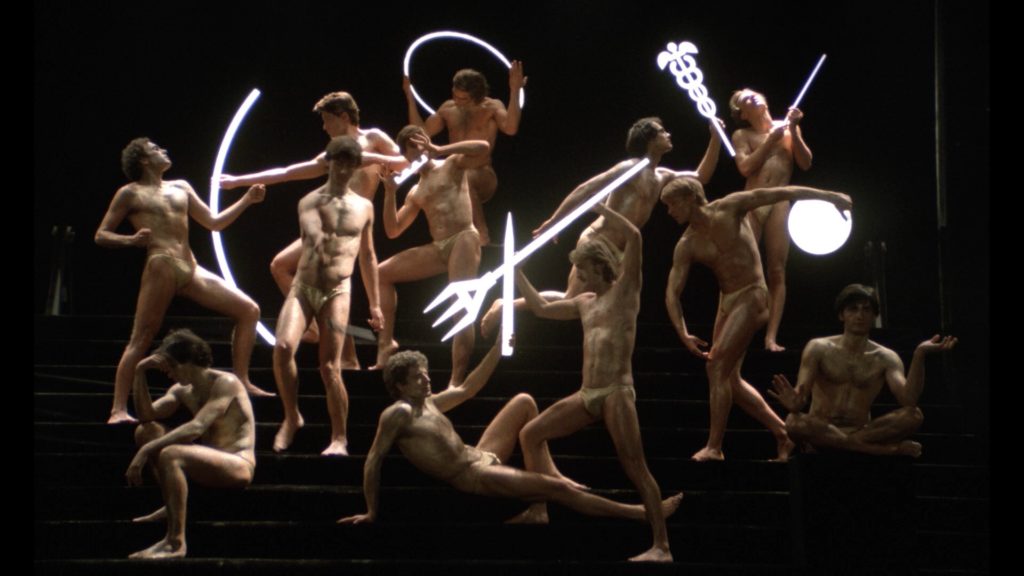 But Jaeckin could be just as comfortable contorting reality in a studio as he was embracing the beauty of nature. The final third unexpectedly goes back to the circus, complete with mundane trailer life, early-morning chores, training, rehearsals, performances, and a particularly bold elephant stunt. It is here where The Last Romantic Lover finally assumes its position as a romantic comedy of yore. Tables continue to turn, and the light rejection of all things Emmanuelle is complete. When the inherent strangeness of a circus feels like a return to normalcy, you know that you've already been taken to some weird places. It all makes for a memorably unconventional experience, carried admirably by Haddon. Fernando Rey, bordering on zany at times, is unfortunately underutilized while male lead Gérard Ismaël (credited onscreen as Gerard Tybalt) can be something of a charisma vacuum. None of those mild criticisms are dealbreakers for this decidedly outside-the-box romp of sexes battling it out.
Sadly, The Last Romantic Lover did not do well at the box office, and subsequently, it drifted into obscurity. Jaeckin himself, however, declared it his own personal favorite of his films. Cleverly written (by Jaeckin and Ennio De Concini) and beautifully shot (by the skilled Robert Fraisse, who oversaw this exceptional new HD transfer (from the original 35mm negative), Lover maintains a light, even quirky tone. Cult Epics once again does entirely right by the film, presenting it in splendid detail and with the right amount of bonus features. The film's French language audio track is presented in its original LPCM 2.0 mono or in a new DTS-HD MA 2.0 mono mix.
The bonus features menu is headlined with an audio commentary by author Jeremy Richey. Known for his comprehensive book Sylvia Kristel: from Emmanuelle to Chabrol, Richey didn't have to venture too far from his subject of expertise to discuss The Last Romantic Lover. He does so with a refreshingly contemporary attitude and a carefully scripted presentation, not at all unlike the evergreen commentaries of Tim Lucas. It's a well-paced and engaging track, springing from Richey's obvious deep interest and appreciation in the film.
In addition to that, we get separate reflective video interviews with Dayle Haddon (2022) and Just Jaeckin (2020). Additionally, the pair are reunited for a special night not even one year ago (March 30, 2022 to be exact) at Cinematheque Francaise in honor of Jaeckin and The Last Romantic Lover. With an appreciative audience, his leading lady, and filmmaker Costa-Gravas, Jaeckin was present to see this film finally get its due. The following September, he would be gone.
Hailing from the off-kilter cultural moment of spring of 1978, The Last Romantic Lover is both forward thinking and thoroughly regressive in its adoption of the screwball comedy model. With the latter come certain tropes and twists that perhaps haven't aged all that well, but nevertheless, that's no reason to leave this otherwise vibrant and happily discordant film buried. The beloved Just Jaeckin absolutely deserves to be honored and remembered; it's all the better for us to honor and remember him on his own terms. The Last Romantic Lover wines, dines, and opines just so.