This Family Needs a Little Peace, Love, and GWAR
DIRECTED
BY: ZACK CLARK/2016
STREET DATE: FEBRUARY 7 2017/KINO LORBER
What would it be like if Ally Sheedy's character from The Breakfast Club, completely unreconstructed, grew up and had children? What kind of mother would that strange and moody teen have become? It's hard not to draw those mental connections while watching Sheedy play a struggling bipolar mother in Zack Clark's Little Sister. Sheedy's character, Joani Lunsford, is not at the center of Little Sister but that would probably come as a shock and an offense to her. She is the sort of woman who believes that everything is about her, and it's certainly a trial for the rest of her family.
Colleen (Addison Timlin) is the protagonsit of Little Sister, and she is little – and a sister – in more ways than one. It's the fall of 2008 and Colleen is a novice nun in New York City, far from her family home in Ashville, North Carolina. Colleen is diminutive and soft spoken; as small as she is, she still seems to shrink a bit more in moments of confrontation – as when two young women at an underground club give her a hard time about being a nun. Still, serving Christ in the midst of Gotham is easy compared to returning home to the family Colleen hasn't seen in years. Joani has sent word that Colleen's older brother, Jacob, a war hero, has returned home. So Colleen borrows a car for several days and returns to Ashville.
Joani and Bill Lunsford (Peter Hedges) are an attractive middle aged couple living in a beautiful mountainside home. But it doesn't take long to figure out that the life Colleen left behind was far from idyllic. There are the scars on her mother's wrists, the unpredictable outbursts, and the alarming amount of marijuana both parents use. As for Jacob, he was disfigured in an explosion in Iraq and spends his days alone in darkened room playing death metal drum solos.
Speaking of death metal, Colleen's old bedroom is unchanged and reveals a lot about who this mousy young nun used to be. One of her first orders of business in this room is to turn the upside down crucifix on her wall right side up.
Little Sister is a dark, earnest, dysfunctional family comedy that defies expectations in some wonderful ways. There are moments when the movie is deeply sad (especially scenes involving Jacob's fiancé, Tricia. played by Kristin Slaysman). Other scenes approach horror, especially bolstered by the film's death metal soundtrack. Joani is not a monster, but she's close enough sometimes. In one scene she chops and apple with almost murderous intent while raging at Colleen. It makes perfect sense when Colleen refuses to answer a question until her mother puts the knife away. The knife is safely set aside, but that doesn't stop Joani from using her words to slice into her daughter, something that has undoubtedly happened often in the past.
There's a lesson in "Little Sister" for those of us who drive people away from the church because we confuse affection for "dark" art with spiritual darkness. They are not necesssarily, or even typically, connected.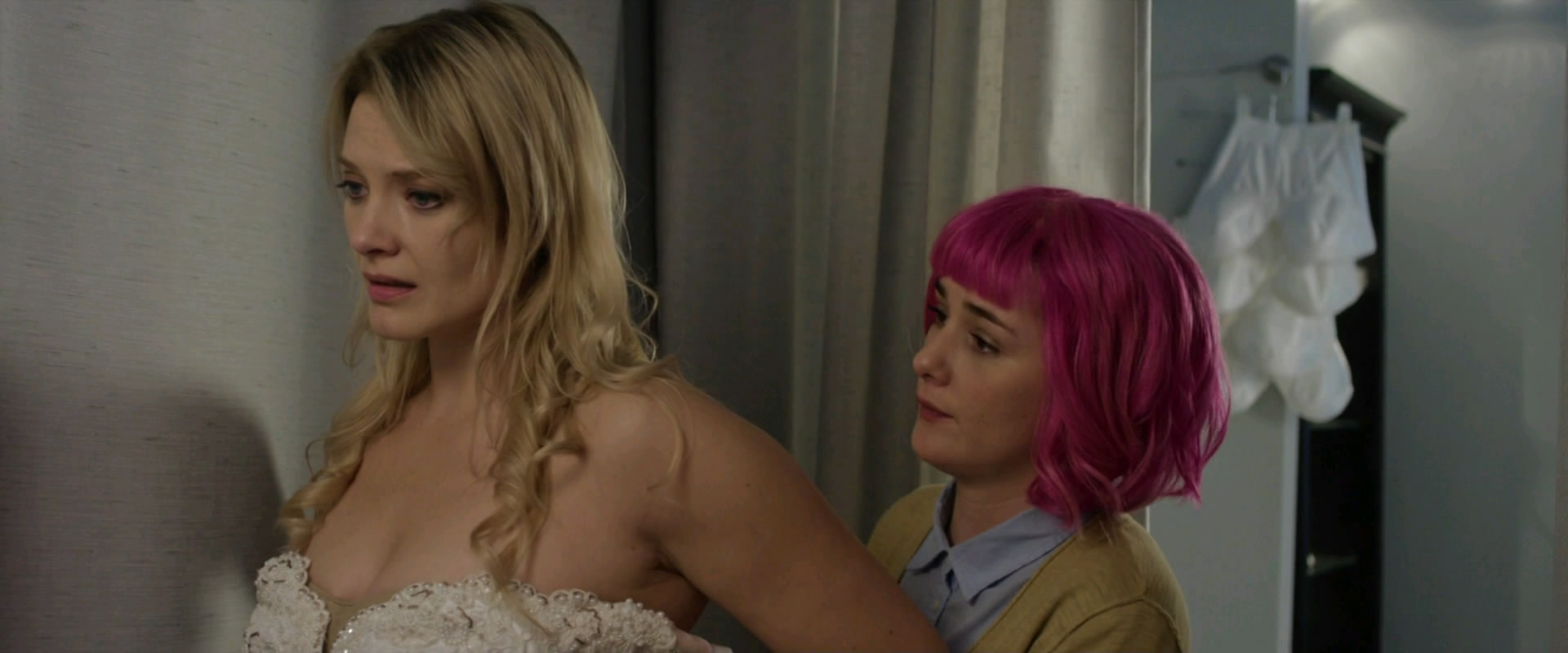 As for Jacob (Keith Poulson, in a nuanced performance), Colleen succeeds in drawing him out of his seclusion and back into the world. She is the little sister, after all: siblings know each other in ways that parents can never really intrude on. In Colleen's case, she elicits the first smile from her brother by dying her hair pink, dressing in a white nun's habit and performing a truly horrifying interpretive dance to GWAR's "Have You Seen Me?" Let's just say that a baby doll was harmed in the making of this film. Some Christians may be offended by this scene, especially performed by a young woman preparing to be a nun. But it's clear that Colleen and Jacob loved GWAR together as teens, that Colleen is invested in using their shared memories to reconnect with her brother, and that she can "play" with the conventions of hardcore music without it corrupting her soul. And that's one of the loveliest surprises in Little Sister, by the way. Even as Colleen returns to wearing goth makeup and concert t-shirts, she remains quietly commited to her calling. Zack Clark gives very little back story, so we're left to wonder how seriously teenage Colleen took the trappings of satanism around her music. But young adult Colleen, upon seeing "Hail Satan" scrawled on a club wall, simply smiles nostalgically. There's a lesson in Little Sister for those of us who drive people away from the church because we confuse affection for "dark" art with spiritual darkness. They are not necesssarily, or even typically, connected.
There are moments when Little Sister gets carried away with its quirky family dysfunction, particularly in an extended episode involving Joani slipping the entire family hallucinagenics in Halloween cupcakes. On the whole, though, Zack Clark, who also wrote the script, skillfully balances humor and pathos. As odd as this family is, their dynamics will be recognizable to many of us whose families wear our dysfunction less flamboyantly.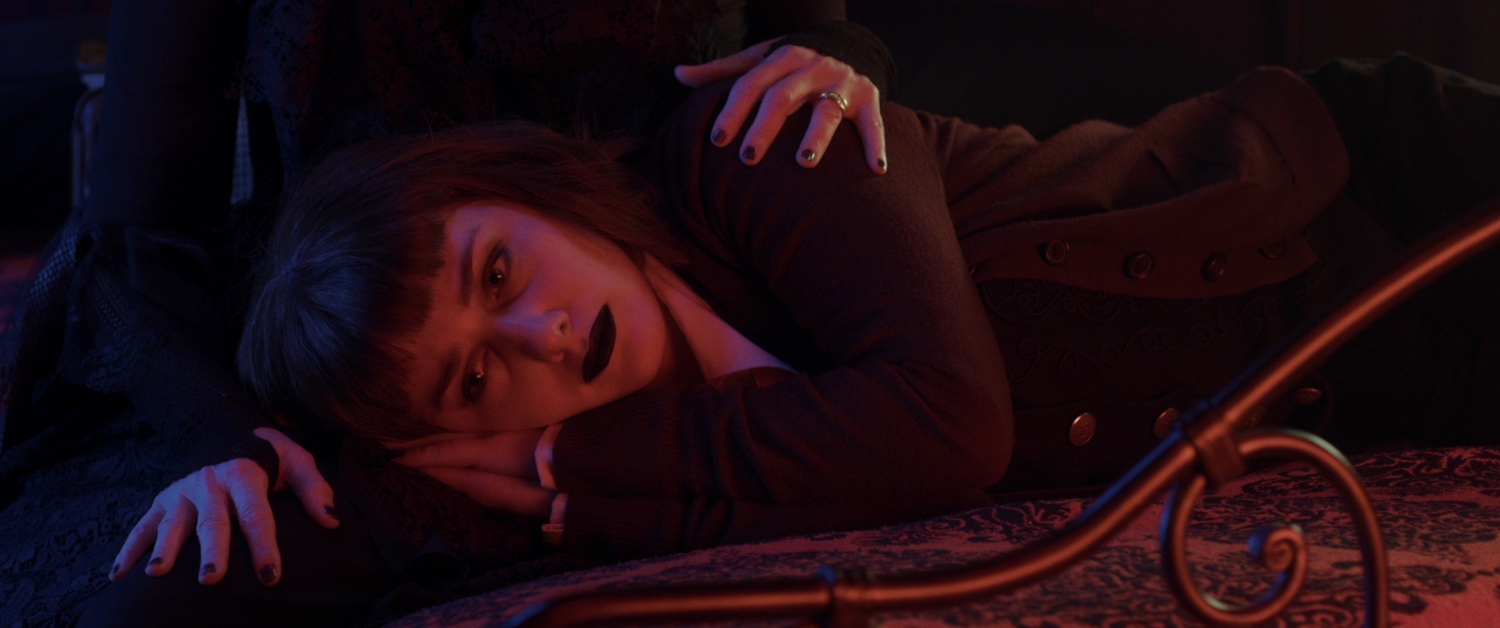 I am not a fan of death metal; still, the soundtrack of Little Sister (featuring bands like Subtonix, The Vanishing, and of course, GWAR) is perfectly crafted for this film. Kino Lorber's Blu-ray also offers several special features. Of note are excerpts from Zack Clark's first feature, a student film a about a Catholic girl who is led into genuine Satanism through the doorway of rock music. If this sounds like an inversion of the message of Little Sister, well, maybe. But Rock & Roll Eulogy looks pretty tongue in cheek. The Blu-ray also includes a live Q & A with Ally Sheedy and Zack Clark, hosted by Peter Travers. Although Travers is nearly insufferable, Sheedy and Clark still offer valuable insights into the making of Little Sister. Learning that Clark and his siblings were GWAR fans and that his mother is an Episcopal priest helped to explain how respectfully the film treats both "fandoms".