DIRECTED BY SHARON MAGUIRE/2016
Bridget Jones has not aged well.  That is to say, her 43 years of life has not turned out exactly as she might have hoped.  It has been nearly 12 years since Bridget (Renée Zellweger) last appeared on the silver screen when she looked to have finally ended up with her long-time love Mark Darcy (Colin Firth).  But the ever-single Bridget Jones finds herself alone blowing out her own 43rd birthday candle as Celine Dion's "All by Myself" plays on the radio for this third installment in the series, Bridget Jones's Baby.
Bridget and Mark have apparently parted ways since we last saw them in 2004, and Mark went on to get married.  Bridget finally came to terms with her weight issues that defined her in the first film, Bridget Jones's Diary, and in this film, Ms. Zellweger did not attempt to put on the many pounds that she did for the first two films allowing Bridget to move past this struggle and instead fall headlong into a new heap of trouble.
Bridget is now the producer for a news program that features her friend Miranda (Sarah Solemani) in-front of the camera.  All of Bridget's friends have settled down and find themselves too often cancelling their get togethers for all sorts of child-related reasons like illness, and events their children are involved in.  Miranda, who is single, decides to whisk Bridget off to the much famed, and very muddy, Glastonbury Festival telling Bridget that she needs to shag the first man she meets.  Enter McDreamy….I mean Jack (Patrick Dempsey).  After showing very strong chemistry together, and a night of passion, Bridget wakes up alone and figures he's off like so many others.  She leaves, and of course he comes back to find the bed empty.  Nothing but a one-night stand in her mind…but of course that's not where this is heading.
Bridget Jones's Baby plays it safe, mostly.  It knows what its audience wants, and mainly seeks to simply provide that to them.
A few days later, Bridget runs into Mark, who coincidentally is going through a divorce.  An old passion ignites and of course Bridget finds herself with another night of passion, with a second man in just a few days.  But these two nights of course set up the main premise of the film of trying to figure out who the father is when Bridget finds herself pregnant and unwilling to do the DNA test which involves a very large needle.  She also re-connects with Jack after Miranda learns he is an American Billionaire responsible for a successful dating website that uses an algorithm to match potential love interests, and books him on the news show so that Bridget can tell him about her news.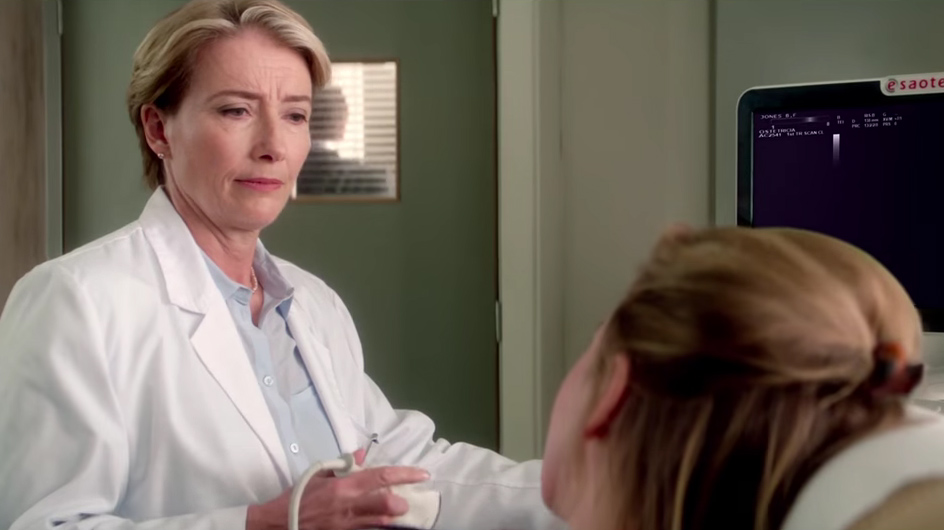 Emma Thompson, who also shares co-writing credits, is a breath of fresh air in this latest installment of the series as Bridget Jones' gynecologist, and provides some of the funniest moments of the film.  Her comedic timing and dour attitude plays smartly against the comedic situations Bridget finds herself in trying to juggle two love interests and the question of fatherhood for these two would-be suitors.  The only complaint is that there is too little of Emma Thompson's character in the film, but it is enough to create several good laughs.
Missing this go-around is of course Daniel Cleaver (Hugh Grant) and his constant attempts to steal Bridget away from Mark Darcy.  And while Hugh Grant and Colin Firth played off of one another very well in the previous two films, it is probably a good thing that Bridget has moved on (though we get a glimpse of Daniel's fate).  Patrick Dempsey's new bright American "can do" optimism plays nicely against Colin Firth's uptight properly educated British Barrister and opens the film up a bit to American audiences.  Katy, Texas native Renée Zellweger dons her spot-on British accent as if she never left it despite the long absence from the character.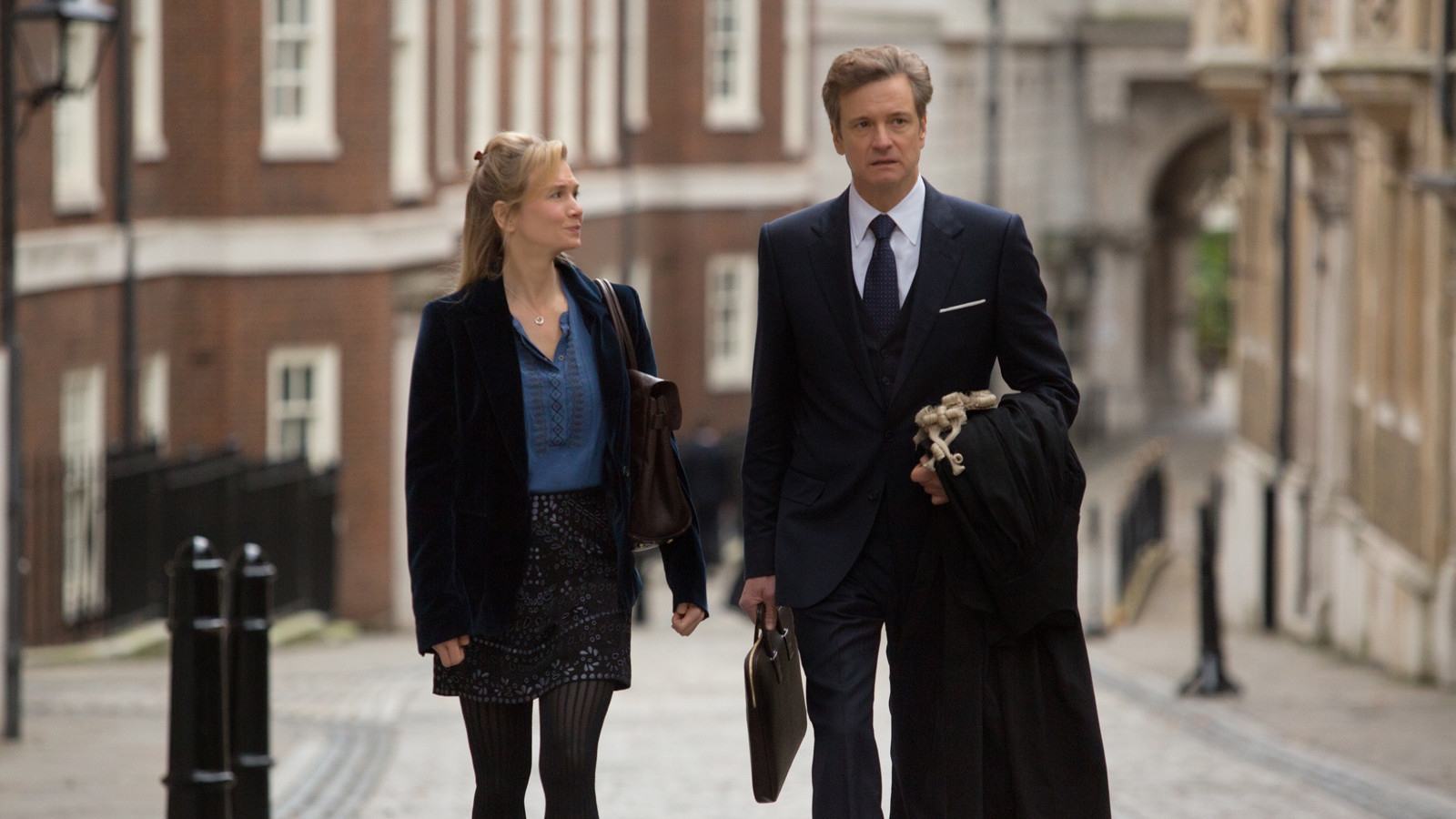 Bridget Jones's Baby plays it safe, mostly.  It knows what its audience wants, and mainly seeks to simply provide that to them. After a muddled second chapter, Bridget Jones: The Edge of Reason, this new film breathes new life into the series, though that is not to say it is a great comedy.  It is a decent one, however. After what passes as comedy these days, largely crude attempts of 12-year old bodily function humor for both male and female audiences (see Neighbors 2: Sorority Rising, Bad Moms, Sausage Party, etc.), it is somewhat refreshing to enjoy a simple comedy that uses a situation for laughs.  This is not to say that Bridget Jones's Baby is without its crude moments, but it relies on them to augment the situational humor, allowing the characters that we have grown to know (save newcomer Jack) on screen the past 15 years to drive the story forward, rather than making them the actual comedy of the whole movie.
Director Sharon Maguire, who directed the first installment, is back giving the story a tone that feels much more like the first film.  Writer Helen Felding, who authored the Bridget Jones novels, writes the screenplay along with Emma Thompson and Dan Mazer.
Bridget Jones has been gone for 12 years from the theaters, and the story accounts for the fact that these characters are aging, calling Bridget a "geriatric" parent, and pitting Jones against a new young staff of millennials at work who are trying to shake up the news format to do away with the old ways.  In this way, Bridget Jones, as a character and a movie, is trying to find a place of relevance after a long absence.  On this front, the film may not prove that it has the staying power for a new generation, but it will certainly please the audiences that have come to love to this series over the past 15 years.
Will we see more of Bridget Jones in the future? The film ends on one of the happiest notes of the series, which would allow Bridget to finally have that elusive happiness she has been writing in her diary about all of these years, but it also teases a few strings that could open up new stories for Bridget, least of all how she gets on as a new mum (and a curious teaser in the credits).  Until then, if you are a fan of this series, then this third film will be a fun time at the movies, even if it ultimately proves to not be a particularly memorable one.