A Film "Making Love Out of Nothing At All"
Director: JED RIGNEY/2014
The lyrics that Jim Steinman wrote for Air Supply in the classic song "Making Love out of Nothing at All" seem to have found its cinematic equivalent in an offbeat independent film called Nowhere Girl.  It bills itself as a "comedy about the difference between crazy in love and just crazy" but the last two words of that description are the most appropriate.  This film about love was made literally out of "nothing at all". As a successful Kickstarter film, it was the support of fans that helped get it made in the first place. Now it is finally seeing its release date.
Tyler (Josh Robert Thompson-Robot Sidekick from Late Night with Craig Ferguson) is a broken man.  Having been dumped by his girlfriend Jessica, Tyler has found himself crashing in his married friends', Justin (David O'Donnell-Air Force One, Thirteen Days) and Michelle (Jennifer Aspen-Mr. Woodcock), house for the better part of the last 2 months.
Tyler's days consist of never leaving the house, growing a terrible beard, and constantly staring at his phone and the pictures of Jessica that continue to haunt him.  One day, he takes his friends' advice and ventures outside where he encounters a girl at a cafe.  This girl is named Katie (Ilana Guralnik-The Newsroom, Brooklyn Nine-Nine) and she is everything Tyler has wanted, even down to the dark red hair. After seeing each other for a bit, Tyler brings Katie home to meet Justin and Michelle who are excited that his life is turning around for the better.  The only problem is that when he brings her home to meet them, there's no one there…literally. Making love, out of nothing at all, indeed.
Nowhere Girl is the feature film debut of director Jed Rigney, who has done a documentary as well as some television episodes and short films.  He is also the writer of this film. Three of the main cast are also writers on various other projects in their respective careers, yet one of the biggest problems with Nowhere Girl is that its story falls short of its ambition, and its writing has no sense of direction as to what kind of story is actually trying to be told.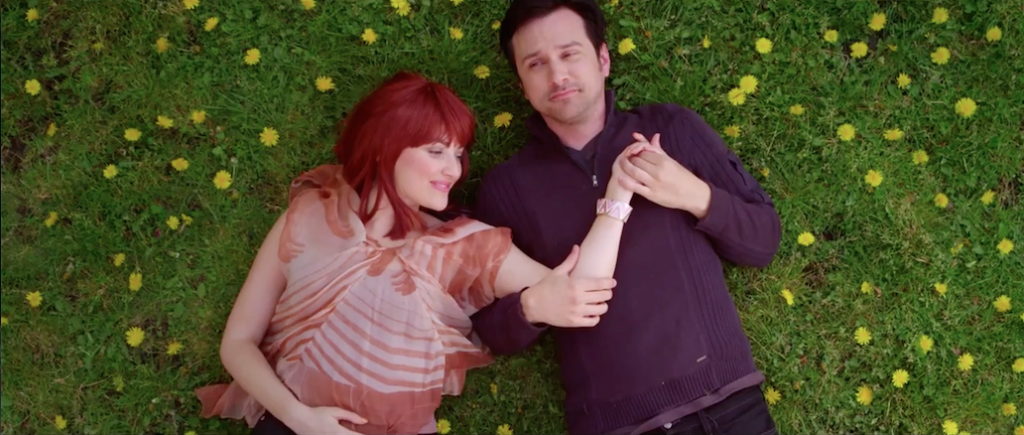 As the dinner for four is only attended by three, Justin and Michelle are worried about their friend, and understandably so.  The movie tries to deal with the serious subject of mental illness, especially as a result of being so crazy in love with someone that they mentally get stuck when it ends….unable to fully heal.  This was the subject matter of the much-praised film Silver Linings Playbook. Instead of fully committing to this type of idea, as it should have, the film tries too hard to balance this serious issue of mental illness with being just another typical romantic comedy.
Throughout the film we see the time Tyler spends with Katie and their romantic walks in nature. We watch the funny time they had their first kiss on a park bench only to smell dog excrement and have to move away slowly, and listen to the typical banter that populates the more lighthearted "getting over heartbreak" rom-coms that are constantly being churned out by the studios.  Here, it should be much more disturbing and tense given the possible mental precipice Tyler is supposed to be dangling from.  Instead, the ultimate hipster soundtrack plays throughout the film, cleverly slipping in songs about daydreaming, and meeting someone in the "atmosphere", whenever Tyler and Katie are onscreen together. If only the story arcs were as compelling as the soundtrack.
Katie is briefly seen on two occasions by Justin and Michelle respectfully in this story, and this would have been a great time to deal with the crazy we all have when we are seeing only what we want to see, as they clearly want to see Tyler happy with the girl he has described to them. Instead, it is used as more of a foreshadowing sight gag than a commentary as I mentioned it.  Nowhere Girl forcefully and fully commits to the lighter fare it acts like it wants to avoid when it wraps the whole story up, nice and neat, sans the bow.
This film unfortunately has no sense of the story it is trying to tell as it takes a "kitchen sink" approach hoping something will stick.  From the baked out-of-his-mind next door neighbor thrown in for comedic effect, to the angry yet quirky waitress whose main thing is playing off the annoying sign in some restaurants that asks someone to "wait to be seated" even when no one is in the restaurant, to the weird friend who is known just for being a bit vulgar…these all seem like typical tropes from other films that are thrown into Nowhere Girl to give it "layers", when they are really about as two dimensional as you can get. It would be easy to dismiss this all as part of the budget constraints of being a Kickstarter campaign funded fan-film, but Jed Rigney makes this film look better than the extremely modest budget he had.  This is clearly a casualty of the writing, and nothing more.
This being said, there is enough likable personality in most of the characters to keep you interested in finding out their fate, which is a credit to the cast.  It is just unfortunate that the story keeps things so muddled and surface level that they can't really explore the much darker story that should have been told here.  Love, in this romantic comedy is being made, like in the Air Supply song, quite literally "out of nothing at all".