Does a Denmark Born Director Redeem the American Western?
Director: KRISTIAN LEVRING/2015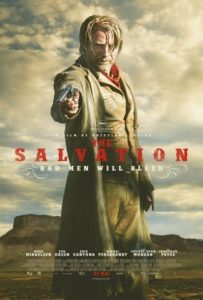 Kristian Levring is a Denmark born director who has grown up loving American westerns, seeing them as a universal story of all immigrants who were the survivors of the old west.  The American Old West embodied the immigrant story as a chance for new beginnings in a world that promised one nothing, but that offered the opportunity for one to control one's destiny and provide for their family.
In The Salvation, Mads Mikkelsen (The Hunt, Casino Royal) plays Jon, an immigrant who, along with his brother Peter (Mikael Persbrandt-The Hobbit: The Desolation of Smaug and Battle of the Five Armies), are trying to make a new home and way of life in the American frontier. After Jon picks up his wife and son (who are finally joining him from Europe) at the train station, they board a stagecoach to head to their homestead.  When the other immigrant couple that is on the stagecoach with them are ordered to get off, two men board the coach and begin confronting Jon.
After these men kick Jon off of the moving stagecoach, kill his son and rape his wife, Jon takes matters into his own hands, exacting revenge.  Eventually this conflict draws in a cruel man named Delarue (Jeffrey Dean Morgan-Watchman) into the fray.
Delarue's brother was killed by Jon for raping Jon's wife, and who has left behind a wife of his own.  His brother Delarue is a famed "Indian Killer" who now uses his gang of armed men to terrorize the small town near Jon's homestead.  Desiring revenge for his brother's death, Jon is now being hunted by Delarue and the town is pitted against Jon to protect themselves from Delarue.
Kristian Levring gets a lot right in his ode to the American western.  From the dusty, bleak feel of a town miles from nowhere, to the survival of the fittest mentality that ruled the old west, it feels like the classic westerns of old. Mads Mikkelson is able to convey a wide range of emotions with simple looks, given that he is largely a soft-spoken man in much the same vein as Clint Eastwood's classic "man with no name" westerns.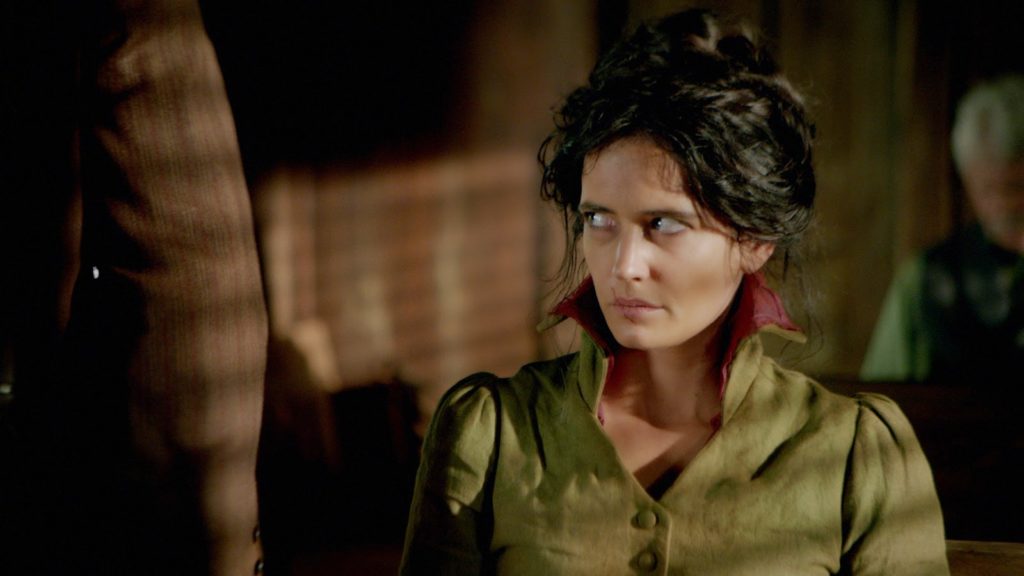 Eva Green (Casino Royale, Sin City: A Dame to Kill For, 300: Rise of an Empire) plays a mute woman named Madelaine who is referred to throughout the film as "princess".  She is mute after Indians cut her tongue out as a child.  Saved by Delarue's brother, she is now his widow. But having been rescued from the Indians, she married the criminal who saved her, never escaped her lifelong hell.  Now "belonging" to Delarue, she understands the rage of Jon despite seemingly being on the side of the situation that Jon is fighting against.
Jonathan Pryce (Pirates of the Caribbean, Tomorrow Never Dies) plays the corrupt town Mayor and undertaker who is under Delarue's thumb.  Coupled with a scared sherriff, and no one in town willing to cross Delarue, this small conflict of one man wanting revenge for his family's death becomes symbolic of the larger struggle of a whole group of people against injustice and oppression.
While the feel of the film and the larger western arch-types are all present in this film, it still lacks a depth of emotion that makes you feel for the overall town.  We certainly have that connection for Jon's plight, but the title of the film also speaks to the larger need of the town for salvation, and basically there is not a deep connection.  There is also a rough transition between the connection of Jon and Madelaine and how it plays out in the final scene.  While we understand both character's desire to take out Delarue and his gang, we never get a full appreciation of where the story ends up taking them.
When Jon, and his brother Peter, are in action dispensing justice, this is where the real strength of the film lies.  Having been former soldiers, both men are methodical in their ways of going after their targets.  Levring captures some great scenes of not only old west shootouts, but also against the backdrop of a burnt town that Delarue occupies, the location of the battle provides an opportunity for an effective cat-and-mouse showdown where Jon is able to compete against superior numbers.
Westerns have not performed very well in recent years in America, despite it being arguably a unique American genre, with Sergio Leone's contributions being the glaring exception.  With The Salvation, Levring captures the essence of the American western and nearly redeems it.  Besides 3:10 to Yuma, this is one of the better western films to emerge since the mainstream Tombstone, and Clint Eastwood's Academy award winning Unforgiven screened in the early 1990's.  And even with its flaws,The Salvation gets more right than wrong.  It also shows that Kristian Levring's belief that westerns are also a universal story of immigrants overcoming difficult odds might be dead on, as a non-American director reminds us what is great about the western by overcoming the difficulties that have plagued the genre in recent times.
The Salvation opens in limited release in Houston, and other certain markets.