A Real Life Drama Sees Vanessa Hudgens in Transition
Director: RONALD KRAUSS/2013
Kathy DiFiore opened a shelter for pregnant teens in 1981, out of her New Jersey home.  She charged nothing, but simply wanted to literally apply the prayer of Saint Francis of Assisi when he said, "Make me a channel of Your Peace. Where there is darkness let me sow light. Where there is sadness let me bring joy." Three short years later she was being fined $10,000 by the state of New Jersey for running an illegal boarding house. Several people took up the cause to pass legislation to legitimize her shelter, but to no avail.  That is until a contact was able to get Mother Theresa involved who personally advocated for Kathy and her shelter to the New Jersey legislature.  Since then, Ms. DiFiore has opened several shelters and her website lifecall.org lists over 550 shelters available to women (primarily) all over the country.
Director Ron Krauss caught word of this remarkable story and spent over a year living in various shelters, learning more about the plight of so many who find themselves without options as they try to survive, and many times escape, their past.  Many have multiple demons to exorcise, as well, before they can get better.  Drugs, addiction, prostitution, as well as abuse and rape are common threads to many of the women who enter Kathy DiFiore's doors.  Ron Krauss sought to capture the reality of their plight as well as document the hope that many of the women experience as they are given a chance for love, respect, and shelter.
For the screening of this film, I was able to participate in a Q & A discussion with Ms. DiFiore, Mr. Krauss, and the film's star, Vanessa Hudgens.  Vanessa plays Apple, a 16 year old who is desperately trying to get away from her abusive, and drug-dependant mother while at the same time avoiding going back into another foster home.  She has known abuse, and typically covers herself up with baggy-styled clothing, tattoos, and piercings to keep from being noticed on the streets so as to not be victimized again. Apple is said to have been a composite of two different girls, according to Ms. Hudgens and Mr. Krauss, but the events in the film happened with one of the girls.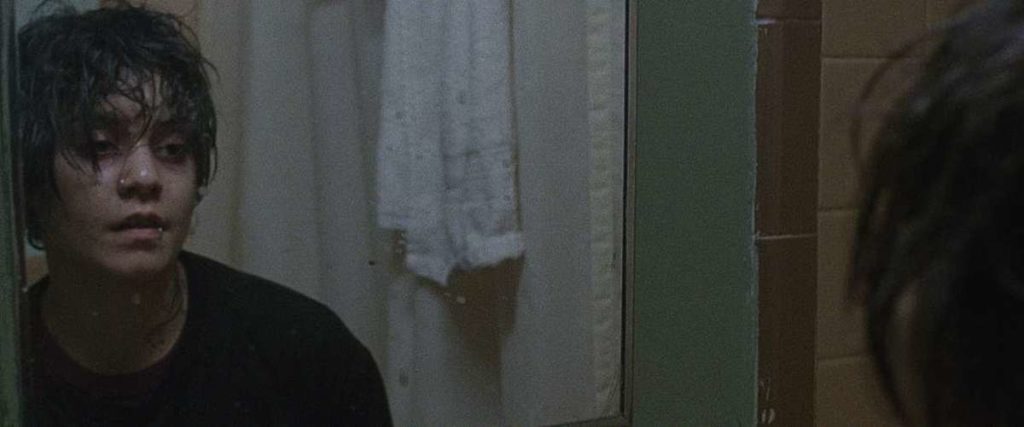 Vanessa Hudgens, who spent two weeks living in these shelters herself, underwent the most radical transformation of her career.  She described to us the process of putting on nearly 20 pounds of weight, having tattoos applied to her skin, changing her voice and mannerisms, and the cutting of her trademark hair.  When the film began, Ms. Hudgens was virtually unrecognizeable to those who might know her from her early films such as the High School Musical series or Beastly, up until last year'sSpring Breakers.
Rosario Dawson (Trance, Sin City) is the real scene stealer of the film, carving a terrorizing and manipulative path through Apple's life as her biological mother, June.  Brendan Fraser (The Mummy series) plays Tom Fitzpatrick, Apple's biological dad, whom Apple has not met in her 16 years of life.  This film does a good job of showing the conflict that can arise when one leaves their world behind and enters the world of another.  Tom has moved on with his life and has been unaware of Apple's situation.  This is not to say that he is deliberatey aloof or negligent, but more innocently ignorant after loosing touch with Apple's mother so many years ago.  In the film you get a real healthy perspective of what Apple's reappearance into his life will mean for him moving forward.  You also get to experience the tension felt by his wife as she is blindsided by the news of his having another child, and the desire to protect her two children and family from the street-wise Apple.
Through a series of events, Apple finds herself in the hospital, and pregnant.  She meets Frank McCarthy, played by the great actor James Earl Jones (Star Wars films, The Sandlot), who is a chaplain at the hospital.  Apple continues to throw up defensive roadblocks before allowing him to speak love and truth into her life and point her towards the shelter run by Kathy DiFiore.  In the Q & A, I was able to ask the director, Ron Krauss, what role faith and specifically the character of James Earl Jones' chaplain was meant to play in Apple's journey.  In his answer, Mr. Krauss indicated that he wanted Frank McCarthy to be a voice of shelter in the midst of the storm Apple finds herself in.  In life, he articulated, we all might find ourselves in dark places, and yet it is in those times that help is present.  Apple finds that help when she desperately needs it, but this doesn't mean that the darkness is over for her.  In fact, there are even more obstacles she will face. Sometimes faith is trusting you are moving the right direction even as our world grows darker still.
While the film is decidely pro-life in its approach, it is never preaching that.  Rather it seeks to simple dignify the girls who enter the doors of the shelter.  The way the shelter in this film operates and what it seeks to accomplish is in direct contrast to the approach used by the Irish Catholic orphanage in Philomena, despite both being tied to the Catholic, and Christian faith.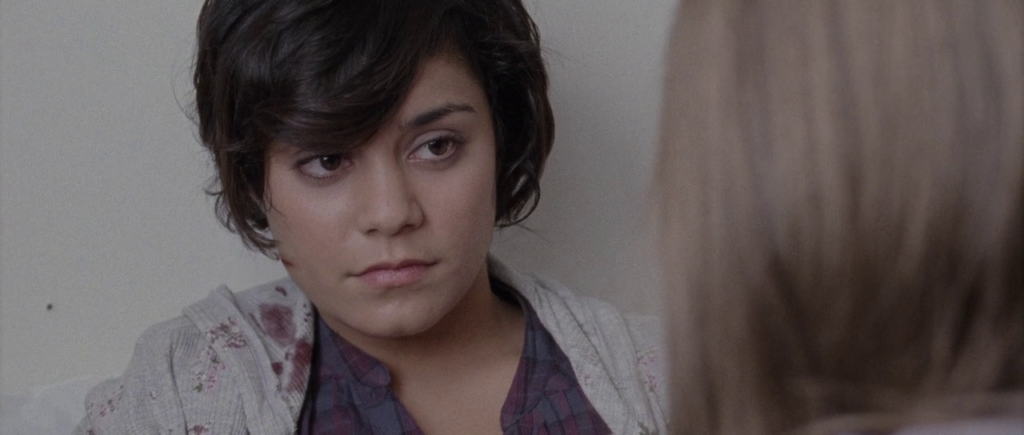 While the film captures a true story, and brings a real problem to light, it is still portrayed safely in its depiction of the grit that the true to life scenarios actually had.  Ms. Hudgens truly transforms herself for the role.  Many of the actual girls from the shelter play the shelter girls in the film, so it has a certain realness in its portrayal that can't ultimately be faked with trained actors.  While this film is not oscar-worthy by any means, Ms. Hudgens is clearly an actress in transition, as she seeks to embrace more age-appropriate parts and leave her campy Disney past behind.
In the end, Gimme Shelter is an adequate January film that will entertain you and introduce you to the plight of so many women in our country.  Many who see this may come away from the film looking to participate in such a charitable work, and that is the stated hope of Ms. DiFiore.  Releasing just after the 41st anniversary of Roe v. Wade, many on the pro-life side of the aisle will likely rally to support the overall position of the shelter's owner, despite this film not truly being a 'message' or 'agenda' film that has been made by the religious-right.  It's impartiallity on the issue is important as it allows the story of one teen to be told and let the larger issue of girls in need of shelter be made known to a wider audience.