Italian Director Fernando Di Leo Chases Lee J. Cobb to Geneva for Split-Screen-Happy Heist Yarn
DIRECTED BY FERNANDO DI LEO/ITALIAN/1976
BLU-RAY STREET DATE: OCTOBER 25, 2022/RARO VIDEO (via KINO LORBER)
Brisk, bubbly and bursting with enthusiasm about optical printer technology, Italian crime filmmaker Fernando Di Leo's Nick the Sting (Gli amici di Nick Hezard) is a satisfying romp of masculine MacGuffin chasing and fun fake-outs.  Actually, "masculine" might not be an operative word for Nick the Sting, as it doesn't lead with machismo aside from residing in a very male-led genre in an extremely male-led time from perpetually macho Italy.  
Like its obvious Hollywood namesake, The Sting (dir. George Roy Hill, 1973; that Oscar winner, that), Nick the Sting is a lighthearted story of criminal double and triple cross; the more elaborate and unlikely the set-ups, the better. In this case, a glut of too-similar characters coming and going take their toll on the tale, as does the task of tracking the whereabouts of several valuables making the rounds. Thankfully, the two central adversaries and leads in this picture, small time hood Nick Hezard (Luc Merenda) and big-time boss Robert Clark (Lee J. Cobb), are entirely distinctive all the while.
Though Italian through and through (and 1970s Italian, at that), the story takes everyone to Geneva, Switzerland. It can't honestly be said that the mountainous deep background (only glimpsed occasionally) and foreign locale do much to shape or inform the story, though a lot of the filming really did occur there. Mostly, it's a lot of conning, bobbing, and weaving through offices, jewelry shops, restaurants, and cars- some of which may not be authentic to their world. The movie is at least half fun, if you are either somehow able to keep track of all the shifting of what's what and who's who, or you don't care and just go along for the ride. (Count me in the latter camp).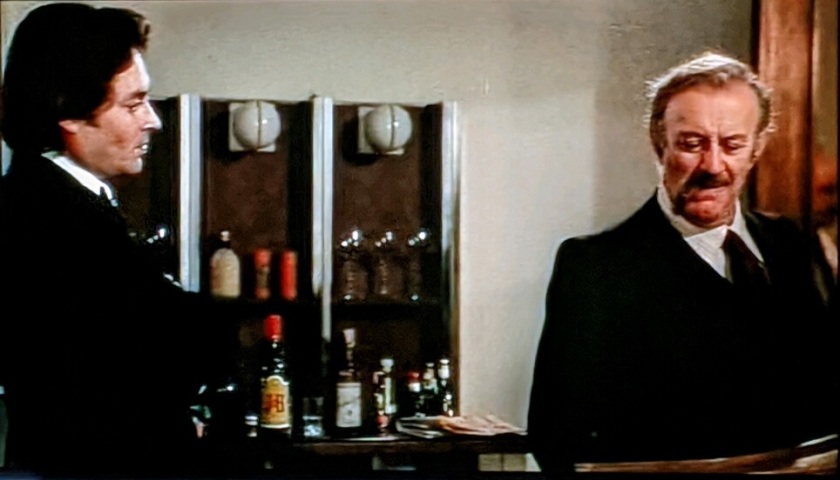 Merenda's turn as the title character is good enough, though Di Leo's reported disappointment with the actor's charisma level likely results in the overcrowding of Nick the Sting, by the overly buoyant likes of Gabriele Ferzetti, William Berger, Mario Pisu, and Valentina Cortese as Nick's eccentric mother who seems to have a most unsettling crush on him. And because no movie of this ilk from this time goes without at least one prostitute, the classy redheaded Dagmar Lassander satisfies that need.
It's the legendary Lee J. Cobb, however, who, in terms of screen presence, single-handedly elevates Nick the Sting to any level beyond forgettable programmer. (Which it still kinda is). Cobb (12 Angry Men, The Exorcist) plays the perpetually thick-headed mark, a pompous but frumpy crime boss whose ascension up that ladder officially made him too big for his britches. That dye was cast long before the events of this movie, with their ragtime-music breeziness mixed with moments of bloody violence, ever occurred. Is there ever any doubt that nobody Nick's elaborately engineered con (we've seen it before, but I won't reveal it here) will do in this self-important fool?
Nick the Sting's real draw, however, has to be its ambitious, outside-the-box uses of split-screen and freeze-framing. Though such optical-printer-based flourishes are an admittedly niche appeal these days, the many moments of such bygone stylistic flare is what set this film apart from the glut of similar fare, then and now. Both techniques had risen to relative prominence in the mid-to-late 1960s, though Di Leo employs them to different ends.
Alone in the disc's bonus menu, film historian Mike Malloy hosts an amusingly crafted video history of '60s & '70s split-screen cinema, where he points out that Di Leo defies expectations by not using split-screen to detail the many "moving parts" of the big con job that are occurring concurrently. Rather, he uses it in a more experimental way, to envelop the viewer in varying angles of the showcased moments all at once. How effective this proves is entirely debatable, though less debatable is Di Leo's expressive use of freeze-framing, going as far as to punctuate action with the captured image over itself repeated in various sizes.
Mallory's featurette is a great selling point, though his own prevalent schtick may or may not be one's cup of tea. He makes one great point after another, though, even as he refreshingly admits when he doesn't have all the answers within this topic. I found this piece (newly created by Malloy for this Blu-ray release) to be almost as amusing as it is enlightening. And it is very enlightening; an excellent selling point for this Raro release of Nick the Sting. A shout-out to Malloy for all the effort went into the making of this split-screen infused video essay on the history of split screen- even if the absence of example clips of other films is glaring.
Raro's Blu-ray release of Nick the Sting is decently presented if not exactly impeccable. It shows its age at times beyond the many degraded shots that betray a forthcoming optical printer gag. That's a tell that could never be helped. While not even Di Leo would consider it remotely essential in his own filmography, Nick the Sting proved to be an interesting glance back to a very particular time and place when crime films were a hustle all their own, occupying the cinema screens of Italy with quick swagger and gusto, then disappearing just as fast.