Rom-Com Bingo is Harder Than You'd Think
For the last three years I've been creating Bingo cards to accompany the Rom-Com-Athon. It should be easy to create a fool-proof card for such a cliche riddled genre, right? And yet, no matter how many times I tweak the card I seldom get Bingo. You need just the exact combination of cliches, without making the Bingo card so easy that all the sport is taken out of it.The card included here is my latest attempt, and you're welcome to use it with any holiday romance movies you watch this year. You can also make some pretty effective drinking games along the same lines, but I'm not officially endorsing that idea.

FUNDRAISING UPDATE: We're getting there, slowly but surely! As of Thanksgiving Day, $1488 has been donated or pledged toward the $4800 goal for asbestos remediation in our friend's home. You can help us out by pledging per movie on this form: https://forms.gle/LdpkmPiDppD9aTjF7. If you don't want to mess with pledging and just want to make a flat donation, you can find me on Venmo (@Sharon-Autenrieth), PayPal (@sharonautenrieth1) and the Cash App ($SharonAutenrieth).
Entry #6: SNOW (2004)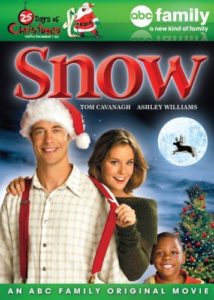 DIRECTED BY ALEX ZAMM
GUEST CONTRIBUTOR/TAG TEAM REVIEW!
I (Sharon) got to visit my friend Margie for the first time since pre-COVID and we watched this movie together, which was a blast!
Margie Zumbrun is a lifelong Hoosier whose job as a nurse/lactation consultant is to ensure that nobody's baby starves and nobody's nipples fall off. She and her high school sweetheart are privileged to be the parents of 4 energetic kids, 1 energetic dog, and 2 cats who just wish everyone would calm the heck down. Margie attends a small American Baptist church two blocks from her house where she leads the singing with the assistance of her infant daughter. She has a physical dependence on coffee that she is not proud of but not sorry for either. She would have been sorted into Hufflepuff, no question
Watched: November 13, 2021
Our Romantic Couple: Nick (Tom Cavanaugh) and Sandy (Ashley Williams)
Their Meet-Cute: Margie: Sandy and Nick officially meet in Sandy's car, which he has entered without her knowledge or consent. This becomes part of a larger theme.
Sharon: Margie and I debated when the meet-cute happened. Was it when Nick jumped into a reindeer enclosure, when he haplessly rolled a golf cart into a lake, or – as Margie finally figured out, when he climbed into the car with a women who *did not know him*. This might have been the end of the movie in some concealed carry states.
Plot Synopsis: Margie: Buddy, one of Santa's reindeer, is kidnapped by Buck Seger (Patrick Fabian), a big-game hunter/walking embodiment of toxic masculinity, and sold to the San Ernesto Zoo. When Nick Snowden, aka Santa Claus, travels magically through a mirror to rescue his reindeer, he meets Sandy the Zookeeper, a conventionally attractive woman who doesn't like to celebrate Christmas because of her dead mom, and whose personality can be summed up as "is a zookeeper." Nick and Sandy save Christmas and fall in love, despite Nick being actively unpleasant and the two of them evincing exactly zero romantic chemistry together.
Star Power Casting: Margie: Craig Robinson in a commercial for Tide laundry detergent that aired multiple times on Tubi during our viewing. He was great. Very entertaining. His comedic timing is perfection. The movie was so bad that every commercial break was a relief. Also Ronnie (Karen Robinson) from Schitt's Creek in a small but heartfelt part as the mother of the precocious child.
Nick is played by the same actor who played JD's brother on Scrubs. His character in Scrubs is purposefully pretty awful. In this, it is un-purposefully awful.
Sharon: It was great to see the stunning Karen Robinson in this movie. It also solidified my belief that this movie was filmed in Canada. (It was.)To be fair, I think the makers of this film considered Tom Cavanaugh their star power. Snow was released in the last year of Cavanaugh's run on Ed, a romantic comedy series in which he was, if I recall, considered charming. This movie sucks the charm out of him with the force of Bissel, Dyson, and Shark combined.
The 110% Award: Hector the precocious child, played by Bobb'e J. Thompson. He acts the heck out of all his scenes. But BOO to whoever put inappropriately sexual lines in that sweet little kid's mouth. And would they have made a white child make comments about "laying back the seat" of a car so the child could make out with a grown woman?? Must the precocious-child trope be layered with the precociously-sexual Black child trope?! Shame on you, ABC Family. Racist and gross. I hated it. (But I loved the actor who played Hector. He was adorable.)
Sharon: What Margie said. But also, Bobb'e J. Thompson has gone on to a long and fruitful career in television, including two Christmas films – one of them, Miracle Across 125th Street due to be released next month. That fim, in which Bobb'e is the lead, also features Nick Cannon, Tommy Davidson, Lil' Kim, Todrick Hall, and…folks, I'm so confused. The IMDB cast page includes Jim Jones. Yes, that Jim Jones. I'm definitely going to need to watch this movie.
Observations:
Margie: The year is 2004, and Sandy the Zookeeper is surrounded by terrible men. There's Buck, who ambushes her in the (apparently coed?) locker room, touches her without her consent, spies on her at her home, and absolutely will not take no for an answer. He eventually stabs himself in the thigh with one of his own tranquilizer darts, because of course he does.Then there's Nick, who stumbles, bumbles, and mumbles his way through the reindeer rescue. Having been raised in apparent social isolation at an elfless North Pole, he is incapable of conducting even the most basic social interactions. He cannot introduce himself to Sandy without forgetting how sentences work. At one point he allows a golf cart to roll straight into a lake. He is skinny and wears baggy pants, which does not stop the makers of this film from forcing the actor playing Sandy to pretend to be checking out his butt while he climbs an attic ladder.
Sharon: I cannot overstress how tiresome Nick's inability to form a sentence becomes. It's not cute, ABC Family. It's really not.
Margie: Once in the attic, Nick discovers boxes upon boxes of Christmas decorations. Sandy explains that she can't bring herself to decorate because it reminds her of her dead mother. Of course, Nick puts the decorations straight up, because he also cannot take no for an answer. Sandy is rightfully outraged. Nick, who is now officially the villain in my eyes, says, "But what do you see?" And Sandy replies "Christmas!!" BARF. Personal boundaries are things to be overcome, not respected, in the Snow Cinematic Universe, and thanks I hate THAT too.This doesn't even begin to address the fact that poor Hector, an 8 year old, is also propositioning Sandy and also cannot take no for an answer, or Chester, the old man who is propositioning Sandy's landlady and not taking no for an answer. There is a theme, and alas it's NOT CHRISTMAS.The only person in this movie who seems to have ever heard of the concept of boundaries or consent is Sandy, and her character learns to overcome it so she can go be Mrs. Claus – or, as Nick says at the very end as his last unforgivable act, SANDY CLAUS. And thanks, I ALSO HATE THAT.
Please note that Nick retcons Santa's origin story to involve an evil Count (I think) who is cursed and who has a magic bag and no elves. What is wrong with this movie?!And there is very little snow. It's set in San Ernesto, California, and the North Pole scenes take place indoors. Yet the movie is CALLED SNOW. Why?!?! Santa moves through mirrors. Maybe it should be called Christmas Candyman.
Sharon: Yeah, the Candyman vibes are unavoidable. But given a choice, I'd suggest you see the 2021 film Candyman rather than Snow.
Margie: In one scene, a fly can be seen in the background crawling around Santa's throne. It reminds me of that fly on Mike Pence's head during last year's VP debates. Was Beelzebub involved in the making of this film? That would explain a lot.
There's a sequel. I despair of humanity.
Sharon: As you can detect from the observations above, Margie hated this movie. I mean, white-hot, had to take a shower after watching it, hated it. I feel guilty for suggesting this movie. It's got me doing some soul searching about how much 100+ Christmas rom-coms have numbed me to the more problematic elements. Granted, I was immediately grossed out by many of the things that bugged Margie – but I wasn't surprised. Especially since this was an ABC Family movie. This is the joint that gave us Holiday in Handcuffs, folks. Boundary-crossing was par for the course in their Christmas movies. But not only was I not surprised by Snow, I was able to laugh it off much more easily than Margie. It is possible that some part of me has died and that probably needs to be addressed by a therapist or spiritual director. But not until we raise enough money to remove the asbestos from Jamie's house.
For the long time readers, you'll remember Ashley Williams from other movies. She's a Hallmark queen these days, and the sister of Kimberly Williams-Paisley (co-star of Father of the Bride). This was her first Christmas movie and…she had some growing to do as an actress.It's not completely true that nothing in this movie surprised me. I didn't see the complete absence of snow coming. That was a twist.
Bingo? Nope.
Available on Tubi and YouTube TV
Entry #7: ONE DECEMBER NIGHT (2021)
Watched: November 16, 2021
Our Romantic Couple: Quinn (Eloise Mumford) and Jason (Brett Dalton)
Their Meet Cute: They've known each other since childhood but get reacquainted when Quinn returns to her hometown on business.
Plot synopsis: Quinn works in artist management and is assigned by her boss to help convince her estranged father, Mike Sullivan (Peter Gallagher, half of a once-famous pop duo, to perform a reunion concert a few days before Christmas. Jason is the son and manager of the other half of the defunct duo, Steve Bedford (Bruce Campbell). There are bad feelings between both generations, especially since Steve gained the rights to all of Bedford and Sullivan's songs. But Jason and Quinn set aside their differences for the sake of the upcoming concert and romantic sparks begin to fly. Meanwhile, Mike and Steve scrap, rehearse, and hash through their history. Conflicts and complications threaten both love and the concert.
Star Power Casting: Eloise Mumford and Brett Dalton are both cast members on Chicago Fire. Dalton was also on Agents of Shield. Respectable amount of star power. But the real marquee status in this movie belongs to Peter Gallagher and Bruce Campbell. If you don't know who they are, where have you been?
Oh, and I did I mention that Didi Conn (Grease) is in this movie as a server at the local diner?
110% Award: It's not really that kind of movie, so I'm giving it (unironically) to Jasmine Forsberg, playing an aspiring singer/songwriter who Quinn is managing. Forsberg is an actual trained singer who actually plays guitar, and she does both very well. Why she's stuck busking and doing Christmas covers is a valid question.
Observations: The open secret about the rom-com-athon is that not all of the movies are rom-coms. One NIght in December is very light on the com. I don't want to spoil the movie (because you might actually want to watch this one) but both fathers have significant problems. Mike is recovering alcoholic and Quinn's relationship with him has been poisoned by her memories of his drinking. There are some genuinely sad moments in this movie, and although it ends happily (it's Hallmark, after all) not everything is resolved. It's a bittersweet ending, at best. But if you think this movie is a departure from the usual rom-com format, just wait. A couple of our guest contributors are out of control.
In a weird convergence with the movie Snow, covered by Margie Zumbrun and me, there are boundary issues around Christmas decorations in this movie. If someone says they don't want to put up Christmas decorations, shouldn't that wish be respected? Quinn just can't bear her dad's house not being Christmasy, so she and Jason sneak in late at night and give the place the Hallmark treatment. I am not sure I approve.
I wish I loved anything as much as people in these movies love Christmas beverages. Sure, those cups of hot chocolate, topped with peaks of whipped cream, seem to be empty (and just what is that whipped cream, really?), but Jason and Quinn sure are enjoying them. And Quinn gets SO excited when she sees a street vendor with hot cider. She literally yells, "Cider!"
At one point Quinn says, "There's no such thing as too many ornaments," and that could be the theme for the entire Hallmark Holiday Industrial Complex.
Gallagher and Campbell do their own singing in this movie and it's….okay. Plausible for a couple of aging singers who have been through some things. But the quality of the songs, songs which have not only made them legends but turned the town into a tourist destination, is underwhelming. When we finally see Bedford and Sullivan perform together, it's a bit hard to believe that this is what all the fuss was about. This is hardly Simon and Garfunkel, or even Hall and Oates. This isn't even Loggins and Messina.
Having said all of that….this is an exceptionally good Hallmark movie, entirely because of the cast. The script is nothing special beyond being sadder and a bit more adult than most. But the two romantic leads, Mumford and Dalton, seem completely human, warm, and likeable. Mumford has some very nice lines around her eyes and wears clothes that a young woman in her industry might actually wear. Dalton has an earnest, worried expression well suited to dealing with having Steve Bedford for a dad. As for Gallagher and Campbell, need I say more? These aren't Hallmark actors, they are ACTORS. I adore Bruce Campbell. My favorite movie on aging is his nursing home/mummy/Elvis horror-comedy Bubba Ho-Tep, so I find it delightfully fitting that this film, too, has some insights into aging. I mean, yes, they're only explored at a surface level, but again, this is Hallmark. Let's applaud them for tackling hard topics without turning them into treacly dreck.
Gallagher's character is disappointed with the commercialization around his art, and the movie gives him lines that express that well – which is impressive, given that Hallmark is commercializing EVERYTHING around Christmas. Mike hates that his house, his life has become a tourist destination but especially that the Christmas song he wrote for his now-dead wife "is a sweater ad". Shots fired, Old Navy. In the Hallmark universe you're marketing with that poor dead woman's special song.
This is a love story, sure, but the broken friendship between Bedford and Sullivan is as central as the romance between Quinn and Jason. In most Hallmark movies the parents are supporting characters. Here there are four leads, and multiple relationship arcs. The scene in which Mike apologizes to Quinn for being an absent, alcoholic father is genuinely moving. "I'm sorry, sorry, sorry," Mike says, and Gallagher's gifts as an actor deliver it simply, but powerfully.
I haven't mentioned Troy (Andrew Durand), the bumbling young concert producer who only has the gig because his aunt is his boss. He's the monkey wrench ex machina to create the movie's biggest crisis, but he's also a sweet, gentle dude and I was really pulling for him.
I see you, Hallmark. You managed to avoid naming any characters Holly or Joy or Nick or Chris, but you just couldn't miss giving one of them Bedford as a last name. You do you, Hallmark.
If you are going to watch only one Hallmark movie this year, try this one. BINGO? Yes, because Troy being an idiot at just the right moment qualifies us for the "Great Misunderstanding!" square. WOOHOO!
Available on the Hallmark Movies and Mysteries Channel.
Entry #8: OPEN BY CHRISTMAS (2021)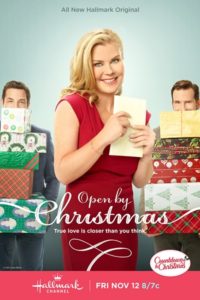 DIRECTED BY DAVID WEAVER
GUEST CONTRIBUTOR!
Michelle Wist is back with her second review!
Watched: 11/13/2021
Our Romantic Couple: Nicky (Alison Sweeney) and Derrick (Brennen Elliot)
Their Meet Cute: Nicky has come home for Thanksgiving and her parents reveal that they are selling the family home. Derrick is their real estate agent. He bustles into the house ten minutes before a showing and rips the family portrait from the honored spot above the mantle and replaces it with a winter landscape. Nicky is oblivious that he is a high school acquaintance and takes umbrage.
Plot Synopsis: As Nicky helps her parents pack up in preparation for their move, she discovers a mysterious Christmas card tucked into her high school calculus text. The unsigned card praises Nicky and includes a quote from Romeo and Juliet, declaring the writer "with love's light wings did o'erperch these walls, for stony limits cannot hold love out." She mourns that the message has remained undiscovered for 22 years, as she "really needed to hear this" positive message back when she was isolated by her fears and reputation for scholarship.
Nicky and Simone decide to sniff out the identity of the sender observing that the card thanks Nicky for her praise "when I had a victory against Mountain Point," a rival school. The two schemers decide that the writer must have been on the basketball team. Consulting an old school yearbook, they list some individuals who fit their scenario. Nicky approaches two candidates during Christmas events, showing Sweeney to advantage in sparkling holiday couture, as she eliminates them one after the other.
The romance between her best friend, Simone, and Jeremy Winters as their wedding day approaches, provides a strong secondary plotline. Jeremy has purchased Simone's dream home in secret and he and Simone's teen son, Anthony, are preparing it for her as a Christmas surprise. Simone is confused and bereft when her holiday traditions are forsaken since the fellas take off every evening to work on the new house. Some good dramatic irony here as the men scramble to provide miscellaneous falsities to cover for the nightly work sessions. Simone also fears the incipient visit by Jeremy's opinionated mother.
Nicky bumps into Derrick at each function of the season, since he is Jeremy's best friend. Derrick confronts Nicky for her solitary state, likening her self-protection to the "writer who was always working on her book, but never sending it out to get published." The challenging metaphor continues as at a later party, Nicky interacts with the male guests and responds to him, "Manuscript published." As the leads get to know each other, bonding over their most painful moments and histories, their relationship solidifies. Nicky tells him of her faux pas when she burst into emotional song during her valedictorian speech. Derrick is an amicable divorcé who reminisces on his even more embarrassing experience on the school debate team. They work side by side to help prep Simone's new house prior to Christmas Eve.
The Dream House Reveal Party goes off as planned, with Simone astonished and family and friends delighted. Derrick asks Nicky if she still wants to know who the mystery card writer is and she responds that her happiness is not contingent on knowing that. He hands her a card with only his signature written and tells her that "This time I signed it."
Derrick finds the response he always wanted when he sent the love message in the Christmas card so long ago.
Observations: Director David Weaver crafts some poignant moments during family interactions as actors portray characters overcoming holiday stressors. I'll confess to a tear or two.
The writer, Christine Conradt, includes some plot twists, such as when Miriam recognizes the handwriting on the love card as that of her engaged son, Jeremy. A nice moment of tension as Simone, Nicky, and Miriam all stare unbelievingly at him until he confesses that he wrote it on behalf of another.
Another twist occurs when Nicky and Derrick are alone in the kitchen and he asks if she still is searching for the writer and she says, "No." His face says it all. Despite that, the third time is the charm!
Therapy: The subtext of this film could be "Healing our Hurts." The characters address the flaws they see in each other. Miriam gets to feel valued as she advises Simone and bonds with her new daughter-in-law. (Nicky's advice). Jeremy learns to give more attention to his mom (Simone's advice). Simone gets time with Anthony to continue their holiday traditions (Miriam). Jeremy gets to bond with Anthony and provide the surprise home for Simone but is told to not ignore his fiancé (also Miriam). Derrick encourages Nicky to open herself to relationships.
Nicky gets free of the paralyzing pain of her high school humiliation and her isolation (Simone and Derrick). In this film, Conradt extends her healing touch to the viewer and addresses universal teenage angst when Nicky declares, "The card made me realize that 'high school wasn't as bad as I thought it was'."
Would that the prickly issues of life could all be wrapped up with a red bow as beautifully as in this movie.
BINGO? No, I only marked 7 spaces on the Bingo card.
Entry #9: THE CHRISTMAS SETUP (2020)
Directed by Pat Mills

Watched: November 20, 2021
Our Romantic Couple: Hugo (Ben Lewis) and Patrick (Blake Lee)
Their Meet Cute: Patrick was two years ahead of Hugo in high school and Hugo crushed on him from afar, but they become reaquainted when Hugo is home for the holidays and Patrick delivers a Christmas tree to Hugo's mom's house. Huge falls down the stairs trying to answer the door.
Plot Synopsis: Hugo is a lawyer in a New York City who has just given his ultimatum to his boss: either I get a partnership or a look for a new firm. Hugo and his best friend Maddie go to his family home in Milwaukee for a 2 week Christmas vacation. His mom is in charge of a Christmas festival in their neighborhood and immediately puts both Huge and Maddie to work. Hugo meets Patrick on his first day home and the two of them hit it off (once Patrick realizes that Maddie and Hugo are not a couple). Patrick and Hugo tentatively date while also working on the festival and trying to help Hugo's mom save the old neighborhood train station from demolition. Also, Hugo's brother Aiden, who is in the military, comes home for Christmas and romance blossoms between Aiden and Maddie. Just as Hugo and Patrick are falling hard for each other, Hugo gets a call that he has made partner but will need to move to London for work after the holidays. Should he stay or should go? Can Hugo and Patrick make a long distance relationship work? Will the train station be saved?
Star Power Casting: Fran Drescher as Hugo's mom. But also, both Ben Lewis and Ellen Wong, who plays Maddie, were in Scott Pilgrim Vs. the World. Ellen Wong was Knives Chau!
110% Award: This award can only go to Fran Drescher. You know it, I know it. She is in full voice and is actually delightful as a very loving but somewhat overbearing mother. And yes, she setup Hugo and Patrick. On a side note, Fran Drescher looks like my sister-in-law, Carol. I intend this a compliment to both of them.
Observations: This movie is an absolute delight. The leads, who are a couple offscreen, are both very charming and have real chemistry. The dialogue is smart, although the movie packs in too many subplots. There are moments of real, earned emotion. This movie is almost like a real movie!
The queerness of this movie is more than incidental (unlike, say, in last year's Hallmark film The Christmas House). Not only is the central love story about a gay couple, but they actually discuss the local drag community and the presence of a queer youth center in the neighborhood. There's also an intriguing subplot about a neighborhood benefactor, long dead, who turns out to have been in a secret long term same sex partnership.
Also, at a karaoke night, Hugo is "voluntold" to perform and sings "Have Yourself a Merry Little Christmas". It's a really well executed scene: he sings well, but not too well. It's sweetly awkward.
It was smart for the script to address Drescher's voice. At one point Hugo explains that his mom lived in New York for a time, and Patrick replies wryly, "That explains that thick Milwaukee accent."
The final scene of this movie is a triumph of subtly sending a powerful social message. I won't spoil it, but boy, it works and it's lovely.
The Christmas Setup is still a formulaic Christmas movie, though. So it's got some issues. Like…Hugo and Patrick flirt/fight over where to get the best hot cocoa. Of course they do. The cocoa madness in these movies!
The tree Patrick is delivering gets stuck in a doorway, but it's obviously not really stuck. Just shove the tree through the door, fellas.
Hot tip. If you are going to be in town for two weeks before Christmas, don't end every conversation with "Merry Christmas." It's like saying "Goodnight" 10 times before you actually head for the door. Save your "Merry Christmas" for closer to the actual day.
Hugo fills in as a Santa to read to children, per his mothers request. Because he doesn't fill out the Santa suit, Maddie and Patrick pin back his Santa coat. Haven't they ever heard of stuffing Santa suits with pillows? Who wants a skinny Santa?
The ending of The Christmas Setup is ambiguous. That's not a complaint, just a surprise. These movies do not usually traffic in unanswered questions.10/10 would recommend The Christmas Setup
BINGO? Sadly, no. No dogs or kids, for some reason.

Available on the Lifetime App.
Entry #10: FINDING FATHER CHRISTMAS (2016)
DIRECTED BY TERRY INGRAM

GUEST CONTRIBUTOR!
Sharon Desrochers, wife, mother of 4, Nana of 10, musician, crafter, pastor and coffee addict. Native New Englander who claims RI as her home state despite being born in CT. Current resident of MA. Recovered Crazy Cat Lady and current Ditzy Dog Lady. Writing is a fun way for me to expand my horizons. I'm not a real movie critic, I just play one on TV.
Watched on November 13, 2021
A Hall Mark Romantic Comedy based on an adaptation, well, actually three adaptations, of a novel series by author Robin Jones Gunn.
Our Romantic Couple: Miranda Chester (Erin Krakow) and Ian McKendrick (Niall Matter)
Their Meet Cute: Predictable. Miranda travels to a quaint Vermont town to find her long lost father. He works at the Inn his parents run, where she is booked to stay for a few days.
Advertised Plot Synopsis: "Orphaned at a young age, Miranda Chester never knew her father. An unexpected discovery among her mother's belongings leads her to a clue to her father's identity, in the form of an old photograph. Determined to discover more about her past, Miranda sets off to the photo's location – a small town in Vermont. There she meets Ian, who endeavors to assist her in her quiet attempts to uncover the truth. The welcoming town, her growing romance with Ian and the possibility of impacting the lives of others as well as herself, leave Miranda with difficult choices to make as she begins to learn more." Wikipedia
Actual Plot Synopsis: Miranda hates Christmas, but with good reason. Her mother, who was raising her alone, died while performing as a female version of Scrooge. Twenty years later, she is a successful home stager who avoids all thing Christmas. She gets a call from a theater employee who found a suitcase containing items left behind by her late mother. She opens the case and finds a photograph of a man dressed as Santa, A.K.A Father Christmas, with a young boy on his lap. Miranda then becomes an amateur sleuth, jetting off to Vermont to solve the mystery of the photograph. In her time in Vermont, she meets Ian, a lawyer who gave up his prestigious law career to move back home to help his parents run the family-owned inn. He becomes an integral part of the search for the people in the photograph, all while showing Miranda that Christmas in a small town can heal her past hurts. Miranda meets her father's family but isn't aware that they who they are until the very end of the movie. The movie ends with everyone welcoming Miranda with open arms and sets the scene for the next movie in the series, Engaging Father Christmas.
This movie did offer some of variations on the usual theme:There was no snowball fight, ice skating or baking competitions.There wasn't a mean boyfriend, or conniving girlfriend who spoiled the romance.
Miranda did not become the lead actress in the town Christmas play when the lead becomes ill.
There were no cute pets involved.The cute children were not a result of one of the characters losing a spouse, they were a niece and nephew.
I don't think this movie met the quota for hot cocoa.
ROMCOM BINGO Winner? No, I marked 8 spaces on the Bingo card.
Available on the Frndly App.