The Plague-Athon has hit the Rom-Com-Athon
I've got Covid, gang, and it's slowed down the posting of our holiday movie reviews. My intention is to have them all up here at Zeke before the official end of the Christmas season on Epiphany (January 6), but that hinges on me being able to stay awake and think straight. Here's hoping!
Part 8 of our rom-com-athon includes some real humdingers: a big dose of 80s nostalgia, a Comedy Central parody, the first Nigerian Netflix original, the definitive conclusion to the Die Hard debate, and Hawkeye! Enjoy!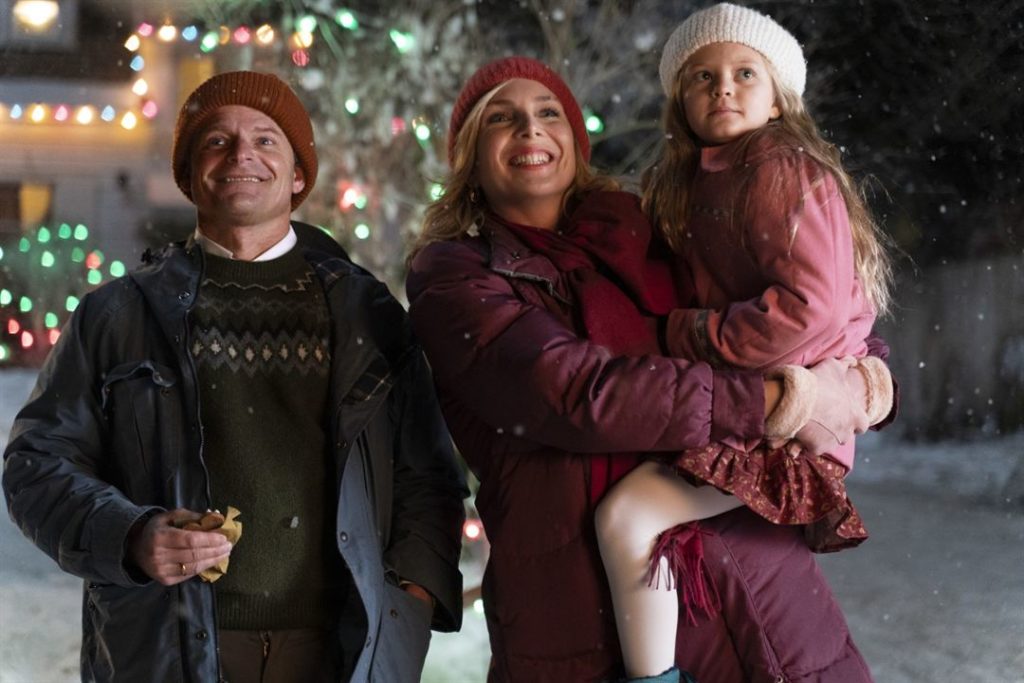 FUNDRAISING UPDATE: Just a reminder that this endeavor is all about the Benjamins. We've passed $2330 donated toward our adjusted $3900 goal for asbestos remediation in our friend's home. If you would like to help us out by making a donation, you can find me on Venmo (@Sharon-Autenrieth), PayPal (@sharonautenrieth1) and the Cash App ($SharonAutenrieth).
Entry #36: 8-BIT CHRISTMAS (2021)
DIRECTED BY MICHAEL DOWSE
GUEST CONTRIBUTOR: Aaron Bolerjack

Aaron Bolerjack is a husband, father, pastor, and part-time history professor. His great loves are God, his family, coffee, mountains, and football. Real football. He doesn't have a favorite movie, but if he did it would probably be a Ken Burns documentary.
Entry #36: 8-BIT CHRISTMAS (2021)I came into this not knowing literally anything about this movie. But I've heard good things about it generally. And Neil Patrick Harrise is in it, I guess? Well, here we go.
CAST: NPH and…some other people.
0:10: Uh-oh. DJ Exposition. Not a great start.
0:30 I miss snow. And Chicago. And hats.
2:00 She does not want to build a snowman. Bummer. Well, that answers that question, I guess.
5:40 LOL @ "Mary Todd Lincoln Elementary"
8:00 As a child of the '80s, I should probably be nostalgic for this Nintendo basement scene. But mostly I'm jealous of the rich kid's parent's house.
10:30 Wow. Steve Zahn. One of those guys you can cast as literally anyone in literally any movie and still all you can think is, "Yeah, that's Steve Zahn."
13:30 "It's cold." "It's not even below zero!" Amen.
14:30 The kid sister is annoying. Not in an entertaining way.
19:30 That doggie door is WAY too big. Obvious security risk.
20:30 "Tae Kwon Do is like karate, but more expensive."
22:30 "What?! The dog dies?!?" Same, kid. Same.
24:00 There is absolutely NO way that a boy in the 80s would have worn those boots. Easiest thing in the world to "lose" them on the way to school. 100% Easy-peasy.
27:00 Why can't this movie be about the Tammy Hodges character instead? I'd way rather watch THAT movie.
30:30 Tough to locate the humor in learning disability jokes. Impossible, really. They suck. This sucks. Boooooo.
36:00 I like Jake's hat. I guess that's something.
40:00 I made it this far before I checked my phone. So there's that.
46:30 People who leave their kids with their other kids really shouldn't blame their kids
48:30 My housemates enjoyed the dad throwing an elf off the escalator WAY too much. Horrifying, really.
54:30 The school bully really looks like 1990s wrestler Mick Foley.
57:00 Winning a set of World Book Encyclopedias: "It was like winning more school!" LOL. That's good writing!
59:30 1980s parents chanting about the evils of video games is just WAY too close to the truth to be funny, even as a farce.1:02:30 "This Christmas miracle happened at the roller rink." "What's a roller rink?"
1:04:00 Yeah, that "F$&@ Face" Billy Ripken error card is real. It's worth about $400 now."
1:05:30 "This is our Vietnam." Nope.
1:11:30 Reverse bullying the bully is, I'm sure, supposed to be…satisfying, I guess? Still very uncomfortable (and of course psychologically damaging).
1:12:00 The puking is gross.
1:14:00 The puking is very, very gross.
1:17:30 I did NOT see the bus-running-over-the-Nintendo coming. Well played, 8-Bit Christmas. Well played.
1:23:00 My housemate definitely had his hands raised over his head in anticipation. And then…Lite-Brite. Wow. Heartbreaker.
1:26:00 Okay, so I'm legitimately jealous of that tree fort. Nice plot twist, NPH!
1:29:30 He married Katie Sorrentino! Well, that's adorable.
HOUSEMATES' TWEET-LENGTH REVIEWS:
DR: "Christmas Story meets Princess Bride meets Stranger Things."
AT: "Hits all of the classic holiday tropes—moment of cringe, moments of 'Aww,' but nothing stands out particularly."
BB: As a geriatric millennial, it hit me right in the 80s Christmas feels.
Reminds me of live-action Disney kid movies of the 1990s (Camp Nowhere, Mighty Ducks, The Santa Clause). Mostly in good ways. Not great, but pretty, pretty good. The real gift of Christmas is the tree fort dad secretly constructed along the way.
Solid 7 out of 10.
Entry #37: A CLUSTERFUNKE CHRISTMAS (2021)
DIRECTED BY ANNA DOKOZA
Watched: December 11, 2021
Our Romantic Couple: Holly (Vella Lovell) and Frank (Cheyenne Jackson)
Their Meet Cute: Honestly…I have forgotten. I think he comes in covered in snow, with an ax over his shoulder just as she's complaining to his aunts about all of the broken things in her room at their historic family inn.
Synopsis: Holly is an overly ambitious career woman who works for a rapacious real estate developer named Windmere. She has come to tiny, Christmas-obsessed Yule Town to convince the Clusterfunke sisters to sell their historic family inn to Windmere so that it can be demolished and replaced with a "golf racetrack water park". Holly meets Frank Clusterfunke (nephew to the inn owners), rugged handyman, and they bicker. Sparks fly. Love blooms. But just when it looks like Holly might settle down in Yule Town, her terrible big city boyfriend shows up. Will the sisters sell the inn? Which man will Holly choose? Will Yule Town ever get a decent cup of coffee?
Star Power: Ana Gasteyer and Rachel Dratch as the Clusterfunke sisters, Hildy and Margo. Also Maya Rudolph in a cameo as pop "star" Shaniah Gary.
110% Award: Ryan McPartlin (Captain Awesome on Chuck) as the big city boyfriend, Chancington Winterthorpe V (Chance). McPartlin has become a Christmas movie regular – his chiseled, All-American good looks make him a perfect candidate for generic leading man. But when he has the opportunity to really put his comic skills to work – as in Holly's Holiday, in which he played a mannequin come to life, or here as the vapid rich guy who absolutely will lose the girl – he"s very good.
Alternatively, I could give the 110% award to McPartlin's ski wear in this movie. It's ridiculous, and great.
Observations: This is a parody aired by Comedy Central. Parody is hard when you're working with a genre that is inherently so silly and thus, nearly parody-proof. Many of the tropes employed by this movie are no "worse" than what you find in actual Christmas moveis – they just pile them on top of each other in a way that makes them impossible to ignore. Parodying these movies is not unprecedented. This year VH1 aired its own version this year, The BItch that Stole Christmas, with a drag twist. But Christmas rom-coms have been parodying themselves, deliberately, for a long time. Consider Christmas Perfection (2018), in which a woman wishes herself into a ceramic Christmas village and finds that day after day after day of perfect holiday celebrations is a bit much. Or 2013's A Snow Globe Christmas in which a ruthless TV exec is knocked out while filming a Christmas movie and wakes up to find herself in a Christmas movie. Or the most overt of all, 2019's A Christmas Movie Christmas, in which a Christmas movie fanatic wishes herself (and her sister) into a Christmas movie and delights in experiencing all of the tropes firsthand.So it's going to take some skill to out-parody a genre that is as self aware as this one. A Clusterfunke Christmas only partly succeeds. What they do best is poking fun at the "business" of these movies – the repeated use of the same sets for different locations; the product placements (Maxwell House Coffee is all over this movie), the use of extras with no lines and "crowd" scenes with impossibly tiny crowds to keep down costs. The use of slightly off-kilter original Christmas songs when the rights to classics are beyond budget. And above all, the sheer volume of movies being made. A Clusterfunke Christmas opens with an announcement that you're watching the Bellhark Channel as part of its "187 Days of Christmas". That's just about right.
Another piece of the Christmas movie industry – and especially Hallmark – that is ripe for jokes is the attempts to diversify what was a very white, very heterosexual genre until the last few years. In Yule Town a mixed race couple – Jackie (Kwasi Thomas) and May (Sharon Crandall) run a gift shop called "Colorful Representations". Holly, big city girl that she is, misreads that, and a number of other things they do and say, like their assurance of quality in their packaging because "We check all the boxes". Holly's new "platonic confidant" in town is Percy (Nils Hognestad) who owns a clothing shop called "Percy's Closet" and spends most of the movie as the classic coded-gay character. But his character progresses just as Hallmark has in the last few years.
There are a number of jokes that land – the ridiculous Christmas competitions that only exist in these movies, the Canadian accents in an American setting, the applause that is far too loud for the crowd size, the limited roles for women (You're either a "fresh young hottie or a homespun old matron.") My two favorite bits were the obsession with hot cocoa and the clumsiness around social media that is a common problem in Hallmark movies. At one point a character says, "The gif is a meme and it's trending on retweets" which is not much of a stretch for these movies.
Dratch and Gasteyer were delightful, especially before their makeovers. And shout out to Michael Benyaer who plays the towns only Jew, Marty, who is VERY Jewish and celebrates, we're told, "something called Hannukah".
BINGO? You're not going to believe this, but somehow I didn't get BINGO.
Available via Comedy Central
Entry #38: A NAIJA CHRISTMAS (2021)
DIRECTED BY KUNYE AFOLAYAN
Watched: December 22, 2021
Our Romantic Couples: Obi (Efa Iwara) and Kaneng (Ade Laoye); Ugo (Kunle Remi) and Ajike (Segilola Ogidan)
Their Meet Cutes: Obi and Kaneng are coworkers and best friends, so there is no meet cute shown. Unbeknownst to Ugo, Ajike has just recorded a demo in Ugo's studio (with the help of his assitant, I think?) Some of Ugo's exes burst in and trash the studio, and Ajike begs Ugo to let her rerecord her demo. He's rude to her because he's upset about his mixer being ruined.
Synopsis: Mama Agatha is a wealthy Nigerian widow. She's tired of waiting for grandchildren so tells her three unmarried adult sons that the first one to marry will inheret the large, beautiful family home. The race is on to present Mama with a suitable fiance by Christmas day. And what will he do to appease the debt collector, Tony Torpedo, who keeps showing up with his thug, Javelin?Will eldest son Ugo win the heart of the respectable church girl and vocalist, Ajike? Will middle son Obi marry his terrible big city girlfriend/boss Vera, or finally see that his friend Kaneng loves him?And what of youngest son, Chike? He doesn't want the house, and his brothers want to know who his friend "Sammy" is. Does Chike have any interest in marrying a woman at all?Meanwhile, Mama Agatha and the other "Ladies of Undiluted Destiny" are planning a Christmas gala. Will it all come together for the church ladies?
Star Power: I'm not familiar enough with the Nigerian film industry (Nollywood) to know their stars. But I hear that Rachel Oniga, who played Mama Agatha, was a very respected actress. And I say "was" because, sadly, Oniga passed way on July 30, 2021, from a heart ailment.
110% Award: Lateef Adidimeji as Tony Torpedo, the money lender. Tony laughs his way through every menacing scene and leaves it to his leg breaker, Javelin, to steal belongings and deliver punches. It's a simple but entertaining performance, and a scene late in the film in which Javelin shows unexpected depth and Tony reveals his broken heart is hilarious.
Observations: This is the first Nigerian Netflix original movie, and it's the best holiday rom-com I've seen this year. It's delightful. It's got vibrant music, great chemistry in the cast, a witty script, and yet the basic plot reads like a standard Hallmark or Lifetime Christmas movie – complete with overbearing mother, fake relationships, Santas, and a community Christmas festival.
The church culture in this movie is a delight. Ajike is the choir director at Agatha's church and we first see her singing "Blessed Assurance" followed by a Yoruba worship song. She's great and I can see why Ugo falls for her on the spot. But the church politics of the "Ladies of Undiluted Destiny" and the rigid approval process required for Ugo to join the music program and then to date Ajike are even better. When the pastor tells Ugo that there must be no physical intimacy before marriage Ugo looks genuinely gobsmacked. "But how…how is that even possible?" he replies. He's told to rely on God and cold showers.
Obi is a dimwit when it comes to women (his boss, Vera, is transparently awful and Kaneng is almost embarassingly adoring), but Iwara's performance is very strong. Chike has the smallest role of the three brothers, but he provides a plot twist that I didn't see coming. Oniga is wonderful as the mother who has learned how to bend her sons to her will, and so is Carol King as Deaconess Fakorede, Agatha's rival among the church ladies.
The scenes in Mushin are bursting with life. This movie has the best Christmas tree lighting scene of the year, as an *actually large crowd* gathers around a tree made from canoes.
A Naija Christmas managed to adapt the Canadian/American holiday movie format into something fresh and funny and wonderfully acted. Watch it, watch it, watch it.
BINGO? Close, but not quite.
Available on Netflix.
Entry #39: DIE HARD (1988)
DIRECTED BY JOHN MCTIERNAN
GUEST CONTRIBUTOR: Margie Zumbrun
Margie Zumbrun, who tag-team reviewed her first ever holiday rom-com, Snow, is back for Round 2 after her first ever viewing of this holiday classic!
Alternate title: A COP HUSBAND FOR CHRISTMAS
Watched (for the first time!): December 18, 2021
Our Romantic Couple: Holly (Bonnie Bedelia) and John (Bruce Willis)
Their Meet Cute: the movie opens with the McClanes married but separated. Holly has moved across the country for a job and is using her maiden name. John flies from New York to LA to meet her at her Christmas party. When he arrives, its clear they both still love each other but also have unresolved conflict: namely, that in the grand tradition of Hallmark protagonists, Holly is an ambitious career woman who hasn't yet learned that the true meaning of Christmas is having a man.
Synopsis: "Holly is an overly ambitious career woman who works for" the Nakatomi Corporation. The first part of that sentence is a verbatim quote from Sharon's latest movie review. I'm beginning to think these Hallmark movies develop their plots via Madlib. Oh, do I think Die Hard is a Hallmark Christmas movie? Maybe! I will say that although there's a lot of controversy about Die Hard being a Christmas movie, the only Die Hard movie controversy I will entertain is whether or not it is a *Hallmark Christmas Rom Com* or a regular Christmas rom com.
Anyway. Holly is an overly ambitious career woman. She has left behind her ruggedly handsome cop husband in their small, Christmas-obsessed hometown of New York, New York to move with the kids to business-obsessed secular LA, where they celebrate Christmas in true 80s-style with gratuitous boobs and cocaine. John meets her at the company Christmas party hoping to win her back. Their kids are home with a nanny, presumably because Holly's mother is dead and therefore unavailable to babysit.
The Christmas party is interrupted by Hans Gruber (Alan Rickman), an EXTRAORDINARY thief with his sights set on cracking the vault on the top floor of Nakatomi Tower. This allows John to prove his love to Holly by festively murdering a lot of German terrorists while barefoot. Will Holly learn the true meaning of Christmas and reunite with her husband? Or will she keep her fancy Rolex watch and insist on being Holly Maidenname forever?
Star Power: Bruce Willis as the wisecracking, hard-boiled New York Cop husband; Alan Rickman – in his first movie role ever! – as Hans Gruber, the greatest villain to be put to film; Officer Carl Winslow – sorry, Reginald VelJohnson – as Sgt. Al Powell, the Black supporting character who love Twinkies and actually gets a decent story arc; and William Atherton, who plays the same role here as in Ghostbusters, namely, the guy who thinks he's a good guy but actively makes the situation a million times worse via lawful evil actions.
110% Award: Ellis, the 80s psycho. He snorts cocaine, sexually harasses Holly, tries to suck up to the terrorists ("Hans, Bubbe!"), and is basically the walking embodiment of toxic masculinity. It's such an amazing moment when Hans blows him away.
Special mentions to Argyle the chauffer and Theo the hacker, two Black sidekicks who are just absolute delights. When Theo finally gets the vault open, and Beethoven's Ode to Joy swells, and Theo says, "Merry Christmas" to Hans with a sly grin – my heart grows three sizes. And people say this isn't a Christmas movie.
Observations: (Written while watching the movie.)Alan Rickman is hot in this film. He gave me young David Schwimmer vibes. My kid asked if he was Dr. Strange. Also, Alan Rickman attempting a German accent sounds like a German person doing an Alan Rickman impersonation.
Bruce Willis to Bruce Willis: WHY DIDN'T YOU SHOOT THEM WHEN YOU HAD THE CHANCE?!?Reply: CUZ THEN YOU'D BE DEAD TOO A$$HOLE!Pure gold."NOW I HAVE A MACHINE GUN.HO HO HO." – Definitely a Christmas movie.
Rickman's comic timing is so underrated."He won't be joining us for the rest of his life."
Apparently Die Hard is in the same universe as Family Matters and this is a real movie theory that I did not invent and includes the Ghostbusters franchise.
Karl the Terrorist has great hair, like, Lucious Malfoy hair. The terrorists are all very Slytherin. The actor, Alexander Godunov, was a classically trained ballet dancer who defected from the USSR and performed with Mikhail Baryshnikov."
A fly in the ointment, a pain in the @ss, a monkey in the wrench." John McClane is #goals.
McClane's wife continues to insist her name is Miss Maidenname. She hasn't learned the true meaning of Christmas yet.
The best person in the movie is Hans Gruber hands down. He's got the Christmas spirit. "It's Christmas Theo, be of good cheer!"
The FBI has arrived: Agent Johnson and Special Agent Johnson, no relation. I assume they were named by the same person who added all the gratuitous boobies.
McClane is realizing he should have supported his wife's career. That's how you know it's not a Hallmark movie.
The bromance between John McClane and Carl Winslow is one of the best parts of this whole wonderful film.
I will say, though, lot of punching for a Christmas movie.
The roof is gone. The building is exploding. John McClane is shirtless, barefoot, and bleeding. But he just walked past a Christmas tree, because this is after all a Christmas movie.
He's got two bullets left but the power of Christmas is gonna get him through.
Gruber is blown through a window but manages to hang onto Holly Maidenname by her Big Time Corporate Rolex. She must lose the Rolex to live. Afterwards, she reclaims her married name and is told that she has a good man.Christmas is saved.
Argyle the chauffeur is alive and well and picking up McClane in the limo as promised. "If this is their idea of Christmas, I gotta be here for New Years."
Cue music: *let it snow, let it snow, let it snow.*
Bruce Willis was barefoot the whole time.
Bingo? My Bingo card was lost in an explosion, sorry.
Yippie Kai Yay, Motherf*cker!
Entry #40: HAWKEYE (2021)
DIRECTED BY BERT, BERTIE, AND RHYS THOMAS
GUEST CONTRIBUTOR: Aaron Bolerjack is back with an unexpected choice.
Entry #40 HAWKEYE (2021)
THE SETUP
Let's be honest, Hawkeye (a six-episode Marvel mini-series) is not your typical Christmas Rom-Com. But there are elements of Romance, it's definitely a comedy (albeit at time a cartoonishly action-packed one), and it definitely revolves around Christmas. So we're totally counting it!
THE CHARACTERS
Hawkeye/Clint Barton: The most human Avenger (hearing loss, ice packs, slightly-better-than-Stone Age weapons.
Future Young Hawkeye/Kate Bishop: A sort of troubled, bored, rich young woman with a thing for archery and (to a lesser extent) hand-to-hand combat. Also fencing. Kind of a manic pixie dream Avenger.
Hawkeye's Family: Generic kids (the son who thinks he's in charge, the daughter who's actually in charge, etc) plus a mom who's more than meets the eye. Later: a dog.
Kate's Mom: Wealthy, generic business lady played (somewhat unevenly) like Anna Wintour's kinder, more vulnerable sister. Also has a weird (somewhat uneven) relationship with her daughter.
Maya Lopez/Echo: Villain(?) who wants to avenge her own dead dad. Lots of dead dads in this show. Kind of a bummer.
Kazi Kazimierczak: Maya's brother or lover or head henchman, or something. It's kind of hard to tell. Strong Luke/Leia/Han vibes, but not in a good way. Great hair!
Kingpin: The big bad. Wears body armor, Hawaiian shirts, and white suits (it's just as jarring as you're picturing).
Lucky the Dog: Has one eye, struggles in traffic, loves pizza. Basically your great-uncle.
Rocky the Owl: Lives in a Christmas tree, eats very tiny humans. Cute as a button.
THE OVERVIEW
Clint just wants to retire and go be with his family (on a farm somewhere—upstate New York, maybe?) for Christmas. And also forever. But he's terrible at retiring. Kate's dad is dead and she idolizes Hawkeye (no weirdly obvious Freudian analyses, please). All she wants to do is get into scrapes and protect her mom from seemingly predatory in-laws.
A cast of semi-generic villainous characters threaten to (in some order) reveal Clint's extra-secret past identity as the Ronin (a frankly disturbing, murderous vigilante), mistake Kate for being the Ronin instead (laughable on many levels, including she was probably in middle school when said events transpired), threaten to harm Clint's family (to get to him) and/or threaten Kate's mom (to get to her).
Oh, and Clint's trying to sort all of this out in the middle of NYC the week before Christmas so he can get home to his wife and kids. And keep Kate alive. And put his criminally deadly past to rest. You know: casual.
THE ROMANCE
Clint loves his wife and kids. Kate loves her mom. Kate's mom loves her, and also (we think?) her fiancé, Jack. Jack loves showing off and being goofily suave. The Tracksuit Mafia (a bunch of vaguely Slavic bros dressed in—you guessed it—adidas tracksuits love driving panel vans and brandishing firearms even less effectively than your average stormtrooper. (Should stormtrooper be capitalized? Is it one word, or two? I don't care.) Everyone loves Rocky.
THE COMEDY
Basically everything else (most of the action and sometimes-gratuitous violence is either played for laughs or offscreen). Even the supposedly dramatic bits are unintentionally funny. Clint is bad at parenting/mentoring; Kate is bad at not being an overeager (albeit talented) screwup; Kate's mom is bad at being likable; Jack is bad at being roguish; the bad guys (and gals) are bad at being effective, Rogers: The Musical is bad at literally everything—all of this is portrayed, more or less, to comedic effect.
A HAIKU LENGTH REVIEW OF EACH EPISODE
Ep. 1, "Never Meet Your Heroes"
Kate's dad died years back.
Wait, Mom is engaged to Jack?
Hey look, it's Hawkeye!
Ep. 2, "Hide and Seek"
Kate's loft is on fire.
Hawkeye goes LARPing. Wait, what?
Let's ask Tracksuit Bros.
Ep. 3, "Echoes"
Kate is not Ronin!
Tracksuit Bros don't believe us.
Jack has Ronin's sword.
Ep. 4, "Partners, Am I Right?"
Clint gets his sword back.
Is Jack a bad guy or not?
Let's fight on a roof!
Ep. 5, "Ronin"Kate's mom: "Arrest Jack!"Hawkeye killed Echo's fatherShe suspects Kazi
Ep. 6, "So This is Christmas?"
Lots of fighting here.
Kate's mom is a criminal?!
Clint gets to go home.

SUMMARY
Not the worst Marvel TV show (The Falcon and the Winter Soldier), but also not the best (Loki). Pretty okay. Bonus points for Rocky the Owl's cameo in Episode 6 (easily the best moment of the whole series).
Final score: 3 out of 5.