Mosquito Fighter-Bombers Take Center Stage in WWII Ariel Double Feature
BLU-RAY STREET DATE: JULY 20, 2021/KL STUDIO CLASSICS
Buzzing down the Blu-ray landing strip is a double-feature disc of World War II ariel adventures, 1964's 633 Squadron and 1969's Mosquito Squadron. Both are mid-level productions (paling in the pricey wake of ambitious combat film mega-productions such as Darryl F. Zanuck's three-headed prestige picture, The Longest Day) with very similar low flying one-in-a-million-shot climaxes. Each film is stocked with British cast members and a star who was popular in the states. (Respectively, Cliff Robertson and David McCallum)
Crucially, they also share a very central star: the versatile Mosquito fighter-bomber. The Mosquito was a British technical breakthrough in aviation, incorporating a partially wooden body that keeps the plane lighter weight and considerably more maneuverable. Very few films featured Mosquitoes in action, making 633 Squadron and Mosquito Squadron of particular significance to WWII and/or flight aficionados.
That said, if you're looking for the facts regarding the missions that the Mosquitos went on, this double feature is not your ideal destination. Both films have more in common with ticking-clock action/suspense nail-biters, albeit heavily filtered through a lens of dramatized military acumen. In a sense, they're merely old fashioned "boys adventure" yarns with grown men in their sites. And surprisingly, the superior of the two is on the lower half of this bill…
633 Squadron
DIRECTED BY WALTER GRAUMAN/1964
Topping this winged double bill is director Walter Grauman's gruff actioner, 633 Squadron. It's 1944, the war still raging, and the titular squadron of the British Royal Air Force is looking forward to some much-deserved R&R. All of that changes, however, when they are handed a supremely urgent and dangerous mission. While not exactly factual, the whole thing is based on a 1956 novel of the same title by former Royal Air Force officer Frederick E. Smith. Though falling short of what most would consider a cinematic spectacle, 633 Squadron was the first ariel film to be shot in 2.35:1 Panavision and in color. Both aspects elevate the proceedings.
The squadron's target lies deep within a narrow fjord; a Nazi-run rocket fuel plant that, when destroyed, could turn the tide of the war. The catch, however, is that due to the logistics of its location, it can't simply be bombed outright. Instead, it must be crushed under a triggered avalanche of naturally overhanging rock. That requires a precise shot to the exact pressure point of the formation- something that only the skilled pilots of the 633 Squadron, and their versatile Mosquitos, could possibly pull off. Led by long-in-the-tooth obvious American Cliff Robertson, the pilots engage in practice runs and preparatory briefings until the mission/climax finally arrives. For all too many, the nearly impossible bombing run will prove explosively fatal.
It's been reported that 633 Squadron is one of the WWII aviation films from which George Lucas drew inspiration for the Death Star attack at the end of Star Wars (1977).  The quickly edited interplay of the pilots, their planes being met with blasting gun towers, and the escalating dire stakes are purely A New Hope building blocks. These, combined with the even more definitive influence of the all-important virtually impossible target during the trench run of Michael Anderson's 1955's The Dam Busters blatantly inform much of Lucas's finale.  Lucas went as far as to cut 633 combat footage into the rough-cut Star Wars as it was being edited.
An unabashedly international production courtesy of the prolific Mirisch brothers, 633 Squadron has more to boast about on a technical level than Mosquito Squadron. Its practical visual effects are a trial-and-error dry run for methods used and perfected by Stanley Kubrick's 2001: A Space Odyssey (1968). But, aside from being striped for such parts, it can't be said that 633 Squadron is a good movie. It's wrongly languid for too many stretches, and the dramatic interplay cooked up for the central characters simply doesn't hit the mark.
Mosquito Squadron
DIRECTED BY BORIS SAGAL/1969
With his trademark blonde mop of hair looking in no way World War II-era appropriate and even less military regulation, The Man From U.N.C.L.E. star David McCallum stars as Squadron Leader Quint Munroe, RCAF (Royal Canadian Air Force). That McCallum is the only actor prominently named on this British film's U.S. one-sheet, and that the movie is the lower half of this Blu-ray double bill, should not deter viewers from checking out 1969's Mosquito Squadron.
As directed by prolific television movie helmer Boris Sagal (his most prominent project being the post-apocalyptic Charlton Heston film The Omega Man), Mosquito Squadron flies in line with a quick array of men-on-a-mission wartime actioners generated by Britain's fast n' cheap Oakmont Productions in the late 1960s. Sagal's touch brings visual accomplishment amid a dutiful mindfulness of the budgetary bottom line- two otherwise noble qualities that, in this case, alas, never gel quite properly.
Made on an obviously tighter schedule and smaller budget than its disc-mate 633 Squadron, Mosquito Squadron's striving production value is apparent throughout. The military ariel daring-do- which are, of course, the "money shots" of the film- resort to copious use of stock footage, repurposed shots from other films (including 633), and even still pictures intended to pass for live-action establishing shots. Despite being made five years after 633, the cockpit mattes are far inferior. Everyone sports full-body halos of bluescreen while flying their planes.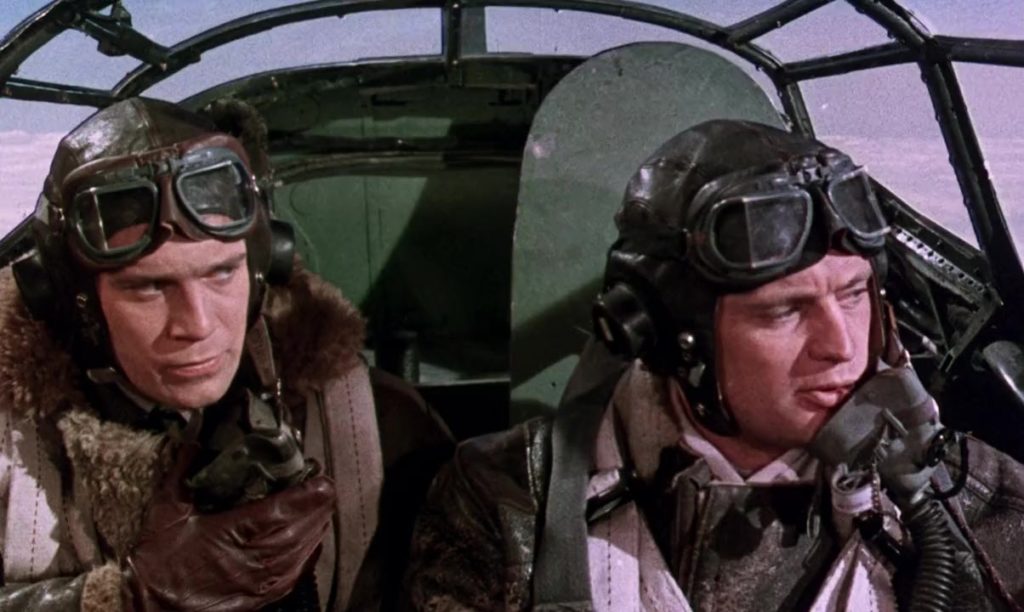 But, Mosquito Squadron gets better as it goes, ultimately culminating in a reasonably satisfying adventure. It's obvious as it goes on that the filmmakers poured all their resources into the last half (with its dense, action-packed finale) at the expense of the first. Which, as far as showmanship goes, is, if necessary, the way to do it. Whether or not such loosely fact-based life and death tales of WWII should be reduced and appropriated for showmanship is another matter- but nonetheless, here we are. (Mosquito Squadron's plot bears greater resemblance to a historical Mosquito mission than 633's).
The venerable Charles Gray (veteran of two Connery-era James Bond movies, as very different characters) also stars as an RAF Air Commodore, imbuing a necessary weight and dignity to the film.  Mosquito Squadron, for its very rough first half, manages to culminate in a high-stakes payoff (wherein a daring ground mission to rescue prisoners of war must be perfectly timed with the subsequent bombing run of the same facility).  This adrenalized payoff nudges this smaller film as the better of the two. 
*****
While it's nice to finally have this pair of high-flying WWII ariel action movies on disc (particularly packaged together at a low price), it must be said that the picture quality on both is altogether lacking. Although it stands to reason that these properly framed high-definition transfers look no worse than previous standard definition efforts, it's hard to imagine that these films look much better in terms of wear, tear and fading than they have for decades on broadcast television. These shortcomings, however, must also be weighed in consideration of the technical and budgetary limitations within which the films were made. It's entirely likely that many of the shots depicting rough individual shots and blah aesthetics never did look pristine, even upon general release.
And make no mistake, 633 Squadron and Mosquito Squadron land squarely in the zone of Sunday afternoon time-filler that one would happen upon while flipping channels in the 1970s and 80s. A preponderance of era-displaced manly men and humble English pencil-pushers in olive-y earth-toned sets and uniforms are central. Both films are keen to through an attractive blonde into the mix, always on the outskirts of the Royal Air Force base concerned about the well-being of someone in there (usually the leading man). Such efforts to shoehorn a female presence into older war films are typically rather clunky, and these are no exceptions. It must be said, though, despite that, Maria Perschy in 633 Squadron and Suzanne Neve in Mosquito Squadron do not exactly detract from the overall films.
Kino Lorber Studio Classics' Blu-ray release of 633 Squadron and Mosquito Squadron feature feature-length audio commentaries on both films by filmmaker/historian Steve Mitchell and author Steven Jay Rubin. Though the pair spare no discussion of the greatness of the Mosquito planes, there is impressively little overlap in their apt information and discussions. For anyone on with piqued interest about these films, but remains on the fence about owning them, these commentaries absolutely enrich the overall package. Aside from them, however, trailers are the only other extra features. This disc is a recommended purchase only for WWII movie buffs and those into historical military aviation, a particularly justifiable acquisition during one of Kino's sales.
While the planes are factual to their time and place, every other historical detail of this winged pair coast on the side of "fast and loose". The missions, the squadrons, and the characters were about as real as the numerous model Mosquito fighters on screen soaring to their firecracker fates on wires. The visual effects are wanting to varying degrees, but also apropos of their era. More to the point, 633 Squadron and Mosquito Squadron get the job done despite their challenges- not unlike their respective heroic pilots.