Another Look At a Nearly Forgotten Early Film Auteur.
BLU-RAY STREET DATE APRIL 20,2021 / KINO LORBER STUDIO CLASSICS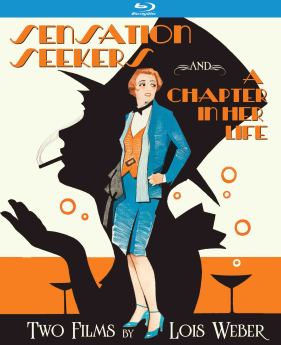 There's no way to encapsulate the whole of Lois Weber's career in the span of a short review. During her time in Hollywood as an actor, writer, director, and producer, she was arguably as influential, if not more so, to the development of film as a narrative art form as D.W. Griffith, and a whole lot less racist to boot. And yet this filmmaker is little more than a footnote in most film circles today. Hopefully, with the release of two of her films on Blu-Ray by Kino Lorber, this will change, and Weber can take her place among the pantheon of the pioneers of film.
Weber has been said to have written and directed anywhere from 200 to 400 films (IMDB lists 135 as director, and 114 as writer). Of that volume of work, only 20 have been preserved. Kino Lorber's Blu-Ray release features Sensation Seekers from 1927, and A Chapter in Her Life from 1923. Both films, made while Weber was working for Universal pictures at various times in her life, have undergone a new 2K restoration. While the quality of the original negative used leaves something to be desired (Sensation Seekers was restored in part from an 8mm print, and scratches and film grain abound), it's still better than not having the films at all.
SENSATION SEEKERS (1927)
Egypt (Billie Dove) is a girl who likes to Par-Tay! Drinking, dancing, driving fast, smoking, and wild costume balls with her friends are what she lives for. In this way, she takes after her father, who also enjoys stepping out with young ladies. Egypt's mother must spend every evening, and every Sunday morning in church, sad and alone. Weber uses a double exposure effect to show poor Mom visualizing her wayward spouse and daughter sitting in the pew next to her. Egypt's phantom then dissolves into her racing about the countryside with her fiancé, Ray (Huntley Gordon). Gordon apparently plays the world's oldest 20-something, as the character is supposed to be one of Egypt's peers, but the actor was in his late 40s at the time of filming. All the pancake makeup in the world can hide them jowls.
Anyway, unto the church, a new pastor comes: Reverend Lodge (Raymond Bloomer). Bloomer had a relatively short career as an actor, appearing in just 24 films between 1913 and 1927. Sensation Seekers was his penultimate film. What he did after that, there's no real information out there, but he died in 1982 at the age of 95, so hopefully he kept himself busy (he'd have been 40ish at the time of filming, so maybe Egypt just has a thing for older guys).
Billie Dove lived a nice, long life as well. She appeared in films up through the advent of sound, even starring in a couple of pictures from Howard Hughes. She was reportedly involved with Hughes at one point (to the point where they were engaged to be married), but I think that could be said of any actress in Hollywood at the time. Retiring from acting after appearing in Blonde of the Follies in 1932, she lived until 1997, when she died of pneumonia at age 94. Sensation Seekers was her second film with Weber, the first being The Marriage Clause (1926), not to be confused with The Santa Clause.
I don't know if Dove was ever considered a good actress, but she's good here. Her Egypt transforms over the course of the film from a shallow party girl, who only cares about her next good time, to someone who begins to care about the effect her hard partying life might have on others.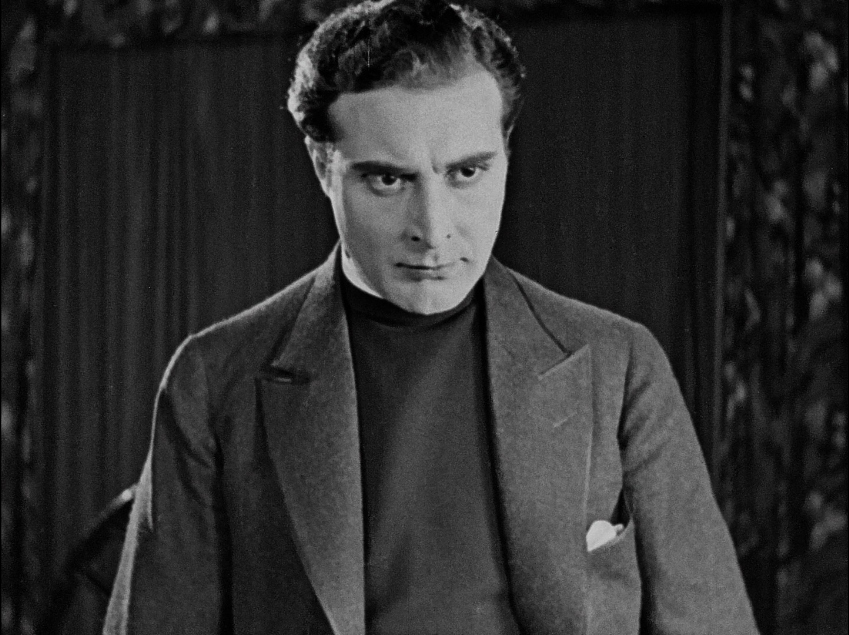 Anyway (I seem to have misplaced the photo of the scowling face of the site editor that I use to keep me on track!), Egypt runs into Lodge at the beach and teases him about his Godly ways. He sees in her a lost soul in need of saving, especially after he is called to bail her out after she is arrested in a nightclub raid (prohibition and all, you know). Improbably, a romance begins developing between the two of them. This scandalizes the prim townsfolk, who fear that Egypt's wild ways have begun to corrupt the Reverend.
The morality play at the heart of the film's story may seem a little too trite for today's modern audiences. Egypt is a modern woman who rejects the role society wishes to impose on her. I don't think the movie condemns her, even as her neighbors do. She worries that her actions will reflect poorly on Lodge, and her response isn't to mend her ways, but to cut off their relationship. Lodge, himself, rejects the small-minded, selfish, and gossipy ways of his parishioners. He embodies the biblical parable of the shepherd who rejoices when he finds the one lost sheep.
There are a few standout sequences that really make the movie pop. At the nightclub, Egypt and her friends are seated in front of a large screen, onto which the shadows of the dancers are projected at gigantic size. Shot from a low angle, the kids sit in the shadow of revelry and wild times. On the commentary track, Weber historian Shelly Stamp also points out how the young, white, and rich flappers appropriate Black jazz culture. The second, more sustained sequence (which comprises the final act), involves a yacht out on a lake during a massive storm. Models, stunts, simulated weather effects, and back-projection all come into play during an exciting rescue. It's as bravura an action sequence as anything else put on film from this period. Look for a young Walter Brennan who has an uncredited role as a member of the yacht's crew!
A CHAPTER IN HER LIFE (1923)
The second bill on this blu-ray comes from an earlier chapter in Weber's life. She had an on-again-off-again relationship with Universal Pictures throughout her entire career. Universal boss Carl Laemmle was a big booster of hers, and he supported Weber's work every chance he got. A Chapter in her Life was based on a novel by Clara Louis Burnham, and had been previously adapted by Weber in 1915 as Jewel.
The story concerns a young girl named Jewel (played by Jane Mercer) who comes to live with her grumpy grandfather (Claude Gillingwater) when her parents head to Europe on a business opportunity. Grandpa's household is not a happy one. He lives with a battleaxe for a housekeeper, and her son, who cares for the stables. The son has a drinking problem and covers up his habit by keeping a mug full of green onions handy to chew on to cover the smell of alcohol on his breath. Madge, the elderly, widowed wife of Grandpa's other son still lives in the house as well, as does the widow's daughter, Eloise. Grandpa considers these women freeloaders. Madge wants to marry Eloise off to the handsome (and rich) Dr. Ballard, but Eloise only has eyes for the poor Nat. Jewel comes to refer to the house as 'Castle Discord,' and you really can't fault her for that observation.
Over the course of the film, Jewel slowly transforms the house through her doggedly good cheer and love. And, apparently, her devotion to the tenets of Christian Science. Author Burnham was a Christian Scientist, and her views are well represented in this adaptation. When Jewel gets sick, she refuses Ballard's treatment, insisting her faith will see her through, and wouldn't you know it, it does!
Aside from that bit of questionable philosophy, A Chapter in her Life is a sweet and warm story of how displays of love and kindness can open people's hearts and make them better human beings. Corny, perhaps, but I was charmed by it, especially by watching Grandpa soften and grow closer to his granddaughter. There are a few artsy touches to it (Eloise plays the piano, and this conjures up an image of a woman trudging through a violent sandstorm, for instance), and another brief sequence of a model ship in a raging storm at sea. A few shots are composed so that Jewel is out of frame, but we can see her reflected in a mirror. It's a lesser work than Sensation Seekers, but still worth a watch.
Of the two movies included on this double-feature set, only Sensation Seekers has an audio commentary by the aforementioned Stamp. Sensation Seekers has a musical score by Arthur Barrow, and A Chapter in her Life has one from Alexandra Harwood.