Chinatown Jewel Thieves are OUTSIDE THE LAW
DIRECTED BY TOD BROWNING/1920
BLU-RAY STREET DATE: OCTOBER 20, 2020/KINO CLASSICS
First, a thank you to Kino Lorber for furnishing a review copy of this film. And if you purchase it on Amazon using the Smile.Amazon option, ZekeFilm gets a small reward which helps us keep the lights off!
Outside the Law is a film and story by Tod Browning who is best-known today for movies like Freaks and Dracula. Brooding moodiness is apparent from the opening credits and it is in the dark corners of the underworld that this tale of struggle and politics takes place.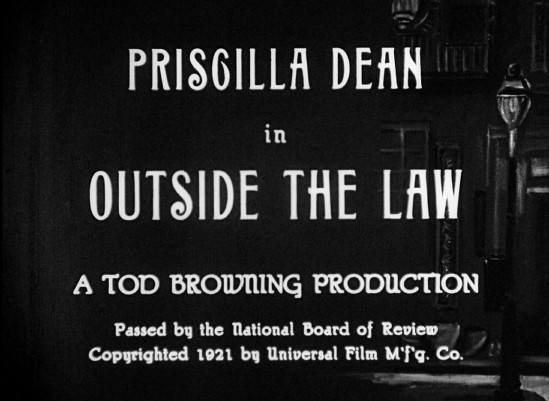 Lon Chaney plays two roles. One of them is as a criminal ("Black Mike" Sylva) and the other is as a Chinese servant (Ah Wing). As Anthony Silde points out in his commentary track, there isn't a narrative reason why Chaney plays both roles; it's my opinion that he does so to show off his versatility. The man for whom Ah Wing is a servant is Chang Lo, played by E. A. Warren. Both Chaney and Warren are white men playing Chinese characters which doesn't wear well.
Yellow-face portrayals were common in the silent era and other character actors like Warner Oland played Asians of various motivations and countries-of-origin in many films. Chaney himself played such characters in several movies, including 1921's Bits of Life, (presently lost), 1922's Shadows, and 1927's Mr. Wu. One's mileage may vary when looking at the authenticity of the portrayals on offer in this film. Its survival in the canon of Chaney performances does give good support for the moviegoing public's fascination with Chaney as "The Man of a Thousand Faces" that his publicity material would trumpet just five years later.
Top-billed Priscilla Dean is a wonderful actress. Her portrayal of Molly as someone who knows what she wants and has the fortitude to get it is pitch perfect. Her scenes in the apartment when the child comes in with an axe to help build a kite—and I promise it isn't a HEEERRE'S JOHNNY! scenario—depict someone who has thought through a womanhood without children and is secure in that decision. There is a lot of nuance in her performance overall, even when the script throws a curve ball like the symbolism of a cross in the window.
Stanley Goethals plays the Kid Across the Hall. Utterly confident in front of the camera and under the capable direction of Browning, Goethals warms the heart and soul of the viewer…and Dean. It's a lovely couple of scenes, especially as scored by Anton Sanko, whose 80 film credits include Philadelphia (1993), Ouija (2014), and television shows such as Big Love. Sanko's work on this film is a tremendous asset to this release.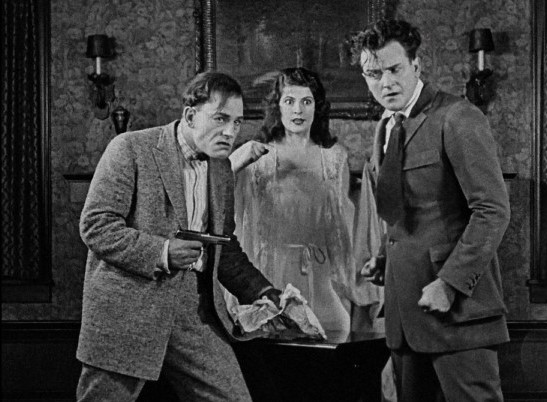 The costumes and sets in this film are a delight for the eyes. Dean's outfits are flattering and interesting without seeming out-of-place. The men's suits are appropriate to the characters and the restoration makes the textures of them seem that you could almost reach out and touch them. The sets contain beautiful furniture and walls which are adorned with wonderful decorations. The street set in the opening section of the film gets a lot of information and atmosphere into a small space and is well-planned.
The Blu-ray edition being considered is drawn from a rare 35 mm print of the film. In the mid 1970s, a print of the film was unearthed in a barn. Certain scenes are truncated and/or visually scarred due to decomposition but the picture quality of this NBC/Universal restoration from 2017 is quite good. An alternate ending and footage comparison from a 16 mm print of the 1926 re-release is also available on the disc.
I highly recommend this disc for your collection, especially if you are a fan of Lon Chaney and gangster films. It's a vehicle for Priscilla Dean which demonstrates her acting chops and will, hopefully, serve to reintroduce dramatic actresses of the late teens and early twenties to audiences.
All images used in this article are screen captures of the Blu-ray release with the pillar-box framing cropped. No other filtering or editing has been employed.