When the Daltons Rode (1940)/The Virginian (1946)/Whispering Smith (1948)
BLU-RAY STREET DATE: JUNE 9, 2020/KL STUDIO CLASSICS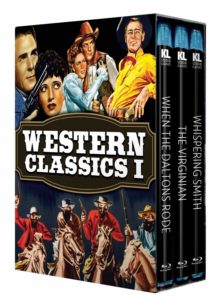 Few things are as American the Western genre. In cinema alone, the Western has ridden proudly since the very beginning. Western-style mythmaking has been adopted by foreign filmmakers of exceeding stature such as, most notably, Japan's Akira Kurosawa. Later, Italian directors such as Sergio Leone cribbed the Western's tropes to redefine it for a new generation with the "spaghetti Western", and its various permutations.
And all the while, the genre was growing, maturing, ever in flux. It doesn't take a film historian to note that, when observed from a distance, the evolution of the Western film reflects the shifting values and priorities of America itself more-so than any other genre of cinema. For better and for worse, as it tells its own stories of the Old West, the Western also tells the story of the twentieth century, and beyond.
Kino Lorber Studio Classics is celebrating this richest of movie genres with a three-film, three-disc Blu-ray set simply called "Western Classics I". In keeping with the established format of their ongoing "Film Noir: The Dark Side of Cinema" box set series, "Western Classics I" outshines all of those releases, bursting from the corral with dedicated verve and dedication. The three films chosen all hail from the 1940s, just as the form was adjusting to its first major bout of growing pains. White hat/ black hat simplicity (if that cliché was ever really there) and glorified "bootstraps" individualism were giving way to more community- minded values. (This, exactly as John Wayne was emerging as an A-list star). Even as these films embraced frontier values and "pioneer spirit", their source material was, more often than not, derived from literature.
The three films in this set, one starring Alan Ladd, another starring Joel McCrea, and another with Randolph Scott, have little else in common beyond those already-stated general observations. Yet, taken collectively, one is rewarded with a quick glance of Western storytelling on screen through the 1940s. Read on to learn more about each of these worthwhile titles, and how they fare on Blu-ray…
When the Daltons Rode
DIRECTED BY GEORGE MARSHALL/1940
"There were more famous outlaws; but none more daring; none more desperate."
That's a little bit of even-keeled background on the nature of the Daltons, the legendary band of outlaw brothers in the Old West. As is the case so often in American Western mythos, the legend is what gets printed ad nauseum. Although contained to Kansas and the Oklahoma Territory for only a few years (1890 to 1892), this sensationalized gang was credited with all manner of lawlessness across the whole of the United States.
The highly entertaining and delightfully off-kilter Western When the Daltons Rode is cited as the first feature film about these notorious outlaws. Several others would follow, as well as television projects, and more. Interestingly, When the Daltons Rode effectively holds a pronounced middle ground in terms of historical accuracy. (It's as true here as it ever was- don't go looking for history lessons in movies. Use them as a springboard). This is apparent from the start, when it dumps not one but two full screens of background text on the titular subjects. The text concludes with a kind of shrug in terms of the degree of factuality that will follow. Chalk it up to Hollywood being Hollywood- but in this case admitting it.
Although prolific prior to When the Daltons Rode, screenwriter Harold Shumate's career went west and stayed there on the heels of this film. The screenplay is based on the book "When the Dalton's Rode" by actual Dalton gang member Emmett Dalton and Jack Jungmeyer. Emmett was the only criminal Dalton who survived their crime spree, having been released from prison after his life sentence was truncated to fourteen years, having found God while incarcerated. His crusade became one of promoting the lesson that Crime Does Not Pay. The book, though, was later dismissed as "mostly made up" by a younger, non-outlaw Dalton brother. Not that such a thing matters to a film that's already deviated from it… which renders When the Daltons Rode a deviation on a deviation. Legends, it seems, are being printed on top of other legends.
Directed by ace comedy director George Marshall (Murder, He Says), it's no wonder that When the Daltons Rode exhibits a light touch amid its string of well-constructed action scenes. This is no soft peddler, though. The violence of the film yields a bodycount, as stunt sequences are front and center throughout. This includes a redo of the famous Stagecoach (1939) stunt of sliding between fast-galloping horse hooves- but this one resulting in the character catching the back of the coach, climbing back up, and making his way to the front. Although Yakima Canutt's version in the John Ford classic a year earlier gets the credit for the stunt's homage in Raiders of the Lost Ark (1981), this version is a considerably more fleshed-out precursor to Indiana Jones's truck gag.
Following a particularly brawly courtroom sequence (one with no less than three angry pile-ons in just a few minutes of gavel-thwacking and attempted deliberations) in which they are framed in a bigger land-grabbing scheme, the four Dalton brothers, Bob (the leader, played by Broderick Crawford), Emmett (Frank Albertson), Grat (Brian Donlevy), and Ben (Stuart Erwin, playing the only fictional Dalton of the film) find themselves on the run and into crime. Rotund comic relief Andy Devine is along for ride as the inexplicable lothario Ozark Jones while their loving ma (Mary Gordon) must hang back with the civilized folk on town, who are trying to get the legal mess legitimately straightened out.
Which brings us to the ostensible star of this movie, a young-ish Randolph Scott, playing nice-guy lawyer Tod Jackson. While trying to help the Daltons best the land-grabbing rap, he fall for Bob's girl, Julie King (Kay Francis). Her reciprocation is the start of a not-so-beautiful love triangle that director Marshall can barely bring himself to be interested in. But can you blame him for opting to stay focused on the train-robbing/horse-jumping exploits of the Daltons over the pencil-pushing mission of the lawyer back home? The result is top-billed Randolph Scott falling into an unmemorable supporting role. But his time will come later, in other films. This one is all about When the Daltons Rode.
The Virginian
DIRECTED BY STUART GILMORE/1946
"Times are changing, Steve. Things are coming to a pass where you gotta start figuring out who you're lined up with".
Indeed, the company one keeps tells a lot. In a Western such as 1946's The Virginian (based on the popular, oft-adapted novel by Owen Wister; the fourth of six such adaptations to date), observing one's allegiances may not be quite as murky as it can be today. Making good on the consequences of the actions born of a bad allegiance, however, can be just as complicated as ever.
Though not a particularly morally complicated tale, director Stuart Gilmore (this being one of five films he helmed during his long career as a film editor) allows some very welcome nuance to sneak in here and there. It begins with Molly (Barbara Britton), a particularly attractive young lady hightailing it out of her native New England. She's a liberated woman- by 1885 standards, anyhow. When we meet her, she's dumping her poindexter boyfriend to head out West and make it on her own as a frontier schoolteacher.
Before long, she meets an array of real-deal cowboys led by Joel McCrea's head man, known only as "The Virginian". He's got his hands full not only tending to the hundreds of heads of cattle in his charge, but an elusive band of troubling rustlers led by a black-clad slickster called Trampas, played by the always wonderfully oily Brian Donlevy. But in-between, he has just enough time to take an interest in Molly. Their chemistry is enough to be noticed. As an observant older acquaintance informs him, "She's got him roped, hogtied, and branded." It begs the question; how long can a Virginian remain a Virginian in these circumstances? Five'll get you ten that by the end, she'll bring out and lay claim to his true essence.
Besides the film's trailer, the only bonus feature on the disc is a new audio commentary by author/film historian Lee Gambin and actress/film historian Rutanya Alda (she's the woman who got married during the epic wedding in The Deer Hunter). Gambin and Alda recorded their non-scene-specific thoughts on The Virginian separately, which were then edited into extended stand-alone chunks. Their approaches couldn't be more different, as Alda is conversational and off-the-cuff with her memories (including the time as a twelve-year-old when she met Joel McCrea, only to be disappointed that he was in a crabby-pants mood) whereas Gambin is scripted with a considerably more academic approach. Both are well-researched and worthwhile, though the stylistic back-and-forth can be jarring.
The Virginian, with its very attractive Technicolor palate, is, for the most part, presented quite well on Blu-ray. Alignment of the original three individual color strips that make up the process is something that only very recent film restoration has been able to effectively conquer. For the most part, The Virginian is properly warm and as sharp as a tack. Every now and then, though, there's a misalignment. The fact that the rest of the film looks so good really makes these fleeting flaws jump out all the more. But on the whole, this is a fine, fine disc.
The movie itself maintains a level of "average" for the first hour before drifting into some morally questionable territory as our protagonist must dispense some fatal frontier justice- to the appalled disapproval of Molly. McCrea brings an added layer of personal guilt, which Britton plays off of engagingly, until such a point when the movie needs her back on his side. The times are changing, and the The Virginian's answers to its own questions don't fly today like they might've back then. But the mere fact that it's asking such questions- about how we govern; and when, if ever, death should be the penalty- and then allowing the good guys to really grapple with them, puts it squarely on track as proto-"psychological Western", which rode in strong a decade later.
Whispering Smith
DIRECTED BY LESLIE FENTON/1948
Like the other two films in Kino's "Western Classics I", Whispering Smith is based on a novel; in this case, one of the same title by Frank H. Spearman published in 1905. If anyone is impressed with Owen Wister's The Virginian having been adapted to film six different times, Spearman will see that tally with Whispering Smith's eight big-screen adaptations, and a television series. The version in question here is the seventh of those eight films; the first four date back to the silent era.
For this Technicolor crowd-pleaser, Paramount threw one of its biggest stars into the title role of Luke "Whispering" Smith, Alan Ladd. With his immortal turn as Shane at least five years off, Ladd's competently stoic portrayal here serves as something of a precursor. This is Alan Ladd cast perfectly in his ideal groove: sensitive, noble, upright, solitary. It's in some ways 180-degrees opposite of the blank slate persona he took up for 1946's Calcutta and other titles, but far and away more palatable and preferable on the whole. In today's age of the dwindling movie star, one could envision one of the few holdouts (Brad Pitt or Tom Cruise, were he to do a Western) headlining a ninth film version.
The material as presented here sidesteps most if not all cultural taboos that have arisen in the years since Westerns of this era were made. With no Native Americans or U.S. Cavalry politics in the mix, Whispering Smith is relatable on a very basic good-versus-evil level, with the added nuance of the downward moral spiral of a key supporting character.
English-born director and former child actor Leslie Fenton paints a vivid yet dark picture on this classic Western canvas. Whispering Smith is a railroad detective who finds himself embroiled in a case that runs a lot deeper than is initially evident… and with personal consequences. When his horse is shot out from under him just after the opening credits, he finds himself on the defensive against a well-organized gang of marauders. Smith's close friend, Murray Sinclair (a steely Robert Preston) informs his railroad cohorts that the criminals are messing with the wrong guy; there's no one better or sharper than Whispering Smith! ("By the time you hear him whispering your name, it's too late!" Smith never actually whispers this way in the film, but again, print the legend). The perfect quality for a movie star role.
Tightening red tape surrounding railroad investigations really get Sinclair's goat (turns out that his salvaging wagonloads of loot from a crashed train is frowned upon by management), urging him down a road of corruption that eventually must put him against his close friend, Whispering Smith. His wife Marion (Brenda Marshall) once loved Smith, and still might. As Murray is revealed to be more and more of a criminal and a cad, Marshall is able to turn a standard-issue shot of a woman helplessly watching her man ride off (to go do manly things, of course) from trepidation to "screw you" in the course of a silent dolly shot. Marion may be kind of stuck, but she knows the deal.
Kino Lorber Studio Classics' presentation of Whispering Smith on Blu-ray is a beautiful thing.  The disc features the film's trailer and a newly recorded audio commentary by film critic and author Simon Abrams.  It's a well-constructed track, with Abrams sharing several quotes from outside sources in addition to his own expertise.
*****
With Whispering Smith, it's official: Kino's "Western Classic I" is a home run. (That is, if a metaphor from a different all-American fixation can be employed). We have a comedic-action ensemble, a moral yarn with the budding DNA of Westerns of the decade to come, and a star vehicle done right. It's a rough but handsome posse, each secure in its own strengths. Of all the recent thematic box sets that Kino Lorber Studio Classics has been issuing lately, this is absolutely the most solid. It is highly recommended that every film buff rides out and rustles up "Western Classics I".