W.C. Fields may be no Dummy, but his Co-star Charlie McCarthy is!
DIRECTED BY GEORGE MARSHALL/1939
BLU-RAY STREET DATE: APRIL 19, 2022/KL STUDIO CLASSICS
So wait a minute… in the world of 1939's You Can't Cheat an Honest Man, are we supposed to process a ventriloquist's dummy as a singular living character? Although a star vehicle for comedy legend W.C. Fields, the film also prominently stars Edgar Bergen and Charlie McCarthy, respectively the famed ventriloquist and dummy duo. They all work for a shady but well-meaning traveling circus that's only one step ahead of the law and facing financial disaster. Time to set up shop and start all over again. Because there's a sucker born every minute…
You Can't Cheat an Honest Man is a rather shambolic affair, in that it ping-pongs its attention between the ever-muttering sourpuss Fields and the romantic main plot involving Bergen. The very fact that the romantic subplot (he's in love with Vicky, the struggling circus proprietor's daughter, played by Constance Moore) involves a grown man whose constant companion is either A) a precocious child with a top hat and monocle, or B) a wooden dummy that he operates all day long, or C) both?? is just that weird. Perhaps it's no wonder that Vicky so easily pivots to agreeing to marry a dull millionaire instead. Of course, we're made to root for Bergen to somehow prevail in this. But then, think of the poor girl…!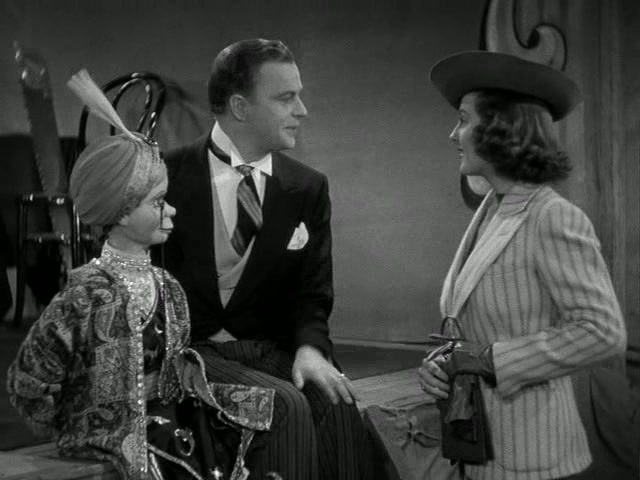 It turns out that she's only marrying the young millionaire for the money. Which is apparently okay in this case, since she wants to money to bail her father out of his financial pit. Which, Bergen is all too understanding of. Which leaves plenty of time for wacky shenanigans, which involve car chases on dirt roads, a runaway hot air balloon, and Bergen's other famous dummy, Mortimer Snerd.
Despite the head-scratching what-what of it all, You Can't Cheat an Honest Man plays (to me) better than most W.C. Fields' film vehicles. Which brings me to a confession of sorts… Although I've happily done more than my due diligence in comedy nerdom, I've never warmed up to the performer. It's not for lack of trying, as many of my favorite comic personalities adore Fields. I've even spoken on Fields as part of a Film Comedy lecture series that I give. (In this, I always come clean that his charm eludes me. When I prompt attendees for any enlightenment, it's crickets. So there is that…).
That said, my research is drawing me, I think, closer to an understanding if not a full-on appreciation. No matter the bit, Fields exists in the perpetual exasperation. Life has already beaten him down before the movie ever started. So, he drinks too much, swindles people, and treats others badly. He gets away with it because it turns out that he is in fact charming after all of that.
But still, I'm not yet on board.  I find myself most receptive to Fields when he's sharing the spotlight.  1940's My Little Chickadee, for example.  Some look at the late-career Western-comedy as a step down for both Fields and co-star Mae West.  But in my humble opinion, the lessening of both is in fact a benefit to the pair's larger-than-life personas.  The story is contrived?  Peshaw.  We're worrying about that now??
A less-famous co-star like Edgar Bergen might not have generated the decades-running ink that Mae West has, but the final product benefits similarly. That Fields and Charlie McCarthy shared an ongoing feud of insults (the drunk vs. the block of wood) that predates this film is a detail that's lost on us today but was likely a keen point of interest then. (Fields would occasionally come around and stir up crap on The Chase and Sanborn Hour, a very popular radio program on which Bergen and company were featured stars). (Yes- in the 1930s, a ventriloquist could become a celebrity on the radio).
The great comedy director George Marshall embraces the nuttiness of it all, resulting in a downright zany film that nevertheless keeps things rolling along in expected directions. (This true even with all the smothering "romantic" scenes between Vicky and the millionaire). That is, except for Fields' scenes, which an uncredited Edward Cline (of Buster Keaton fame) directed, on account of Fields reported hatred of Marshall and refusal to work with him. (It seems that Fields was quite the handful for producers and studios to deal with). That fact, and much more, can be heard on Michael Schlesinger's new commentary track. It's a fine track, even as it defaults to resume recaps too often. It's a worthwhile listen. The film itself sports a nice new 2K master, a sure improvement upon any previous DVD release. There's also the film's trailer.
You Can't Cheat an Honest Man proves to be no cheat for fans of classic comedy- even those of us who still don't know what to make of a main character that's a well-dressed talking block of wood.