Restored Pre-Code Studio Fare Brought From 90-Year-Old Theaters To Present-Day Home Video
RKO CLASSIC ROMANCES/RKO CLASSIC ADVENTURES
1930-1931/VARIOUS DIRECTORS
STREET DATE(S): May 21st, 2019/KINO CLASSICS
The rough, rowdy, and racy days of early sound cinema resurface to public view thanks to Lobster Films and Kino Classics. Preserved by the Library of Congress and recently restored by Lobster Films, eight movies produced and/or distributed by RKO Radio Pictures between 1930 and 1931 arrive on separate Blu-rays titled RKO Classic Romances and RKO Classic Adventures, available today (5/21/19) from Kino Classics. Lovingly curated but critically uncommented upon, beyond one-two sentence liner-blurbs on the back, Romances and Adventures, much like KC's memorable Clouzot: The Early Works from last fall (collecting the filmmaking apprenticeship of French director Henri-Georges Clouzot) give home viewers a fascinating journey into the commercial filmgoing imagination of its era.
Five "romances" and three "adventures", between two Blu-ray collections, provide a further fascinating opportunity, then, for a classic movie viewer to step into a viewing time machine and to watch whatever viewers might have seen, in the time and place in question, at contemporary first-run movie theaters. Whether at the Majestic, Orpheum, Capitol, Royale, or Bijou — and whether that particular theater gussied up the name-following "Theater" by inverting the "r" and "e" — the question of who might be watching the movie alongside one may be as simple or difficult in one's imaginative home viewing exercise as guessing which audience-type might be more attracted to genre categories like "romance" and "adventure". But, from the marital melodrama Sin Takes a Holiday to the gangster morality-play The Pay-Off, one may be considerably more sure about what specifically would be seen at those theaters (or "theatres"), thanks again to the many great organizations keeping nearly 90-year-old films in the public view.
…
Continuing in this vein, or conceit if one will, RKO CLASSIC ROMANCES (2019, Kino Classics) are packaged on two Blu-ray discs comprising five films released by RKO Radio Pictures in 1930 and 1931. Individually conceived as "star vehicles" for the studio's popular female players, the further scare-quoted term "romance" does indeed describe a genre category into which each of these films would broadly fit without so much as hinting at the tantalizing complexities depicted, or the equally complex personalities, situations, and thematic material portrayed. Dubbed "difficult" by the studio and industry after the Hollywood-wide adoption of the Production Code in 1934, earlier turn-of-the-decade leading ladies Dorothy Mackaill and Constance Bennett shone in frank and frankly risqué romantic dramas detailing the undiminished vagaries of sex, marriage, and divorce in the most uncompromising artistic terms then deemed socially acceptable. Later "forgotten" leading ladies like Helen Twelvetrees and Betty Compson, as well as an international star who never quite caught on in Hollywood, the French-born Lily Damita, had their brief minutes (actually, years) of "vogue" before settling (or unsettling) into supporting roles by the mid-1930s.
But all this was in the future. For the movie-meantime, the excellent ladies with their esteemed gentlemen, in the subdued hand-me-down fashions of the early Depression years, came to see strong women struggling in a man's world, with love as both a victorious object and a means of defeat. That ambiguity, at least in the latter phrase, will either become clearer — more hopefully not — in a few sentences individually describing, but in no way doing justice to, the deliciously full contents of Kino Classics' RKO Classic Romances:
Millie
(1931, dir John Francis Dillon)
Redheaded Helen Twelvetrees, as vermilion nail-polished Millie Blake, elopes with a cad (James Hall), marries the heel at a roadside hotel, becomes a bored society mother, catches her now roving husband "at play" in a swanky nightclub, divorces him "no fault", taking nothing, including her growing child, settles in the big city, fends off slavering male customers — daily, weekly, and then yearly gathering at every corner of her hotel lobby sales counter — and that's just the first fifteen minutes. Featuring Joan Blondell and Lilyan Tashman, as city gal pals, and Robert Ames and Frank McHugh, as wisecracking reporters, this densely plotted morality (and its lack) play also features sublime worldly villainy from sinisterly suave John Halliday as Jimmy Damier, whose predatory seduction of Helen's underage daughter Connie (Anita Louise), played out at the mustachioed, robe-and-slipper-clad voluptuary's lavishly-appointed country 'lair', provides a still edge-of-one's-seat suspense sequence in the film's penultimate scene.
Kept Husbands
(1931, dir. Lloyd Bacon)
In keeping, perhaps, with the silent-era convention of identifying actor and character names with their screen persona, larger-than-life screen siren Dorothy Mackaill plays Dorothea "Dot" Parker, the spoiled daughter of a wealthy mine owner, who puts her romantic sights on her father's ambitious young employee Dick Brunton, played by Joel McCrea in an early role. "Kept" becomes the operative word as Dot and Dick's relationship enters its marital phase, with Brunton/McCrea's ambition languishing under the enervating influence of née Parker/Mackaill's strong-willed insistence on the upper crust lifestyle.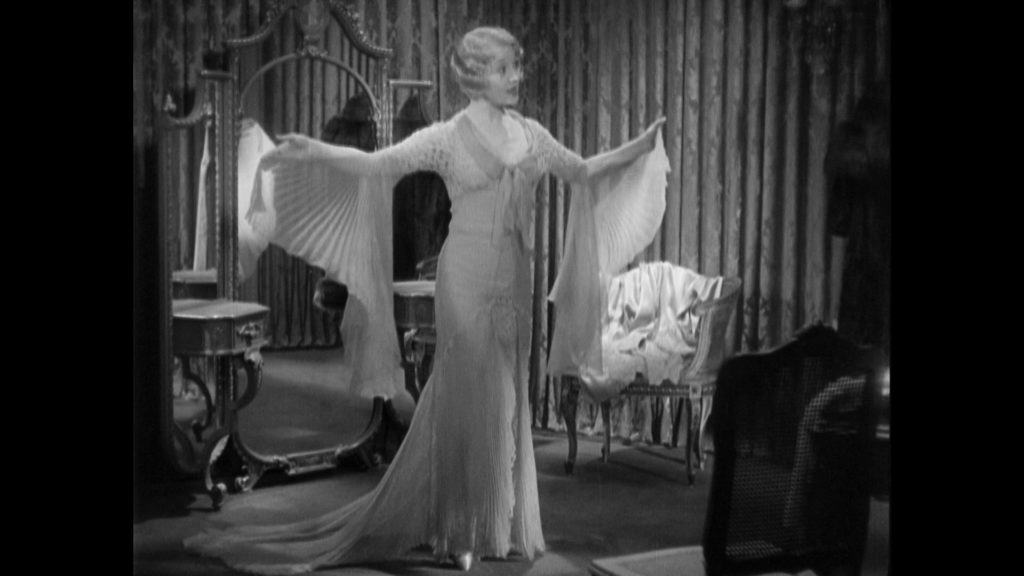 The Lady Refuses
(1931, dir. George Archibaud)
Betty Compson stars as low society castoff "June", a street woman pursued by a pair of Bobbies through the London Fog into the stately townhome of Sir Gerald Courtney (Gilbert Emery), whose 'rescue' of the distressed lady soon embroils the one-name dame into a rather untoward domestic deception of the amorous aristocrat's wayward son, Russell (John Darrow). It all ends honorably, but The Lady Refuses extends much enjoyment (and entertainment value) from its deepeningly dishonorable story-premise.
The Woman Between
(1931, dir. Victor Schertzinger)
As emotionally intriguing as it is geographically confusing, this Eastern U.S.-set but more European Continental-feeling, three-way romance details the title woman's title position, played and placed by French star Lily Damita between her older husband (O.P. Heggie), and, unknowingly (at least initially), her more age-contemporary stepson (Lester Vail). The second film in this collection to dramatize a father and son in love with the same woman, after The Lady Refuses, adds the even kinkier twist of step-incest — to say nothing of the more latterday sexual taboo of age discrepancy — while still giving viewers an eye-filling, 73-minute glimpse at the latest circa 1931 fashions and high society décor.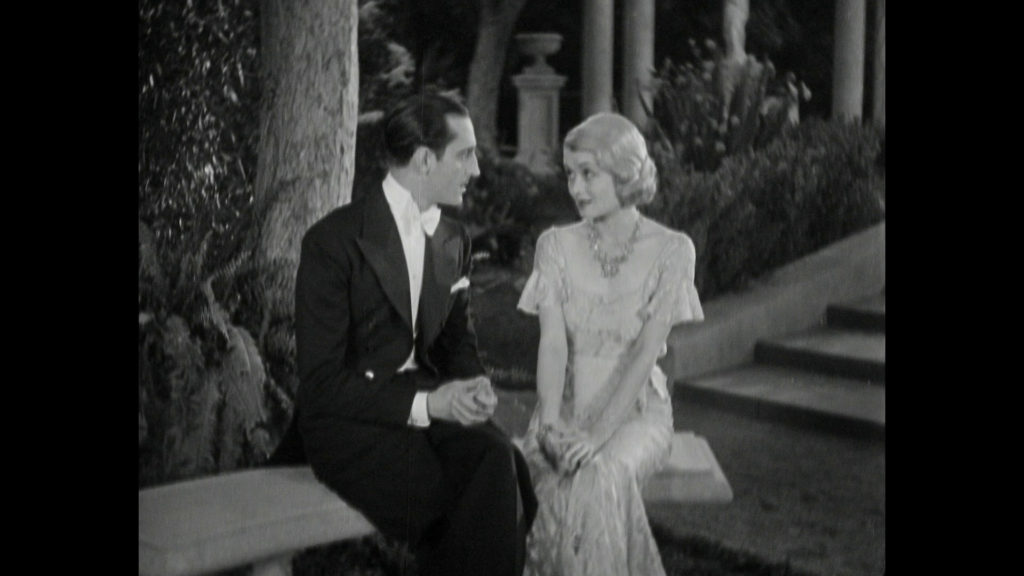 Sin Takes a Holiday
(1930, dir. Paul L. Stein)
Starring Constance Bennett as a devoted secretary who marries her boss, the "arrangement" she enters into with her loose-moral husband, a prominent New York divorce attorney (James Stanton), permits (or more accurately encourages) the lovelorn social climber to cross the ocean and take up "residence" at a French villa with a to-the-manor-born hedonist (deliciously played by Basil Rathbone). Produced by Pathé Exchange in 1930, RKO acquired Sin Takes a Holiday in a subsequent merger and re-released the now RKO-owned film to theaters in 1931. One might say the double meanings and various "coded" readings, necessitating three double scare-quotes thus far in simply describing its plot, gave audiences a chance to twice-appreciate the many levels of its title-inspiring pleasures.
…
The cover image of a passion-hued and flame-coiffured lady in white furs raising a red wine glass to her rosy lips, a lit cigarette dangling in her sharply-manicured talons, gives way to the yellow horizon, canyon-and-sagebrush view of a Stetson- and red-earth, kerchief-clad cowboy belly-climbing up a rocky cliff, stealthily peering out at a scene of undoubted skullduggery in the impenetrable vastness beyond. A triple-feature of Western, gangster, and North Pacific commercial fishing (!) movies individually comprise RKO CLASSIC ADVENTURES (2019, Kino Classics), which offers a decidedly more masculine view of conflict, enterprise, and environment. From the gritty inner streets to the untamed wilderness to the trawling shores, fisticuffs, gunplay, and pro-labor seafaring (!!) provide no less potent expressions of raw, unchecked (and literally uncensored) emotion.
This view-round, then, the excellent ladies in attendance may have more tightly gripped their fellas' fraying coatsleeves, the latter esteemed gentlemen themselves edging ever-forward in their plush-covered seats to the more visceral thrills onscreen: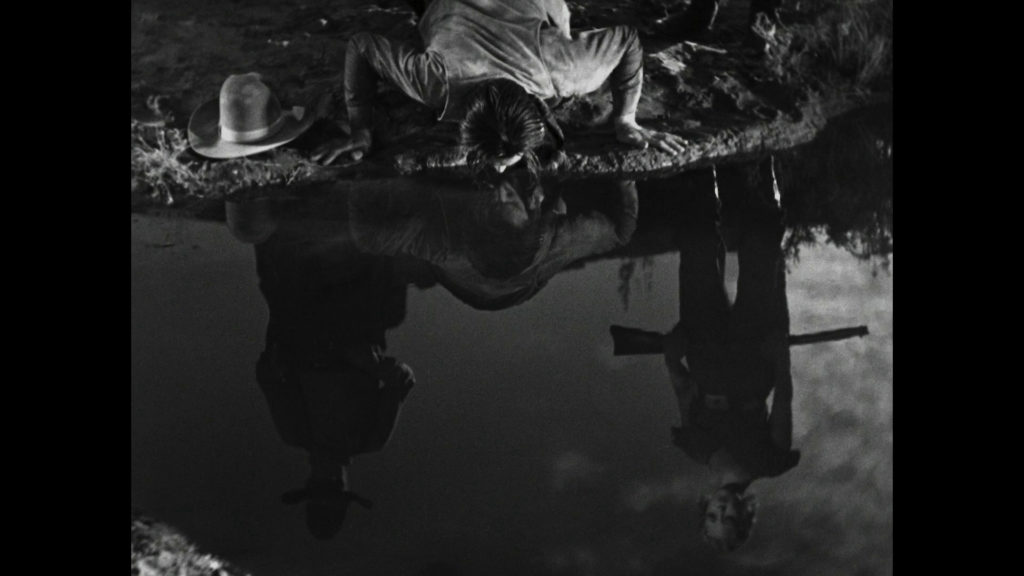 The Painted Desert
(1931, dir. Howard Higgin)
Jeff Cameron (J. Farrell MacDonald) and Cash Holbrook (William Farnum) ride the range as a pair of pistol-packin' pardners as the Western opus opens, who quickly fall out over land-and-water ownership in the desolate, unsettled country, but not before rescuing, and also fighting over, a curly-haired urchin they discovered orphaned on the covered wagon trail. Growing up onscreen to become cowboy star William Boyd (about four years before he first played Hopalong Cassidy), educated and fair-minded Bill Holbrook story-strives to reunite his still-feudin' Two Godfathers two decades later, striking a profitable Tungsten mine on the cash-strapped Cameron's land with his foster-daddy Cash's flowing river of, um, cash, while also romancing Cameron's now-grown daughter, Mary Ellen (Helen Twelvetrees). The second film in the collections retained by RKO during their 1931 acquisition of Pathé Exchange, The Painted Desert is perhaps most notable in film history for the sound film-debut of Clark Gable as the roughened, ambivalent yet compelling Northwestern drifter Rance Brett, whose side-saunter into the edge of each frame he's in virtually steals the entire picture.
The Pay-Off
(1930, dir. Lowell Sherman)
Actor/director Lowell Sherman plays/frames dandyish gangleader Gene Fenmore in this gilt-edged evisceration of penthouse-planned and street level-committed crime. This early entry in the second, sound-era wave of commercial-oriented underworld sagas — sort of "organized crime as extreme venture capitalism" — is stylish and fast-paced even for its many drawing room-set scenes, while actor Lowell Sherman, directing himself, pulls off a compelling and even tragic figure in his effortlessly poised, crime-caper mastermind. So much so, for his wit and boundless reserve of courage, that when Fenmore is inevitably led hand-cuffed away to Sing Sing and the electric chair at story's morality-enforced end, a casual viewer might scarcely credit that the notorious figure doesn't have at least one more ace up his immaculately tailored sleeve.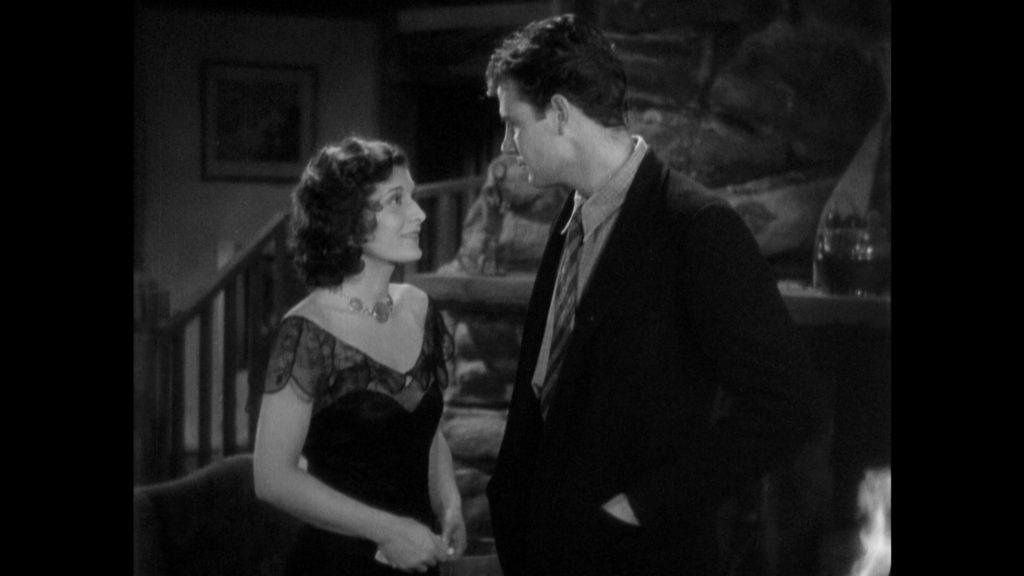 The Silver Horde
(1930, dir. George Archibaud)
This Alaska-set, Pacific Ocean-dramatized fishing epic stars Evelyn Brent as the notorious Cherry Malotte, whose story-ambiguous rise to Northwestern prominence, over her snow wilderness empire of gambling dens, mountain mines, and fishing boat fleets, backs eager young entrepreneur Boyd Emerson (Joel McCrea), foolhardy sidekick Fraser (Raymond Hutton), and experienced bald bruiser George Balt (Louis Wolheim) in their trout-fishing venture against unscrupulous town monopolist Fred Marsh (Gavin Gordon). Packing action, adventure, and romance into its well-under 90-minute running-time, The Silver Horde plays like a fast-paced, exciting holdover from the late silent era — made even more resonant by the presence(s) of Evelyn Brent, Wolheim, and, in a smaller role, but no less touchingly, Blanche Sweet in her final movie appearance as Cherry Malotte's onetime 'associate' "Queenie" — that finds its sound-and-dialogue-added effects effectively expressed in the early sound period. Also, watching Joel McCrea sharing romantic scenes a full decade before George Stevens' classic comedy The More the Merrier (1943) with a slinky and silver gown-wearing, blonde-dyed and wavy-permed Jean Arthur, as the not unsympathetic but still class-callous heiress Mildred Wayland, will undoubtedly give old(er) movie fans an eager frisson of anticipatory film history recognition.
…
Strolling arm-in-arm out the Middle Eastern-curled, Far Eastern-swirled, or Art Deco-streamed patterns lining our imaginary, Depression-era theater lobby and foyer, perhaps pausing beneath the soft, blinking yellow lights of the marquee to peer through street-grimed glass casing at the exciting poster advertising next week's feature, our excellent ladies and esteemed gentlemen hither homeward with the glowing satisfaction of having spent their four bits well on this evening's romantic, melodramatic, adventurous, or action-packed screen offering. From our vantage point, rudely intruding on the present, along with present reviewing matters, both RKO Classic Romances and Adventures prove worthy of their home video packaging by virtue of beautifully transferred, lovingly restored, and now publicly preserved commercial and popular artifacts that, if anything, have actually gained in artistic impact and interest since their original release. Kino Classics' eight-film journey into our entertainment past, again, is well worth taking.
The images used in this review are credited to DVDBeaver and are taken directly from Kino Classics' Blu-ray releases. Thanks to Kino Classics for providing Blu-ray review copies.