American Film Theatre And Kino Classics Present American Theater Classic With Legendary Stage And Screen Actors
1973/DIRECTED BY JOHN FRANKENHEIMER
STREET DATE: MARCH 26TH, 2019/KINO CLASSICS
Kino Classics takes the innovative mid-1970's exhibition model of American Film Theatre one step further by bringing the AFT-filmed, 1973 production of Eugene O'Neill's The Iceman Cometh to Blu-ray. Receiving a 2K-restoration, this 2-disc set makes available the 178-minute theatrical cut along with the uncut, 239-minute director's version. A minute shy of four hours in its complete form, this nearly unexpurgated film-staging of the classic O'Neill chamber-drama, written in 1939 but first staged in 1946, comes complete with not one but two intermission breaks; possibly the first American film in major release to invest such a consideration of the casual moviegoer's limited attention-span (or, indeed, bladder-space). By play-film's end, the best compliment one can pay this obviously demanding dramatic experiment — in effect, erasing the boundaries between film and theater towards filmed theater — is that one certainly feels one has lived (and in at least one case died) in close company with Larry Slade, Don Parritt, Jimmy Tomorrow, and all the refuse(d) rest at Harry Hope's Hudson River-front dive in 1912.
Setting a tone of despair and hopelessness with Bradford Dillman as Willie Oban's early stage-screen fit of delirium tremens, director John Frankenheimer's brilliant staging of this most uncompromising of American theater classics is equally uncompromising in bringing the drama to film in the first place. Produced in the first eight-film "season" of an eventual thirteen theatrical adaptations, Ely and Edie Landau's brainchild of quality theatrical productions made with legendary actors and directors at reasonable prices achieved its most ambitiously-mounted production in a truly stunning assemblage of actors rarely assembled at the same time on even a Broadway stage. Selling itself by merely announcing its cast list, Lee Marvin, Robert Ryan, Fredric March, Moses Gunn, Jeff Bridges, along with many distinguished others here tread the same boards in as close to theatrical real-time as the filmed-dramatic unities allow.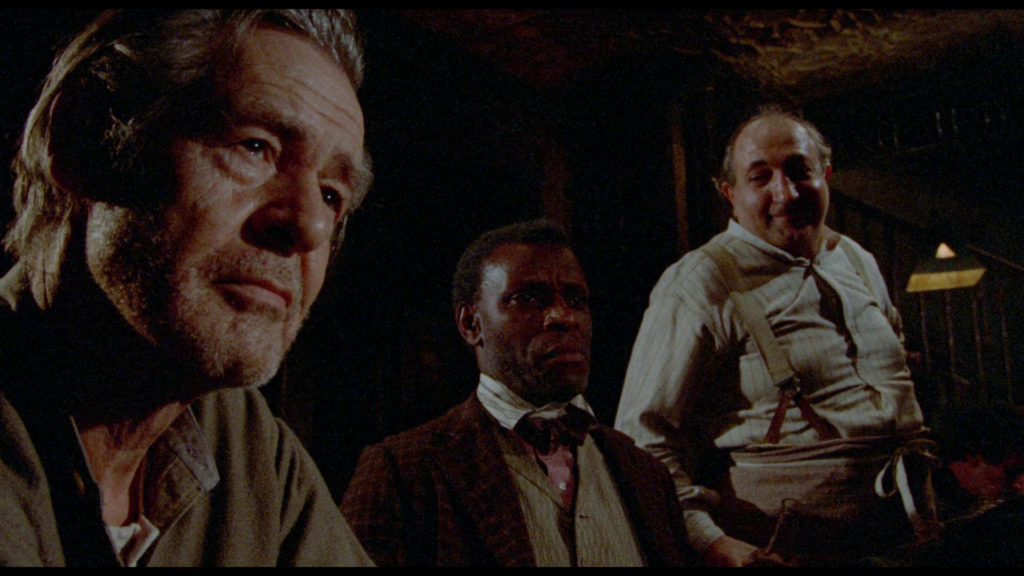 Opening on night barman Rocky (Tom Pedi) placing a spittoon under the bar in anticipation of the evening's grim revelries, the play proceeds to anchor itself to the same two-room setting representing an evening, midday, midnight, and tomorrow in the meandering conversation pieces — in subject matter if not location — of saloon owner Harry Hope's (Fredric March) lost-hopers. Detailing in purely character terms the preparation and aftermath of Harry Hope's annual birthday celebration — sixty years old in 1912 — the drama as such is more concerned with the arrival and lingering effect upon each of reputedly happy-go-lucky "whiskey drummer" Teddy "Hickey" Hickman (Lee Marvin), who usually brings drunken joy on his twice-a-year sales-rounding trek from Astoria but on this day inspires little besides sober misery.
Among those whose humiliations and mounting sense of despair we share over the next lengthy acts of film-stage drama:
Rocky Pioggi (Tom Pedi) — The night barman, as mentioned, who supplements his low pay with the supervision of three resident prostitutes, all while insisting he is "not a pimp". (Character actor Tom Pedi originated the role on Broadway and played it in many subsequent productions, including a previous television version from 1961.)
Willie Oban (Bradford Dillman) — A disgraced former Harvard law student who, as also mentioned, now battles the DTs. The most physically deteriorated among Harry Hope's boarders is also the visibly closest to death. (Actor Dillman sheds any-and-all actor's vanity for the role, a stuttering, shaking, teeth-rotten ruin of upper-crust disappointment.)
Joe Mott (Moses Gunn) — An aging African American gambler who has "lost his touch" with the dice. Sweeps up for spare change (and shots), Joe is tolerated/patronized by the other boarders as the "whitest colored man" in each of their respectively minimal acquaintance. (Stage veteran Gunn's is an astonishing performance switching at will between affability and anger. Seems revelatory in miniature to what a black man undoubtedly suffered to then survive in a white man's world.)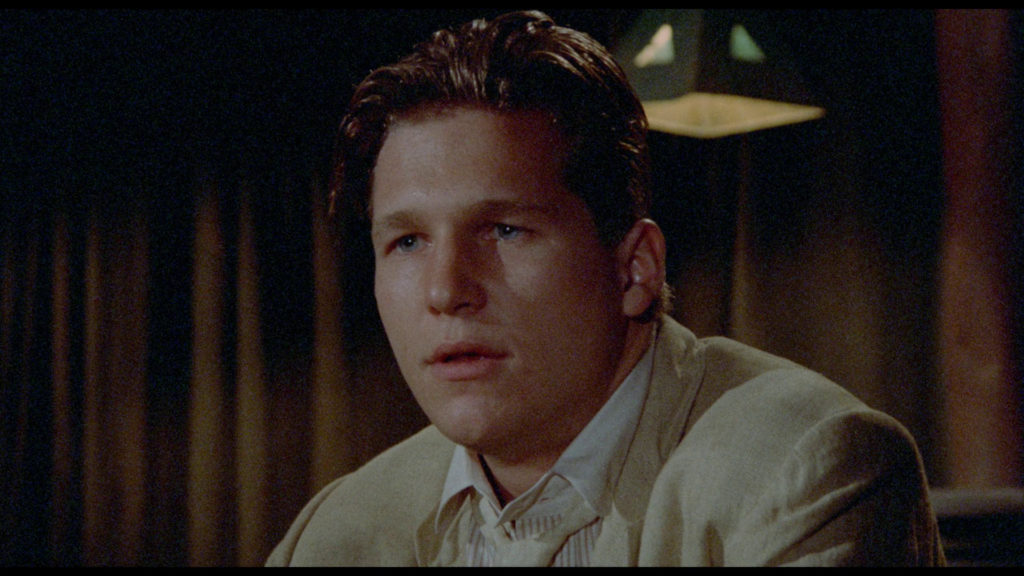 Don Parritt (Jeff Bridges) — A new arrival to the already depressing scene, late "from the coast", the eighteen-year-old has fled the arrest of his mother along with her anarchist group after the blow-up of a bridge, which included many fatalities. (Three years and eight films past his first adult role in 1970, Bridges has by now shared as long a career as many of the stage-and-screen veterans with which he here appears. As the conscience-stricken young informer, the all-white travelling suit against the anguish of his pale-drawn features appears right at home in Harry's "Last Chance Saloon".)
Harry Hope (Fredric March) — The long-widowed and ironically-named proprietor of the Greenwich Village bar and boarding house has a bluster that belies his big heart. Selectively deaf and sometimes arthritic, each according to psychosomatic whim, Harry venerates the memory of his overly idealized late wife — whose photograph hangs above the seat where he nightly holds ruined court — by not having stepped foot from his establishment since her death twenty years before. (Fredric March, in his final film, plays the character role to its absolute hilt, the consummate stage-and-screen presence of a half-century virtually disappearing beneath the doddering, querulous wreck of a kindly old gent aging ungracefully.)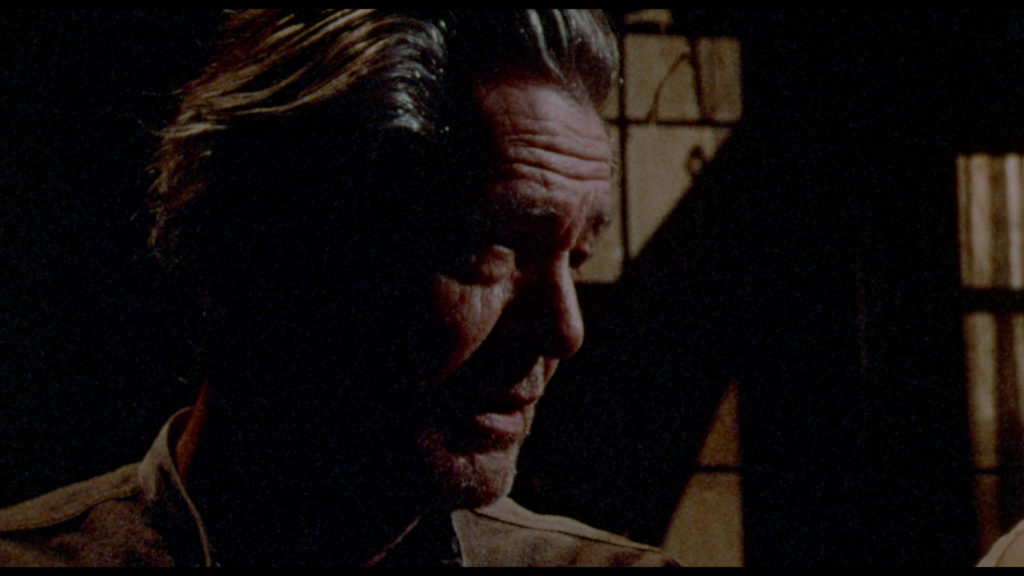 Larry Slade (Robert Ryan) — The saloon's "resident philosopher" is a former anarchist, onetime associate of Don Parritt's mother, Rosa, who long-ago left the movement and has since been trying, but daily failing — cursed with an "iron constitution which even Harry's rot-gut whiskey can't corrode" — to drink himself to death. The one barfly with his eyes wide open may also be the least self-aware even for his considerable depth of perception. (Crowning a career shading some of the most complex psychologies in movie history, Robert Ryan, also in his final film, is magnetic — sympathetic yet tortured — delivering this conflicted character's many mortality-obsessed, humanity-despairing diatribes.)
Hickey (Lee Marvin) — The aforementioned "whiskey drummer" (liquor salesman) is straw-boater, glad-handing dandyism incarnate — a long-straying husband joking about his long-suffering wife Evelyn's imaginary and non-existent affairs with the "iceman" — but on this Spring visit seems hellbent instead on calmly destroying the many "pipe-dreams" of Harry Hope's past-hope parishioners. (Lee Marvin, at the height of his 1970's $275,000/picture stardom took a $250,000 pay-cut to appear in possibly the greatest film role of his career, approaching the character's madness from a disturbing emotional vantage point of unassailable serenity.)
Rounding out his extended cast-call of the damned are Martyn Green's and George Voskovec's Captain and General, respectively — still nightly fighting the Boer War even as the Great War looms — John McLiam's Jimmy Tomorrow — an unemployable war correspondent silenced by every next day's false promises — Clifton James's ex-policeman Pat McGloin and Sorrell Brooke's ex-anarchist Hugo Kalmar — convicted felons and jail-time servers from opposite sides of the law.
Exorcising the alcoholic ghosts of yesteryear through their tortured interactions, the denizens of Harry Hope's saloon collectively raise the hundred-year dead for our latterday dramatic inspection of history's many forgotten — unmarked, and unremarked upon — corpses. Bleary-eyed and whiskey-soaked, that acting aesthetic extends to their cluttered, kerosene-lit, and cigar smoke-shrouded surroundings to the point that one can almost smell the stale and sour vapor of a poorly-ventilated room badly in need of airing. Director John Frankenheimer, returning to his early-career roots staging single-room drama for live television, uses visually-unsparing depth-staging and unblinking long-takes to give us in view-attendance a dramatic proscenium on the proceedings that foregrounds character and thematic content with the utmost care, sympathy, and privilege. It is again no understatement to say these full four hours give these poor devils their necessary due.
As may be expected if one has read this far into the review, this (re)viewer is a proponent of the full, 290-minute version as opposed to the hour-less cut. Specifically, as The Iceman Cometh itself is a drama told through character interaction as opposed to plot, the unbroken mood of its setting in favor of a more straightforward mode of telling actually gains in artistic impact by occasionally boring its audience. Indeed, the most consistent criticism of The Iceman Cometh since its original staging has been the unfocused, dramatically diffuse (some might say "inert") manner of its construction and plotting, but as one of the most complete, sustained character pieces of American theater one might add that such is the entire point: without those "dead" moments which skillful actors such as these bring "alive", an audience/viewer cannot possibly be given the impression of life (and death) on these lower-depth inhabitants without having first experienced its sometimes mind-numbing monotony. Life, death, and the terrible in-between — propped up by the dry rot of Harry Hope's collapsing waterfront timber — are here indeed the full dramatic limbo of empty hopes and dashed dreams.
Along with both the three- and four-hour versions, also included on Kino Classics' 2-disc set are a gallery of trailers for other American Film Theatre productions, which may give one an impression of the ambitious scope — with actors like Laurence Olivier, Katharine Hepburn, Alan Bates, among others enacting roles from the dramatic likes of Anton Chekov, Edward Albee, and Harold Pinter — of the Landau's innovative funding-and-distribution model based on a then-unique audience-subscription service. (A forerunner, perhaps, to today's KickStarter or GoFundMe.) A brief archival statement from the late AFT co-founder Ely Landau included on the second disc explains some of that ambitious scale while a longer, more recent interview with Edie Landau, also included on the second disc, details some of the hurdles the often unwieldy project faced (including difficulties with their subscription partners in ticket-delivery, American Express), along with a persuasive defense of theater as a suitable subject for film.
Not for everyone, surely, but for those sympathetically aligned with theater as captured by film, Kino Lorber's admirable 2K transfer of 290-restored-minutes of a great American classic — as brought to stage, screen and now one's home video viewing mode of choice by some of the grand luminaries of stage and screen — may offer the best dramatic mode of artistic persuasion.
The images used in this review are credited to DVDBeaver. Thanks to Kino Lorber for providing a Blu-ray copy of the film for review.