Barbara Stanwyck Chases Ghoulish Winds in Made-for-TV Movie.
DIRECTED BY JOHN LLEWELLYN MOXEY/1970
BLU-RAY STREET DATE: JANUARY 8, 2019/KINO LORBER STUDIO CLASSICS
If these particular walls could talk, what the heck would they say? Probably not a whole lot, although they are haunted by spirits. It's a standard issue on-and-gone case of gothic-lite spooks, as far as such supernatural inflictions go. Nevertheless, Kino Lorber has seen fit to keep this now-obscure House That Would Not Die alive and well in the digital age.
Having originated in what might be thought of as "the Golden Age of Made-for-TV Movies, The House That Would Not Die (AKA The House That Wouldn't Die, based onBarbara Michaels' 1968 novel Ammie Come Home) is now available as a "special edition" Blu-ray release from Kino Lorber's robust Studio Classics line. The studio, in this case, is Aaron Spelling's prolific outfit, a not disrespect-able company that churned out an interesting variety of these standalone telefilms. (Among them is the western Wild Women, also available from KLSC on Blu-ray, though considerably more forgettable). These films had low budgets, tight schedules, and tended to star past-their-prime big screen actors. The good ones made the most of it, the bad ones withered on the vine. Today, all are forgotten, save for the now grown-up horror denizen who had happened upon these disposable potboilers in their early youth.
Headlining this 1970 effort is none other than the great Barbara Stanwyck. Stanwyck plays Ruth, a classy woman who moves into her newly inherited Revolutionary War-era home that's haunted by spirits that are at least that old. Immediately affected by this haunting is her grown niece, Sara (Katherine Winn, aka Kitty Winn- Panic in Needle Park). When Sara repeatedly becomes overtaken by the spirit of a terrorized dead girl, Ruth wastes little time in bailing on her otherwise fabulous vintage home. Considering the tendency to do just the exact opposite that's exhibited by most haunted house film protagonists, the logic inherent is a nice change of pace.
Naturally, the story can't end there. A seance or two later, the ghosts are good and agitated. Billowing window sheers and eerie slow motion night walks abound. There's a painting that the invisible forces simply do not approve of. The cellar door (never mind its coat of paint so fresh that it might not even be dry) has a habit of opening by itself. Whatever could be down there? What gruesome secret awaits revelation? Only minute eighty-four of this eighty-five minute endeavor holds the answer. (Or, you could probably just guess).
Richard Egan (aged and looking particularly clammy and toad-like) provides an effectively ominous presence- and also a love interest for Ruth. Sure, he's greasy, beady-eyed and weirdly shadowy in the way he just appears sometimes, but he understands the situation, and apparently must be quite the kisser.
Also on hand is the then-ubiquitous Michael Anderson Jr. (youthful enough to pass for a love interest for Sara- not he ever has any opportunity for the mushy stuff) is a fine empathetic presence, though his lizard-like good looks and propensity for turtle necks border on distraction.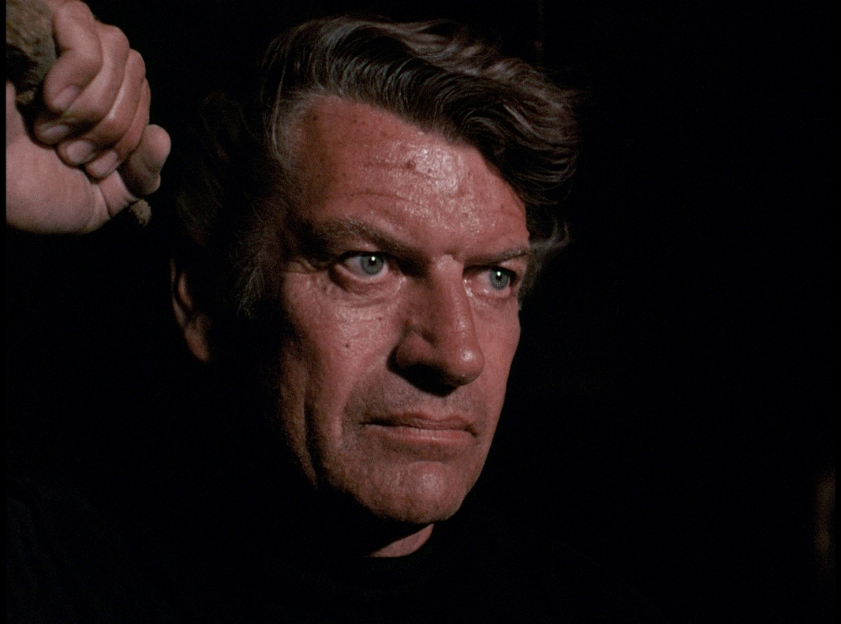 Richard Harland Smith provides an altogether excellent audio commentary track. Smith's delivery is brisk and engaging throughout; even his time-filling sidebar on Sal Mineo (who has no direct connection to The House That Would Not Die) is interesting, if factually lurid. Throughout, he effortlessly blends informative, academic factoids with a healthy un-ironic affection for the old fashioned TV Movie of the Week phenomenon. He amusingly describes the seasoned Stanwyck as "reflexively profane" in real life, dropping F-bombs right and left. This behavior is speculatively contrasted with co-star Egan's staunch Catholic faith. As one of the best film historian audio commentaries of late, it's almost too bad that Smith's winning effort is in service if this terminally obscure Blu-ray release.
Director John Llewellyn Moxey (City of the Dead) is also on hand for a newly recorded eight-minute interview, sharing his faded memories of this production, as well as life in television production of the era on the whole.
From a contemporary perspective of someone who's seen no shortage of haunted house movies, it's easy to claim that hardest thing about reviewing The House That Would Not Die is remembering anything about it when it comes time to write it up. Yet, from a perspective of obscure genre curios, the film is not at all bad for what it is. As utterly silly as the title is, The House That Would Not Die lives on.