Aaron Spelling-Produced Made-for-TV Western is Anything but Wild.
DIRECTED BY DON TAYLOR/1970
BLU-RAY STREET DATE: DECEMBER 11, 2018/KINO LORBER STUDIO CLASSICS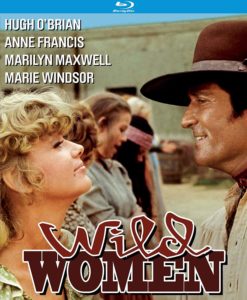 There's so little to say about director Don Taylor's (Escape from the Planet of the Apes; The Great Scout & Cathouse Thursday) 1970 made for TV Western that I'm compelled to say this instead:  Kino Lorber is a remarkable company, ensuring that films of every ilk are made available to the public in as fine of a presentation as possible.  But one can't help but wonder if their valiant "no stone left unturned" release selection strategy might at times be detrimental to the company.  I mean, Wild Women, starring aging leads Hugh O'Brian (The Life and Legend of Wyatt Earp) and Anne Francis (Forbidden Planet), has to be so obscure and so unremarkable that it couldn't possibly warrant a Blu-ray print run of more than fifteen.  And then, I end up with one of those copies, so that I can say this.  I'm all for boutique DVD labels taking bold chances and digging deep into forgotten filmographies, but in cases like this, can it possibly work out in their favor?
Rather than the characters and the plot, this what I find myself thinking about while plowing through the recent Kino Lorber Studio Classics Blu-ray release of Wild Women. Let's back up this caravan, shall we…?
It's 1845, and Texas is on the brink of U.S. statehood. But, the writing's on the wall- the dastardly Mexicans won't give up the territory without a fight. Or, to be more precise, without a war. A full-blown, cannons-and-soldiers, historically inaccurate war. Though this war never erupts onscreen, the threat looms to such a degree that the U.S. Military hatched a scheme to covertly deliver a cannon and firearms to the troops stationed at the border. To get them there, the weaponry is concealed deep within the bodies of the wagons, The French Connection style. (Hey, waitaminute…! This came out first!)
But the true crux of the plot, at least as far as the audience is concerned, is that the five military engineers, functioning as a map-making survey crew, must pose as civilian settlers making their way across the terrain. To better sell this ruse, each man is paired with a female inmate who will pose as his wife. At the end of the mission, they'll be granted their freedom. These five "wild women"- a southern belle, a brassy prostitute and a girl-next-door prostitute, a mysterious Native American, and a bandit, are the central focus of this film.
That's not to say that any of them are the star. No, that honor goes to Hugh O'Brian, playing a hired trail guide. IMDb user reviewer weezeralfalfa calls O'Brian's too-cool-for-school performance "nauseatingly swaggering". That's about right. Adorned in a studly low-cut tunic and a permanent handsome-man squint, his character, Killian, proves to be an unflinching, unfailing, and terminally uninteresting eye-roll of a character. Whenever he's on camera with his do-no-wrong dudeliness, all remaining air is sucked right out of the scene. Think Lyle Waggoner in the Wonder Woman television series, but times two and taking himself seriously. Yeah. Will he successfully lead the wagons from here to there? Will he beat back the Indians and Mexicans that get in their way? Will he win back the love of his former flame, played by Anne Francis? What do you think?
O'Brian's manly posturing is enough to get this caravan through the obligatory river crossing scene. Fortunately, this river is no more than an inch deep in its deepest portions. Seriously, it looks like someone left the hose on over parched gravel. This overcoming of adversity is just one example of the many errant cobbled-together misadventures that was make up the seventy-four minute whole of Wild Women.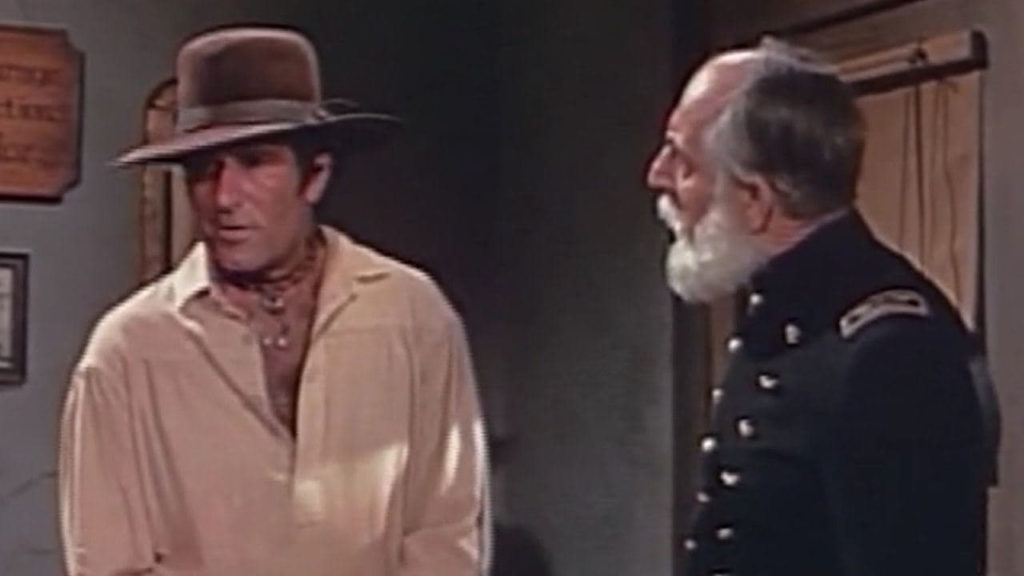 The high definition transfer of this humble, nearly fifty-year-old production looks and sounds surprisingly great. Maybe that's why this Blu-ray exists. Beyond all of that, there isn't much else to say about this film. But, wouldn't you know it, there's an audio commentary on this disc! Commentaries are easily avoidable by most, but for the Blu-ray reviewer, they can often mean having to spend far more time than desired with certain films. And so, for whatever reason, this, of all movies, is graced with the feature length analysis of film historian Lee Gambin. Gambin, it turns out, is a big fan of this film, viewing it first and foremost as an Aaron Spelling produced TV movie as opposed to viewing it as a western. What can I say, Kino Lorber got the right guy for the job.
Wild Women, as light as a feather and exponentially inconsequential, is just as avoidable as its tossed-off cover art implies.  But for the other fourteen people who might be interested in owning this at 1080p, here it is.  Long live Kino Lorber.
The images in this review are most assuredly not representative of the actual Blu-ray's image quality, and are included only to represent the film itself.