2019's Brilliantly Rendered Batch
ShortsTV is bringing this year's batch of Oscar nominated Live Action, Documentary, and Animated Short Films to a global audience. In the United States, check your local Landmark theater to see if either Showcase is now playing. Here's our rundown of the Animated films, chiming in from all over the globe. This showcase is planned to play along with two bonus animated short films, Wishing Box and Tweet Tweet.
Contributing reviewers include Taylor Blake, Sharon Autenrieth, Madeline Brophy, Krystal Lyon and Jim Tudor.  Get an edge in your Oscar pool, and more importantly, be informed about some solid, if short, cinema that is being celebrated:
Animal Behavior
Alison Snowden and David Fine, Canada, 14 minutes
A bird, a worm, a praying mantis, a cat, a pig are gathered for their weekly group therapy session with their bespectacled canine therapist. Late, in storms another member, Victor, a gorilla with anger management issues. Immediately he plops down on a chair occupied by a tinier group-mate. Fortunately, this is comical cartoony animation (of the hand-drawn style), so Victor's victim is okay. Basically, the room is Bruce Willis' therapy group in Color of Night made animals. Every member exhibits a different and specific neurosis- chronic insecurity (the worm), check; obsessive-compulsive (the cat), check; nymphomaniac (the praying mantis with 1,000 kids), check; the obsessive eater (the pig), check. At a brisk fourteen minutes, Animal Behavior strikes a commendable tone, though is never a laugh riot nor an intellectual breakthrough. Eventually, wacky chaos does ensue, underlining the fact that we're all just animals after all, though the film never feels abrasive nor dismissive. Another productive session.
– Jim Tudor
Bao
Domee Shi and Becky Neimann-Cobb, USA, 8 minutes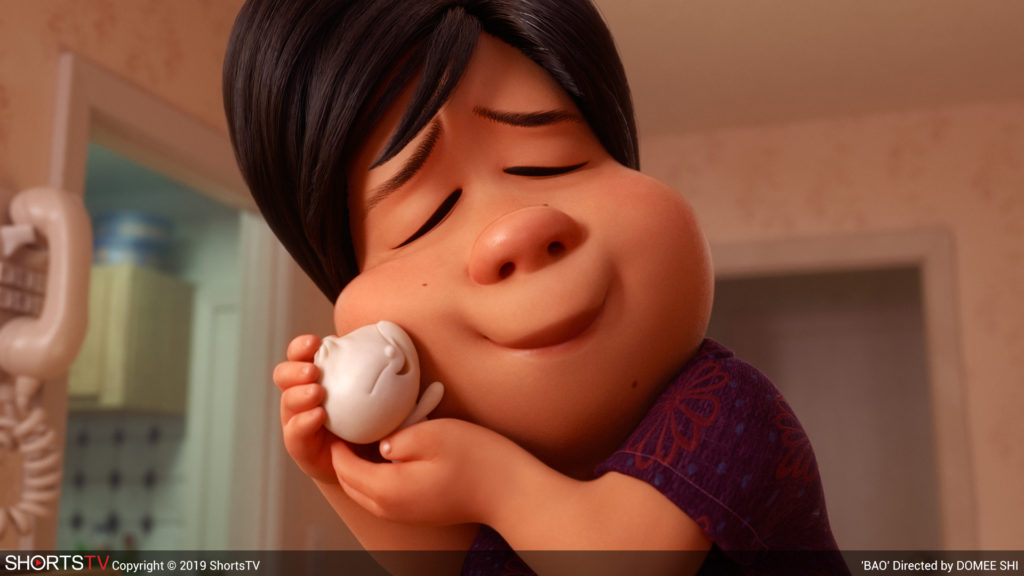 My reactions to Bao were wide for its short 7 minutes and change. It started with, "Huh?" and moved to, "Wait, what?" and ended all the way at, "Oh—aww!" "Bao" is Chinese for both "steamed bun" and "precious treasure," and a second watch of the film shows the clues to its unusual metaphor in the first scene. Pixar's latest short film is one of its weirder ones, but it's a clear thematic fit to run before Incredibles 2 because they're both all about bringing family together. For the Incredibles, their superhero talents bring them together, but for Bao and the rest of us, it's food that brings us together no matter how many arguments or differences we've had. If you can embrace its metaphor, this short may warm your heart just like a fresh dumpling.
– Taylor Blake
Late Afternoon
Louise Bagnall and Nuria Gonzalez Blanco, Ireland, 10 minutes
Soft pastel colors with rounded lines and gentle animation give director Louise Bagnall's Late Afternoon a simple and kind appearance. That generous space leaves Bagnall with the opportunity to tell the story of a woman with dementia looking back on her life and remembering both the past and the present. Late Afternoon is a master class in story telling, the only animated story I can compare it to would be the prologue to Disney Pixar's Up. Bagnall, Song of the Sea and last year's Oscar nominated The Breadwinner, worked on Late Afternoon for years basing it on her parent's care for her maternal and paternal grandmothers. "I wanted to represent a woman's inner life on screen. It can be quite abstract, you know, and I wanted to show the depth of who they are and what life they've lived." This is where that simple animation works so well. Sweeping lines blend memories like a whirlwind as Emily's childhood flows into her young adult years with colors floating in and bursting as life happens. I honestly cannot recommend Late Afternoon enough. I watched it, wept, and went downstairs and made my roommate watch it with me immediately and cried some more. The story that Bagnall tells is deep and touching, whether you've been touched by dementia's cold hand or not, it's a story that everyone can relate to, remembering a life well lived!
– Krystal Lyon
One Small Step
Andrew Chesworth and Bobby Pontillas, USA, 8 minutes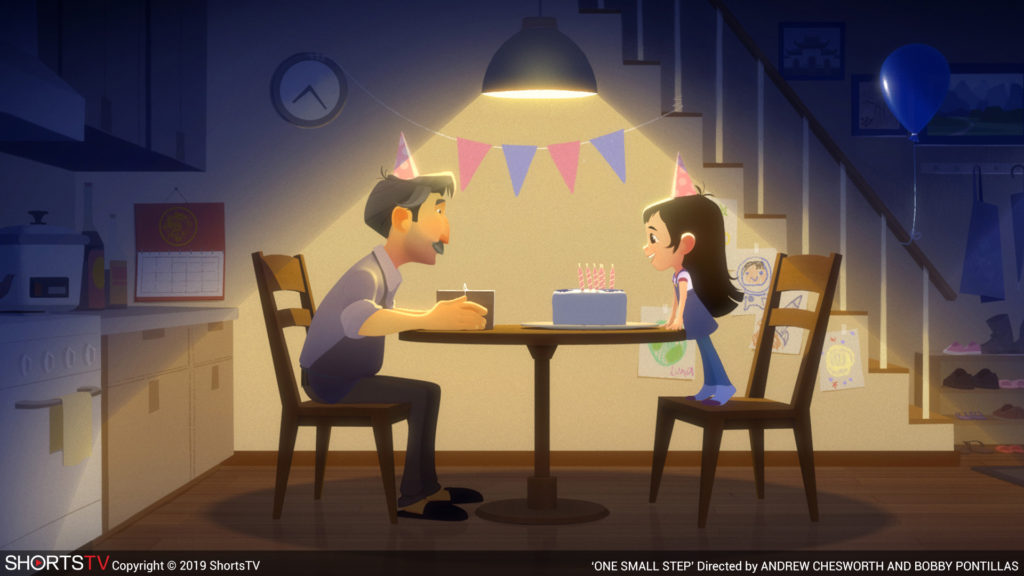 I love a sweet family story and that's what's in store for you if you screen One Small Step, a 2019 animated feature nominated for best short film. Rather than rely on the use of dialogue or special effects, the story itself is rather straightforward, broken up montage-style about one girls' fascination with outer space that ultimately propels her to aspire to become an astronaut. The story is one we can all relate to – character has a dream, works towards it, has setbacks. There's a tragedy buried in here too, about halfway through, that I'd argue takes you out of the journey itself. Nevertheless, the heart of the story saves its' integrity with the revelations of just how much one hardworking, loving, and supportive parent or guardian can propel a child's dream.
– Madeline Brophy
Weekends
Trevor Jimenez, USA, 16 minutes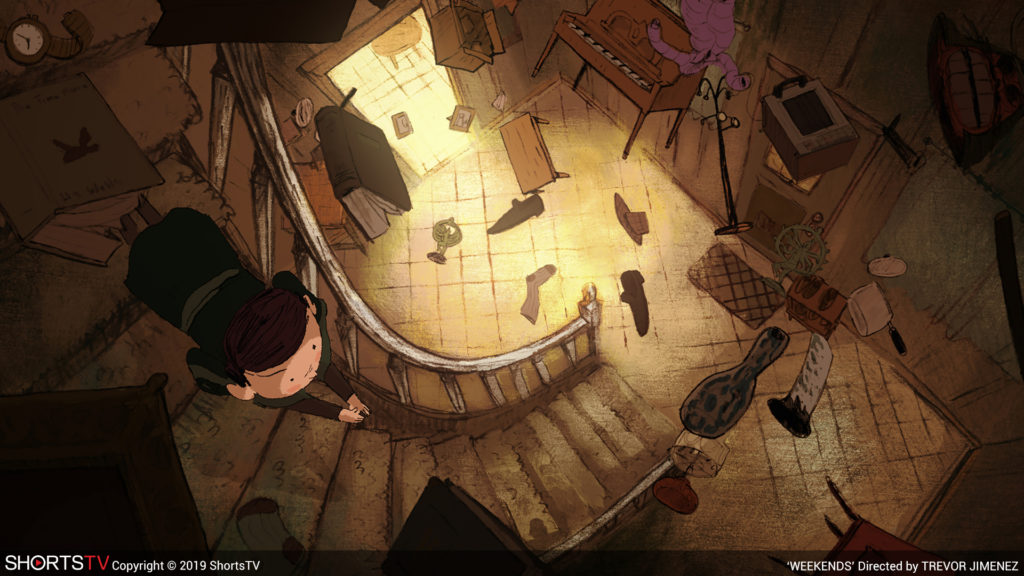 Director Trevor Jimenez drew on his own childhood memories to create Weekends, the story of a small boy shifting back and forth between the homes of his recently divorced parents.  Weekends with the father, in his downtown Toronto apartment, are crammed with movies, takeout, gaming, and shopping for more of the Oriental antiques that the father collects.  The suburban house where the boy spends his weekdays with his mother is messy and half packed. The mother seems too weighted down to notice. But new relationships are ahead, and changes the child's relationship with both parents.  Countless children of divorce will recognize themselves in the observant boy at the center of Weekends, traversing not only the physical but the emotional distance between his parents.   The line drawings and muted watercolor palette of this short fit the story's gentle tone well.
– Sharon Autenrieth