Directed by: Eli Roth/2018
The House With a Clock in Its Walls is a film adaptation of the 1973 book of the same name which is part of a 12 novel series by John Bellairs.  Focusing on the character of Lewis Barnavelt (Owen Vaccaro-Daddy's Home films), this is a film that is being directed at families as a comedy-fantasy adventure, but in the hands of torture-porn director Eli Roth (Green Inferno, Hostel, Death Wish), is this film going to truly reach its targeted audience?
Lewis is a recently orphaned boy who is on the train, and then the bus, to Zebedee, Michigan to live with his Uncle Jonathan (Jack Black-Jumanji: Welcome to the Jungle, Kung Fu Panda 1-3), whom he has never met.  Arriving at the house at 100 High Street, Lewis is astounded by the eccentricities all around him like pumpkins around the house even though its not Halloween, over 100 clocks in just the foyer, and a large stained-glass window in the stairwell that seems to change every time you walk down it.
There is also a very strange next door neighbor named Florence (Cate Blanchett-Thor: Ragnarok, The Lord of the Rings, Carol) who likes to trade barbed insults with Jonathan, and he with her. But, she is actually very nice, makes great chocolate chip cookies, and even the insults, Lewis learns, are due to her fondness for Jonathan.
At this house, things DO go bump in the night, and Jonathan seems to be up at all hours searching for the ticking clock that even Lewis can hear within the walls of his room.  Lewis also confirms that the stained-glass window is moving, there is a chair that acts more like a dog roaming around the downstairs, and a lion-shaped hedge that comes alive in the garden!  It makes more sense when we learn that Jonathan is a warlock and Florence is a witch. All of this adds up to the typical magical fantasy adventure theme that this film is going for, while also showing how Lewis is making the adjustment to being the new kid at school, and being seen as being just as quirky as his uncle.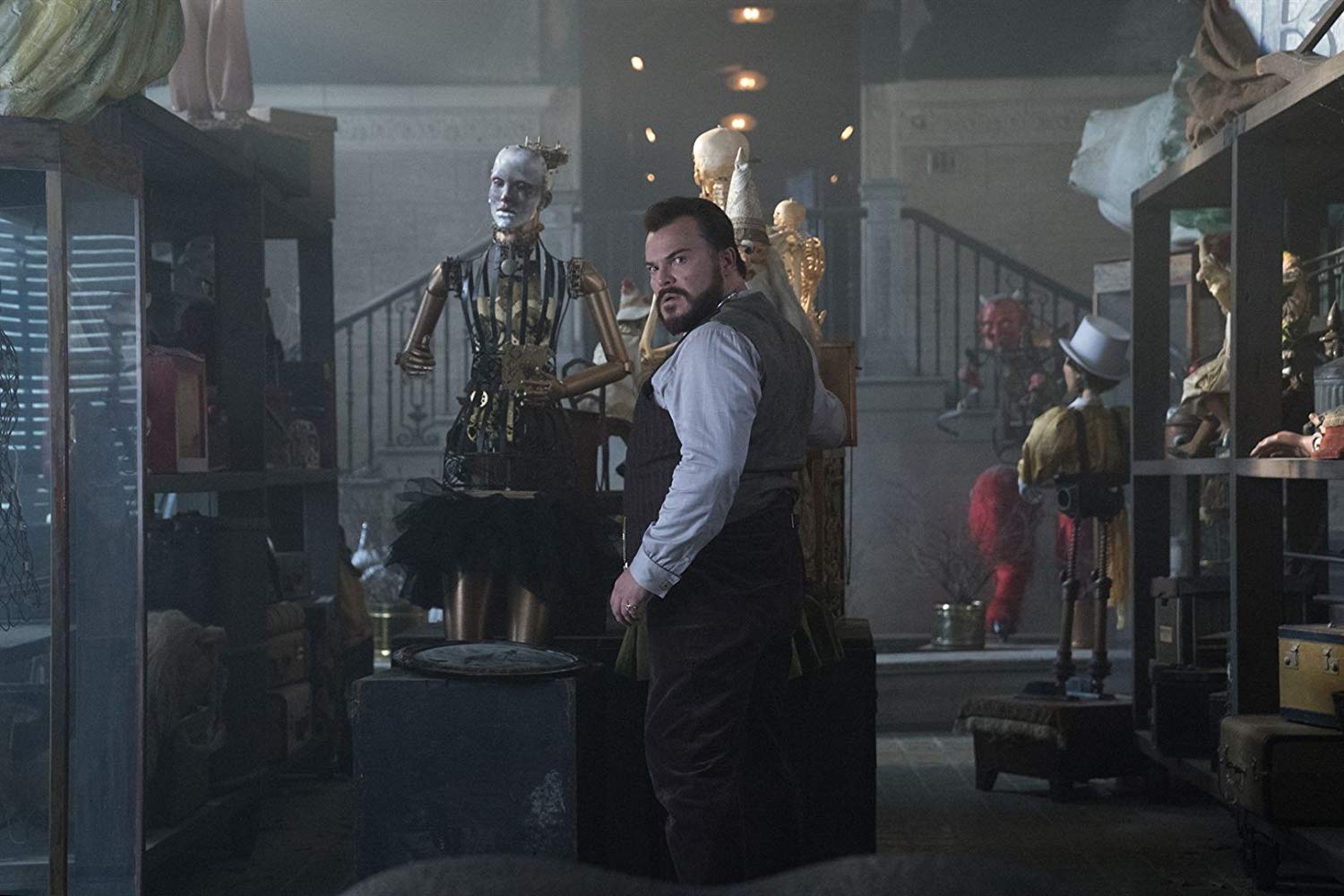 While the Harry Potter stories dealt with magic and had elements of good and evil, casting spells and the like, the magic in those films were used in service to a larger personal story of Harry's connection to his parents and their attempts to protect him from the evil antagonist, Voldemort.  In fact, nearly every character in that series were players in that plot that stretched back decades and audiences grew to love the characters themselves, which swept them into the fictional world and made it come alive.  Here, the magic is the main thing, and any character-driven narratives serve the larger story of the magic itself.  Attempts are made to fool the audience into thinking its about the themes of family and loss, but really The House With a Clock in Its Walls is all about the magic and how that magic can be a platform that can create good visual effects, and as a result it never really has much of a heart.  This is where Eli Roth goes wrong.
It seemed to me that Roth saw this as more mainstream fare he could transition into, but still add some of his trademark horror-touches to the visual palate.  Creepy dolls and statues populate the house, with one of a red devil being featured prominently.  The themes are just as dark, if not more so. Necromancy, the conjuring of the dead, is a main theme, complete with having Lewis cutting his finger and performing a blood ritual to bring back the dead.  Other scenes, serving as plot explanation, depict a man conjuring a demon for the purposes of power.  It's not really kid friendly at all, but much more leaning into Roth's typical fare, which I think will alienate the family demographic that Universal seems to be aiming for with this film.
Mixed among the dark themes are some of Jack Black's Goosebumps' level of shenanigans and humor as the trio of Lewis, Jonathan, and Florence face off against attacking pumpkins, have to correct the hedge lion from "pooping" leaves on everything (its a hedge), and Black being reduced to being a literal little baby body with his giant head attached.  Jack Black and Cate Blanchett are fine in these roles, but even they can't save this.
In short, The House With a Clock in Its Walls doesn't know who or what it wants to be. Despite having source material that could kind of dictate this for them, they aim for everything but hit nearly nothing.  They aim for the fun and adventure, and visual effects that would be appreciated by families, but populate it with the dark witchcraft, sorcery, and demonology at the center of the story.  The result is that the material is too mature for the intended audience, but the fun and the adventure, which is age appropriate diminishes the maturity of the subject matter.  Universal should be prepared to miss every target demographic and see this potential series head towards the same fate as their "Dark Universe".