Justin Torres' Autobiographical Book Comes to Brilliant, Haunting Life.
DIRECTED BY JEREMIAH ZAGAR/2018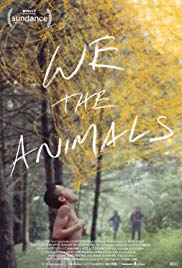 Like a half-remembered dream of ones own childhood, director Jeremiah Zagar's adaptation of Justin Torres' autobiographical book of the same title, We the Animals, is both poetic and "real".
Opening on a brilliantly realized montage of three young brothers tearing about their rural wilderness in a shirtless summer rampage of blessed, screaming abandon, We the Animals immediately and positively evokes Jordan Vogt-Roberts' The Kings of Summer or even Terrence Malick's The Tree of Life.  They bellow, they prod, they tease, they yell, they climb, they hit, they run.  It's their world; they completely own it- if only in this moment.  Perhaps their awareness of its inevitable fleeting is at the heart of their aggression.  This is their jungle.
Zagar's film is a master stroke of difficult empathy, the rare non-explicit, heavily implied depiction of a life of both pent-up love and outright abuse.
Home, though, as so often is the case, is a different matter.  Depression cloaks the place like a flame retardant blanket that's been packed with fifty times the existential weight, and buffering all the wrong fires.  Theirs is an oppressively unkempt home, modest at best and far removed from much of society.  It's the early 1990's, but that's barely a factor in anything, as some containments defy era.  An unwitting portrait of American poverty through the eyes of a dysfunctional family of Spanish descent, We the Animals is the story (the memory?) of ten-year-old Jonah (Evan Rosado), the youngest of three tight-knit brothers.  
The film's achievements are many, though it's greatest may be the line it walks between lucid innocence and its internalized awakening to becoming "the other".  We the Animals is a softly twisting knife; a shimmering dream of childhood that emerges as a nightmare.  It's a reality of the outsider's horror of coming into himself, be it artistically, sexually, religiously, ethnically, or something else, or any given combination.  Where will I fit in?  Can I fit in?  It seems impossible.  Does the kindness of an abusive father (Raúl Castillo, unforgettable in his evocative tightrope walking) signal true acceptance?  How can it? 
The term "magical realism" is one that gets tossed around quite a bit, particularly by those who've taken a preferential ownership of the term.  Already in the critical world, We the Animals has caught the label, and not unearned.  While miles from the literal creature encounters of Beasts of the Southern Wild, We the Animals is a clear extension of that film's very similar childhood vantage point (often literally, in the camera sense), it makes a controlled deviation from the empowerment fantasy narrative of Beasts, remaining shackled, though always mysteriously so, to the place of cold hard realities.  
Even when Jonah's secret journal drawings come to life on screen via evocative animation, there's a latent violence and grappling at the core of it all, nestled in dire uncertainty and the terror of identity.  Zagar's implementations of symbolism and unexplainables are present and important (unimportant details don't make the cut in works such as this), but also resigned to the fringes of the life of the film.  That's just about what the central character can manage and muster, so it is what we get.
Zagar's film is a master stroke of difficult empathy, the rare non-explicit, heavily implied depiction of a life of both pent-up love and outright abuse.  The fact that it's impossible to hate Jonah's father is a sharp testament to the humanistic needle Zagar threads, though not without very necessary deep distrust and harshly lingering unease.  This is the familial survival instinct of youth being boldly and fully explored.  In so, we're reminded not only of the wonders and freedoms of childhood, but also of the mundane inescapables and perpetual, often dire helplessness.  Your brother can ride a bike off of a pier at magic hour, but at home there are still Rice Krispies caking the sides of the sink, and Dad is walking out on your birthday.
Then, what to internalize and what to reject?  This is but the first steps in a life of perpetual imbalance, defensive distrust, and a creative's compulsion for vulnerability as survival mechanism.  We should by now know that art is the way of true resistance- but it is also a mighty path of transparent inroads.  Is this where Jonah is headed?  What if it's not?  No, the boys won't be returning to their jungle much anymore.  They will acquiesce to The World, withdraw from it, or, perhaps both.  The former is the pure We the Animals path.  Overall, it's another story than this one.
We the Animals is not a "fun sit", per se, but it is an enriching one.  In the pantheon of loner children movies, it earns its place on the timeline, among The 400 Blows and Ratcatcher.  Zagar's film is more the origin story than either of those cited others, even the former, whose lead character, Antoine Doinel, went on to feature in several more films, simply chronicling his challenging life.  Conversely, we'll likely never see Jonah again.  Once the closing titles hit, propelling viewers back to their own individual realities, we realize that he has moved on into mists of memory and the mystery of his own future.