Boilerplate B-Caper Lifted By Stunning Home Video Transfer
DIRECTED BY WILLIAM WITNEY
STREET DATE: JULY 24TH, 2018/KINO LORBER STUDIO CLASSICS
Following three presentations of restored low-budget movie treasures by the Museum of Modern Art this past year, the B-picture is poised for artistic and critical re-evaluation beyond its humble Poverty Row origin. In sixteen startling selections from Republic Pictures, most recently chosen and presented by filmmaker Martin Scorsese, which included the poetic 1948 anti-thriller Moonrise, directed by Frank Borzage, this latest program highlighted an adventurous artistry belying the limited-scale of their productions. A sea-faring adventure tale co-starring John Wayne and Gail Russell, The Wake of the Red Witch, another 1948 film included in that program, has been hailed "Wuthering Heights with an octopus". Yesterday's overlooked, forgotten, or simply taken for granted cultural products – from vintage advertising and newspaper comic strips to paperback thrillers and matinee double-bill features – are today's Great Art.
A backseat two-shot on a pair of Bonnie & Clyde-like bank robbers as they tensely bicker back-and-forth on the way to a smash-and-grab job in Joseph H. Lewis's Gun Crazy (1949); a relentless, take-no-prisoners Korean War siege on the holdouts of a diminished American platoon holed up in a Buddhist temple in Samuel Fuller's Steel Helmet (1950); a fancy Western brothel owner in a striking white dress calmly striking minor-key dirges as her life's work burns around her in Nicholas Ray's Johnny Guitar (1954); these unforgettable "B" moments may have been lost to the mists of time had not critics, future filmmakers, and appreciative audiences recognized their artistry and resonance within their popular genre trappings. Hidden away, or just below the surface, the full impact of irrational childhood fears is screen-explicated beyond any psychology textbook in the near-Expressionist scene of trampling horses and stampeding cattle – the latter even given an elaborately harmonized musical number of grizzled cowboys 'round a campfire – climaxing Roy Rogers' TruColor Republic Western Trigger Jr. (1948). That this astonishingly dark and moody passage appeared in a Saturday matinee movie, and that the entire sequence is a child's nightmare, shows the unique power of the "B's" to address deeper themes and stronger (and stranger) story-elements.
B-movie action director par-excellence William Witney was responsible for that stylish Western fever dream, his two-decade tenure at Republic Pictures admirably spent churning out adventure serials, Westerns, and thrillers with the strong assurance of his many lantern-jawed heroes. And while his 1956 film noir caper A Strange Adventure seems a mainly indifferent effort, made shortly before the studio, genre, and bottom-billed entertainment format reached its logical endpoint of story-spent conclusion, the brisk fun of its swift story and swifter characterizations effortlessly carry viewers along for the sleek highway ride out from the Southern California suburbs to the sequoias-spotted wilderness beyond.
A motel handyman and hot-rod enthusiast (Ben Cooper) becomes embroiled in the plans of a from-out-of-town gang (Jan Merlin, Nick Adams, Marla English) to knock over an armored car, recruiting the haplessly smitten but forthright innocent as their getaway driver. After the gang's successful but casualty-ridden robbery and police chase-evasion, the trio of crooks are led north by the driver to a remote mountain outpost. There, the final scales fall from his romantically conflicted roving eye as the cabin-outpost's comely captive (Joan Evans) inspires the driver to stand up to the cunningly psychopathic gang-leader (Merlin) and plot both their escape and the gang's capture.
Told with the sure hand of continuing story momentum and plot advancement, Witney's style is effortlessly that of ever-forward propulsion; an action aesthetic not unlike the speed-defined character directive of its hot-rodding hero. Ben Cooper as the driver may not pause much for thought, nor allow much subtlety in his limited characterization, but the varying speed-traps of the femme fatale (Marla Evans; suitably self-absorbed and sly) and the unstoppable killer (Jan Merlin; superbly snake-like and sinister) make for a story-smooth trip with enough bumps along the way to keep it interesting.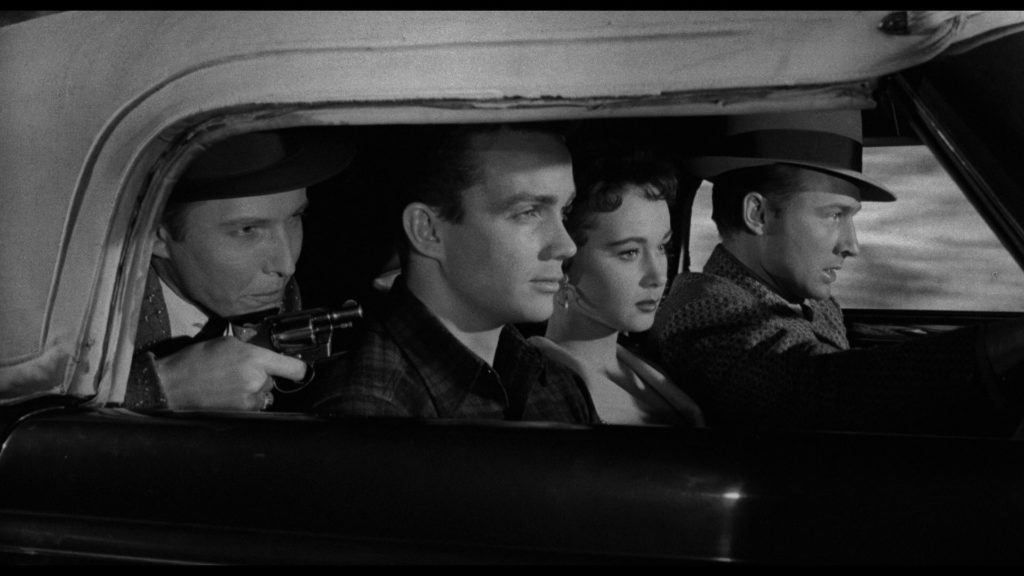 Made first and foremost to entertain, the B-movie stylings of A Strange Adventure undoubtedly delivered its story-rewards to contemporary audiences but, again, rarely succeeds beyond its boilerplate satisfactions viewed today. However unmemorable that A Strange Adventure may initially seem, especially in comparison to the weirder and wilder genre offerings that overshadow it, this vivid and still exciting Republic Pictures production proves invaluable as a snapshot of off-Hollywood, low-budget filmmaking in 1956. Virtually unseen since its first-run in theaters, a beautifully-preserved 35mm print languished for decades in the Paramount Pictures archives before being rediscovered and restored by a 4K digital scan. Receiving its first-ever release on home video, A Strange Adventure arrives like a crime thriller-taut time capsule on this stunning Blu-ray transfer, calling back to life the location-shot streets, landmarks, and vehicles; as well as the enjoyable wardrobe, hairstyles, weaponry, and acting mannerisms of 62 years ago.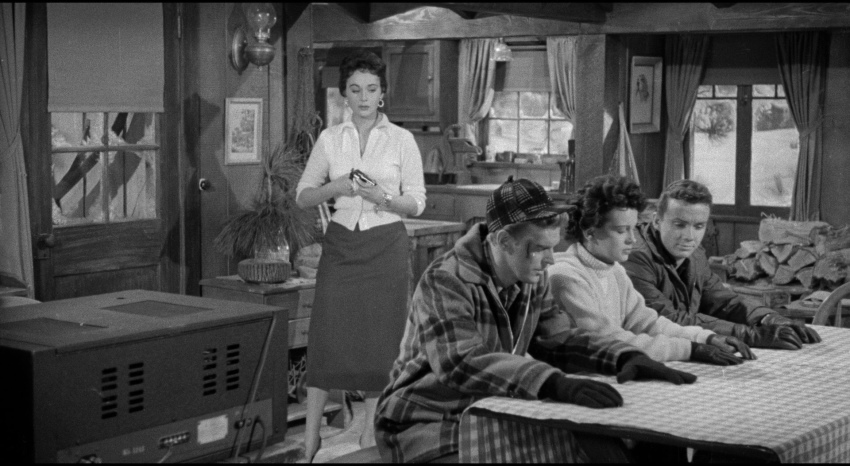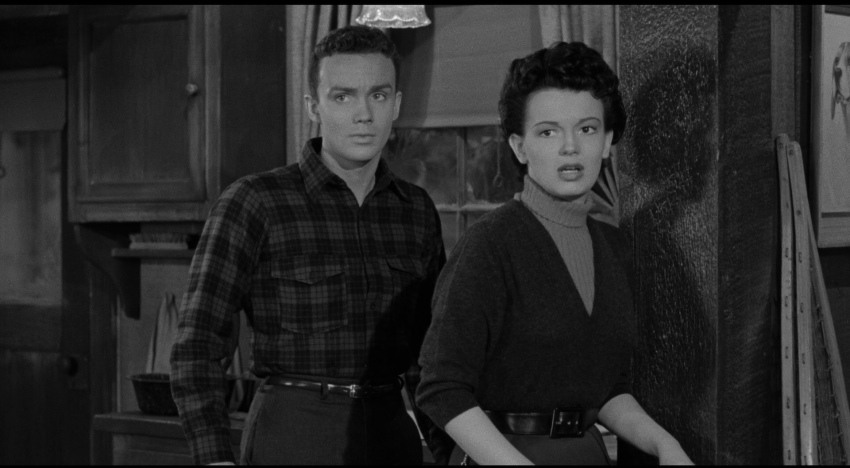 The funhouse mirror, or more accurately shimmering mirage, that is B-genre filmmaking receives an able assist on Kino Lorber's Blu-ray in a feature-length commentary from Republic Pictures, William Witney, and classic low-budget movies expert Toby Roan. Interspersed with reminiscences by Witney's son Jay Dee, Roan's well-researched and informative discourse contextualizes this forgotten film's production and milieu, pointing out nearly every background-glimpsed location and each three second-appearing character actor onscreen until, like a pop cultural séance of sight and sound, the hazy ghost of B-movies' past may emerge for particularly sensitive viewers and listeners. After viewing and listening, one can only hope that there are several more B-movie treasures waiting to re-emerge and that we may be yet in store for many more strange adventures.
The images used in this review are credited to DVDBeaver and are taken directly from Kino Lorber's Blu-ray release.