Star Gloria Swanson And Director Allan Dwan Make Vivacious Pairing In Two Silent Comedy Classics
MANHANDLED
DIRECTED BY ALLAN DWAN/1924
STAGE STRUCK
DIRECTED BY ALLAN DWAN/1925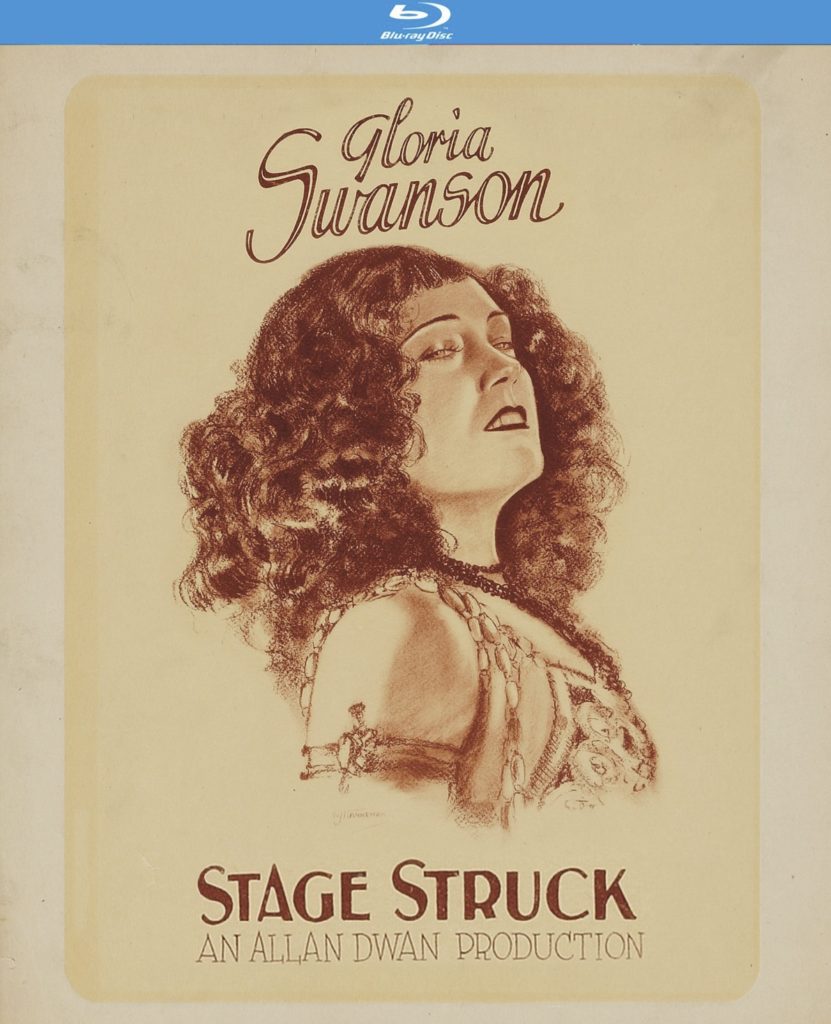 STREET DATES: APRIL 10, 2018/KINO CLASSICS
In his classic study of the silent film era, The Parade's Gone By… (1968), author, historian, preservationist, and filmmaker Kevin Brownlow identifies two qualities that made the film partnership of star Gloria Swanson and director Allan Dwan, who collaborated on 8 films for Paramount/Famous Players-Lasky during the 1920s, so memorable: realism and pluck. Eschewing melodramatics or overplaying, these mid-twenties romantic comedies show the filmmaking pair drawing on down-to-earth details surrounding the daily life of an ordinary in appearance but extraordinary in spirit working girl. Partly due to the artistically pragmatic Allan Dwan, whose career spanned from the earliest days of motion-pictures shot in Hollywood to the end of the classic studio system in the 1960s, La Swanson simply became "Gloria" for many viewers who came to sympathize with her true-to-life characters' realistically-drawn comic situations. The star who evoked "glamor" for many viewers, especially in her long series of elaborate costume dramas, commencing with Cecil B. De Mille's Male and Female (1919), diversified her audience-drawing powers by essentially downplaying her own impossibly elegant public image.
Those film fans familiar with Swanson's characterization of the once grande though now faded dame of the silent silver screen will see little of "Norma Desmond" here; and one hopes that the "courage and wit and heart" of her screen image will come as no surprise to those who recall her fluttery-eyed parody of a Mack Sennett Bathing Beauty, her delightful chalk-mustache impersonation of Charlie Chaplin's The Little Tramp, or simply her equal parts self-deprecating and self-aware dismissal of one (among many) of cynical hack Joe Gillis's hardboiled put-downs (take your pick, they're all alike; and purposely so) with her blithe delivery of the word "Cute!" That inventive charm and playfulness seemed to find their best expression in her films with Allan Dwan, and the one-room, cold-water flats her underemployed characters here inhabit – with their single unmade bed, cracked-mirror dresser, and hanging line of self-laundered clothing – add to and evoke the sympathy and honesty of her from-the-heart playing. One can easily imagine the extraordinary success of these films could be attributed to many viewers recognizing their own lives and circumstances both in the effervescence of its star and in the well-observed productions by which she was admirably surrounded.
One of those viewers, my pretense of reviewing distance unforgivably lapsing to include a personal anecdote, was my own grandmother, who, being grilled by an 11-year-old me for a school-assigned oral project on family history, gave me two reminiscences (despite unequivocally "hating" to "dwell on the past") of her smalltown Wisconsin upbringing during the 1920s: one — a lovely image though entirely irrelevant to movies, Swanson, or Dwan — was watching fresh-cut lumber floating downstream of the Wisconsin River and the other — an equally lovely though entirely relevant image to movies, Swanson, and Dwan — was, as an 11-year-old herself, watching her favorite movie actress balancing a heaping plate of steaming dishes overhead through an overcrowded throng of impatient diners.
That latter image, we shall find, may contain the larger appeal of Swanson and Dwan's slapstick-and-sentiment partnership in their two best pictures, Manhandled and Stage Struck.
MANHANDLED (1924)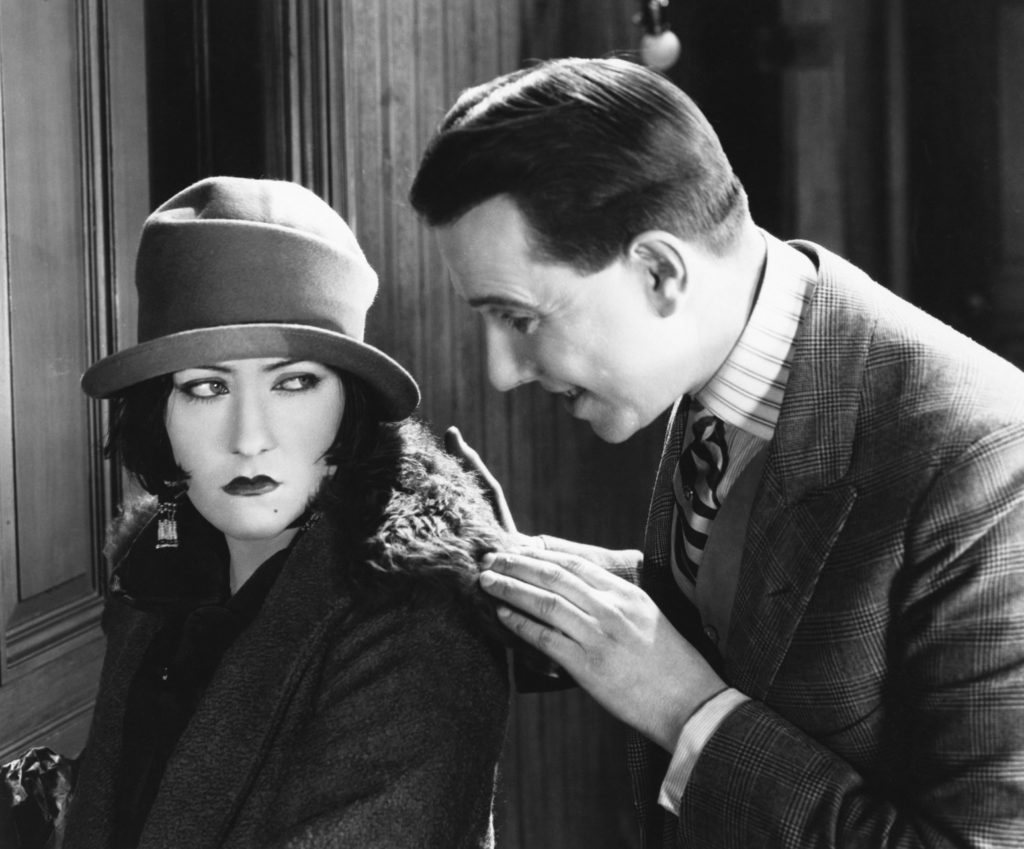 Opening with a series of soul-crushing shots of salesgirls mechanistically reporting to daily duty, the long line of coats, hats, and stockinged legs so many isolated body parts "punching in" on a bewildering gear-and-levered time-monster, the rhythmically-edited sequence gradually separates and differentiates upon the bobbed hair-framed features of our bright-eyed lead character, Tessie McGuire (Swanson). Navigating as many men (the original advertising featured Swanson's newly-styled image surrounded by the unapproving glare of no less than five of the film's male leads; making the film remarkably timely considering the current context) as self-assumed identities (the original cut of the film, now apparently lost, featured Swanson's first comic impersonation of The Little Tramp; mentioned above in reference to my uncredited description of 1950's Sunset BLVD.), Manhandled's most famous and title-literal sequence depicts the five-foot-nothing, de-glamorized actress – once more famous for the clothes she wore than the personality of her performances – being jostled, hurtled, and bodily thrown through a male-crowded crosstown street-car ride. Though the present print solely exists from (as mentioned above, incomplete) 16mm film elements, what remains is more than enough to suggest the urban unease and startling sophistication the (original) movie must have imparted to audiences in 1924. From bargain basement salesgirl to sculptor's model to Jazz Age party girl to assumed Russian countess – all while honorably and chastely fending off male bosses, wastrels, millionaires, and drunken revelers to the (eventual) satisfaction of both her engine-inventing boyfriend (played with laidback ease by Tom Moore) and, more importantly, to the movie industry's recently-imposed standards of decency – Gloria Swanson and Allan Dwan's initial bid at pluck and realism remains highly entertaining (and again, equally relevant) comic viewing after the passing of 94 years.
STAGE STRUCK (1925)
Striking this viewer as the more fully-developed of the similarly-themed features, either because of the greater variety of interior and exterior settings – many of the latter photographed on-location in West Virginia and utilizing actual locals as background extras – or simply because the luminous 35mm film elements have survived more completely than the former film, Stage Struck opens with a visually delectable two-strip Technicolor sequence that may have convinced its first-time viewers that they had walked in on the wrong movie. Parodying the sort of roles for which she was best known, as well as cheekily calling back to the Ruritanian aristocrat she (unsuccessfully) impersonated in Manhandled, the luxurious historical fantasia of vast, expansive palace halls and gown-draping, jewel-dripping over-theatrics – culminating in a hilariously delirious "dance of Salome", complete with John the Baptist's head on a dinner-platter, which must have directly inspired Billy Wilder 25 years later – dissolves on the silverchrome day-dreamings of a country waitress struggling to hold a tray of mixed dishes precariously overhead. Failing to attract the romantic attentions of her pancakes-slinging co-worker Orme (Lawrence Gray), who is himself fixated on owning his own café while romancing a taller and more elegant showgirl (Gertrude Astor), Jenny Hagen (Swanson) nonetheless earns every moment of her visible (co-stars) and invisible (us) audience's sympathy with each inelegantly elegant pratfall. Steamboats, riverside fairs, dust clouds trailing unpaved, main-traveled roads; to mention that one of the most affecting sequences of the film occurs when Jenny valiantly attempts to recite lyric poetry while being mercilessly clobbered by a(n again) much taller female co-combatant in a boxing ring, to the riotous applause of a woodbarn theater full of smalltown spectators, might impart some of the unique tone of quietly moving yet broadly uproarious screen riot Dwan and Swanson quite literally achieve, by this scene alone, in Stage Struck. Bookended by a return to two-strip Technicolor at its conclusion, the film-satisfying resolution of both smalltown dreamers' hopes and schemes struck this viewer (once again) as thematically and visually presenting the loveliest shades of hope-filled red and ever-true green this process-enthusiast has yet seen utilized in a silent film.
From the best source material available, Kino Classics' sterling twin release of these Swanson/Dwan pairings on Blu-ray comes with booklets, featuring contextualized essays by Peter Labuza (Manhandled) and Farran Smith Nehme (Stage Struck), and commentaries by Gaylyn Studlar (Manhandled) and Fredric Lombardi (Stage Struck). All mentioned are scholarly and informative without falling prey to dryness or repetition; the Smith Nehme essay in particular proved invaluable for the way I "saw" the bracing mix of tender emotion and lively awkwardness suffused through all 8 reels of Stage Struck. (Recalling another favorite moment I was not able to include above: where former Keystone Kop chief Ford Sterling, as a middle-aged carnival barker, helplessly cries in both embarrassment and loss after falling into his beloved bass drum.) The grand art of silent film accompaniment finds no better realization than in the piano scores of Makia Matsumura (Manhandled) and Andrew Simpson (Stage Struck), who individually draw out the pathos and energy of Gloria Swanson's pluck and Allan Dwan's realism. Where one ends and the other begins is not for this viewer to say, but star and director seemed to pull the very best from each other: Manhandled and Stage Struck are, together, simply a perennial joy to view and re-view.
All images appearing in this review are used as a visual reference to the films and are not meant to reflect the image-quality of the Blu-rays.