Anton Yelchin and Lucie Lucas Couple up in Beautiful Portugal
DIRECTED BY GABE KLINGER/2017
STREET DATE: MARCH 13, 2018/KINO LORBER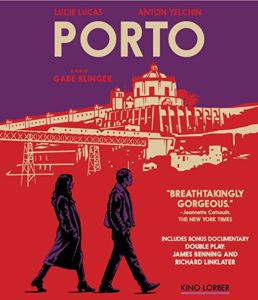 Split into three chapters and trained upon an intense one-night fling of a twenty-six year old guy American (Anton Yelchin) and a thirty-two year old French woman (Lucie Lucas), Porto is by turns beautiful and ordinary; insufferable and wholly absorbing.
As Porto is touted as both the first narrative feature film of director Gabe Klinger and a final film of late lead actor Yelchin, it's all the more appropriate that it's story itself is one of beginnings and endings, abrupt ones at that. Owing more than a little to Richard Linklater's Before trilogy, particularly the early portions, Porto is all about sudden love in a romantic foreign locale (Porto, Portugal looking absolutely majestic), and the subsequent ramifications of such a connection. Klinger, however, sees fit to wallow, dwell and linger in ways that Linklater refused to. Long takes of walk and talks, however, carry over.
When we lock into Yelchin's Jake for the first chapter, it's a headlong plunge into one haggard young man's miserableness. Shot in squarish and grainy 16mm as opposed to the flashbacks' lush widescreen 35mm film look, the present-day and even future portions of Porto are claustrophobic, cold and lonely – as intended. Jake is an intense and intensely lonely guy whose receding hairline betrays his youngish age the way Mati's youthful beauty betrays her maturity. With most of Jake's chapter devoted to him in his post-fling heartbreak, we realize Jake to be obsessed, even a bit violent and unsettled.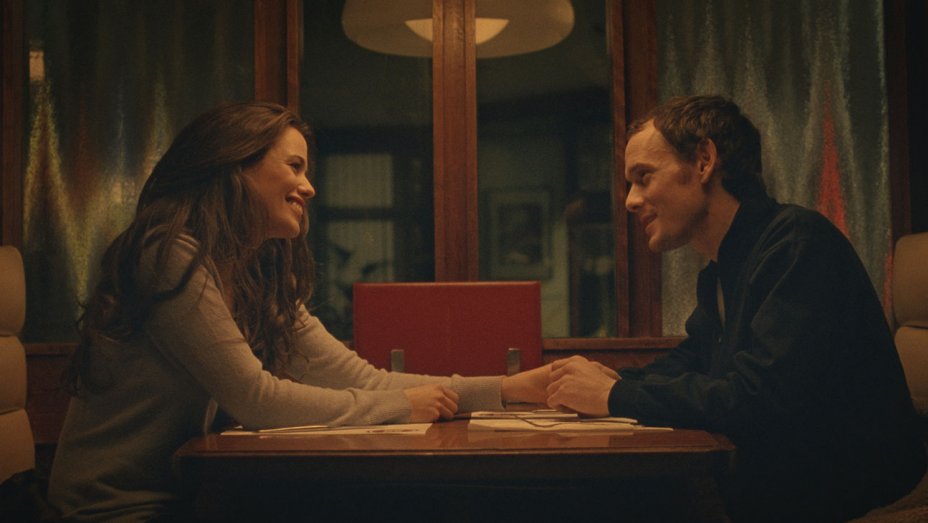 Then, with Mati's solo chapter, we come to realize that these are subjective memories of this moment in time, evidenced by the subtle differences in the scenes that repeat. Interestingly, these chapters seem to be not from the point of view of the characters they're named for, but the opposite character. Mati's chapter lunges into her future as a wife and mother on the edge of divorce from her one-time Archeology professor. His presence with her, immediately following her tryst with Jake, is shown to be the trigger in the ruin of both relationships. Are the future scenes of the marriage having crumbled simply Jake imagining her getting her just desserts for not staying with him? For that matter, does she really even marry the professor at all? Does it even matter?
Considering that the third of three chapters is about both Jake and Mati together, how much it matters is increasingly harder to say. As Porto goes on, it actually begins to challenge its own "unreliable narrative" structure. Either that, or it simply abandons it in favor of a more conventional filmic rendezvous. Unlike most relationship dramas, Porto saves the meet-cute subsequents for the third act. As Mati and Jake leave the coffee shop where they first meet, they walk the streetlight-permeated empty roads of the title city. Soon enough, this meet-cute will give way to a meet-hot.
Per Jake and Mati's own breathless explanations, theirs is the kind of Euro-fling, or as they call it, "love", that is so immediate, so carnal, so impossible to deny, that it eludes mere words. It must be said, though, that the phase "minks in heat" does come to mind. As Jake voluntarily exhausts himself moving Mati into her new dwelling, hauling all her boxes from her car, up winding cobblestone streets, then up stairs, she simmers her way to firing up a few romantic candles, lit almost by sheer libido. Once the last box is plopped down, things progress quickly into late night Cinemax mode. After multiple rounds depicted over several minutes, some might say it's not so much Porto as porno.
There's a claim out there that Porto is Yelchin's final film, a claim also made by Thoroughbreds. In any case, Porto sends him on his way with a candlelit bang. Although the raw coupling is the climax of the film, it's also where Klinger loses his precarious focus once and for all. If the point of chapter three is to present a mutual point of view of the two characters, it fails in the all-but-inevitable face of the male gaze. The camera loves Ms. Lucas nearly as much as Yelchin's character. The nudity is of the typical split, with the French girl showing most everything while the guy remains concealed. Star contracts are what they are, it's true, but this conceit violates the "blunt reality/skewed perceptions" intentions of the project.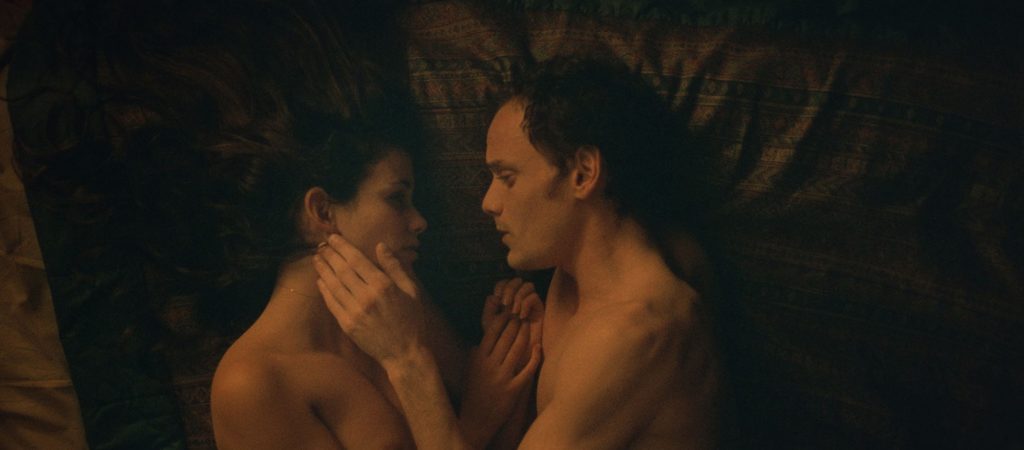 Kino Lorber's blu-ray release of Porto more than does justice to cinematographer Wyatt Garfield's mood-drenched renderings of the city, as well as the standout performances of Yelchin and Lucas. Extras on the disc are plentiful by today's standards: There's a brief "Making Of" featurette, the trailer, a short Portuguese news report on the filming, a booklet essay by Michael Sicinski, a few amusing outtakes, and an audio commentary with the filmmaker. The disc provides a terrific and lucid transfer of the film, maintaining its various moods and sensibilities via alternating film stock and aspect ratios.
The cherry on top, though, is the inclusion of Gabe Klinger's actual first feature film, a 2013 documentary called Double Play: James Benning and Richard Linklater. At a mere seventy minutes, Double Play surpasses Porto in terms of overall satisfaction. In some ways, merely a simple portrait of the two title filmmakers bonding over art and baseball, the documentary achieves a unique balance and insight on its two characters, whereas Porto never quite can. It helps that their guard is so entirely down. The inclusion of Double Play greatly adds to the shelf-worthiness of the blu-ray.
Gabe Klinger, with his enthusiastic love of cinema and filmmaking, has unquestionably poured an abundance of love of humanity into this, even if that love manifests as brutally honest… sometimes to the point of muddled damnation. Porto is, among other things, a very promising signal of things to come from Klinger, a director who might just be capable of greatness.
As this film ended, though, my wife commented, "That was a hot mess". I could only reply, "Yes. Both those things".
The images used in the review are present only as a reference to the film and are not meant to reflect the actual image quality of the Blu-ray.